Hatchback Clash – Hyundai i20 vs Tata Vista vs Maruti Swift
Indian Car market has been dominated by two trends for a long time. One is domination of Hatchback Category and other is the Diesel rule the roost phenomenon. In Indian market, hatchbacks constitute more than two third of total sales of four wheelers. The reasons behind it are not difficult to see. Loads of traffic in cities, shrinking parking spaces, ease of driving and practicality. Although hatchbacks are small cars but they aren't small actually. Look at the Maruti Swift, Indica Vista and Hyundai i20. These can give many sedans run for their money. The most important and crucial things that they are easy to drive and maneuverability is better than their large siblings which are the crucial factors in the urban jungle.
Another phenomenon is necessity of Diesel option in staple. Diesel may not be as appealing to drive as their petrol cousins' especially in upper limits of RPM but they are easy on the wallet. Almost Rs. 30 to a liter difference with petrol which is easily translated to savings of Rs. 800 for average refill of 25 liters. This is reason why any manufacturer in India can't afford not having a diesel option in its stable. Look at Honda, despite of some flawless and brilliantly engineered products, their market share is telling the story. Also the Diesel engine provides a nice spike in power and torque and results in very good mid range. This in turns help in driving especially is city condition while the Petrol motors have slightly edge in upper RPM band which is not very practical situation in city driving.
Now we are going to compare the Hyundai i20 with other two sales chart toppers – the Maruti-Suzuki Swift and Tata Indica Vista. Swift has been the king of Hatchback category for long and in fact credited to start the premium hatchback segment in India. Indica Vista, with now sharing Power train with India's National diesel engine (Fiat's 1.3 liter multijet) rechristened as Quadrajet put itself as very formidable competitor and sales figures of 10,000 per month put it at par with sales of Swift. Also i20 made its debut in top 10 selling models 3 months ago and selling around 7000 units per month. Choosing the winner is not an easy game as all cars comes with their positives and negatives. One car that provides the complete package with affordable price and value for money will get the honor of best hatchback of the town.
Design & Engineering
Hyundai i20 – One look at i20 and it is not hard to guess that it is car conceived and developed in Europe. The look is contemporary and elegant while wheel arches blend the feeling of masculinity in very seamless way. Although it hasn't drawn any hints from company's new Fluidic design statement having hexagonal shape grill in front. It gets a new front chrome accented grille embellished Hyundai logo with a large section of chin with integrated fog lamps while maintaining its wide stance. Peeled back headlamps are clear-crystal (nearly wraparound) and enhance the appeal of car.
The side is dominated by strong shoulder line and prominent wheel arches. The 185 mm wide tyres with 5 spoke alloy wheels don't look undersized as in case of Vista, provides good grip and add to sporty styling. Car got indicators integrated on ORVM'S and looks sleek and stylish along with electric controls. Rear part is dominated with large bulge bumper and wrap around slim tail lamps. Rear wind screen area is not very generous which affect the practicality of the car. A high mounted stop lamp on rear spoiler along with roof antenna enhances sporty feeling of car. Rear tailgate handle with chrome accented Hyundai logo is also nice touch.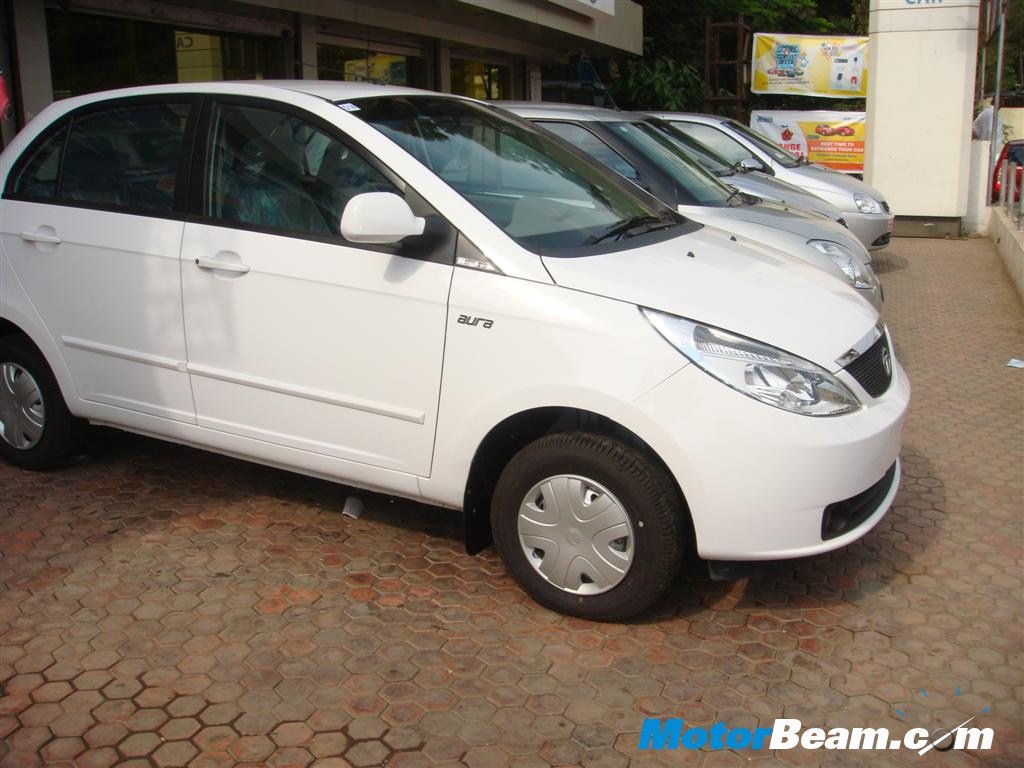 Tata Indica Vista – A giant leap forward by a relative new manufacturer of cars. Indica symbolizes the evolution of Indian car manufacturer with time and its quest to become global in terms of its portfolio and quality. Indica vista is more or less look like old indica grown up but with subtle changes. A smiling face with honeycomb grill splashed by strip of chrome welcomes in trademark Indica way. Air damper with integrated fog lamps enhances air cooling area. Cat-Eye like headlamps looks fabulous along with round large bumpers however gaps where bonnet line cutting headlamps are large.
A central line on hood along with side profile is dominated by sharp crease line running across length deliver character to car without fuss. Indicators are hidden on A pillar. Rear part of the car retains its design DNA with thin long upward- stretching tail lamps. However the sleekness accentuates the width of car which doesn't go in its favor. The glass area is large indicating airy cabin along with slim C pillar increasing its practicality. Rear bumper with embedded reflectors try to break the monotony.
Tata's has worked very hard and result is very evident on the product. The fit and finish is much improved over old generation and now one can't post his parcel through panel gaps. The rear part could have been more stylish had the tail lamps been wider than present one. The rear glass area is quirt generous and this enhances the feeling of room inside the cabin. Door closes with nice THUD sound & the car feel solidly built like the Europeans however the side view of Car looks under-tyred. A raised suspension along with undersize tyres doesn't suits the profile of the car.
Maruti Suzuki Swift – At time of launch, Swift revolutionized the design statement of Suzuki. Very radical and modern with a little bit of aggressiveness, was seen skeptically by critics at time of launch. Also predicted that it could act as deterrent to average Indian buyer looking for a sensible choice. But Swift proved all its skeptics wrong and even in the almost completed life cycle, I still found the waiting period of 4 months at dealership for Diesel version. Front part is dominated by honeycomb grille with chrome accented company logo. Air damper is small but complemented by fog lamps. Shower Type headlamps along with round shaped bumpers give its more muscular look than sleek- slim design.
Side is dominated by sharp waist line along with thick C pillar. The dimensions are compact and underline the sporty handling of Swift. However thick C pillars to augment design statement eat out the space at the back seat Rear part also follows the Round theme with protruding bumper. Wrap around lights looks beautiful but little big tail-lights could have been more appealing. The real glass area is generous and helps to negate the impression of cramped rear Swift looks under- tyred and in fact the ride quality also suffers because of tiny tyres. Wider tyres with 15" wheels could have improved the average ride quality of Swift.
Interiors & Space
Hyundai i20 – Step inside the i20 and a very up-market feeling welcomes you. Fabric type seat upholstery along with dual tone interiors scheme enhances the feeling of space. Silver metal finish on the center console, steering and AC vents is nice touch. Center console now comes with A-V Navigation system (optional) while automatic climate control is standard along with 2- Din music system with USB portability. Blue lighting in background soothes the feeling especially at night.
Glove box is massively large and gets cooling arrangement with the attachment with AC controls. A central information system is standard providing a plethora of information. Instrument cluster is neat and readable. Leather wrapped steering wheel, adjusts for reach and rake, also got audio controls adding to driver convenience. Front seats are large and well bolstered along with height adjustment function adds to the convenience. The feeling is augmented by electrically operated OVRMs.
With the longest wheel base of 2525mm the i20 has decent space for both front as well as rear passengers, but the utilization of space is not as efficient as it could be. Although the space is good for three abreast but a little bit more thigh space could have been welcomed. Nevertheless a very good attempt by Korean manufacturer to blend all the aspects like high quality, optimum space for passengers and storage actually converted I20 into jack of all trades. Boot is generous with capacity of 295 liters and with the option of 60:40 split, the space utility can be enhanced. The intrusion of suspension is minimized and boot space is utilized in very well manner. Another practical aspect, Hyundai has given a good thought although the opening area is narrow and certain more width would be welcome.
Tata Indica Vista – Space has always been the USP of Indica since its launch and Vista even bettered it. If one is looking for the sheer space, look no further. Vista is car to go for. There is space, space and some more space but that doesn't mean that Tata's has carried same quality standard as in old Indica. Two tone beige interior scheme is the first thing one will find. It really feels nice because I have old Indica. The central instrument cluster design was unique when it was launched but now customers are getting many models based on same theme. The seats are comfortable, placed at good height and with driver height adjustment along with adjustable steering setting, any one can find comfortable position to drive.
Rear seats are very large, wide and even comfortable than the I20. Generous area of glass used make the cabin feels even bigger than it actually is. This may be one reason that cabin doesn't cool as quickly with even the full blow of AC. A habitual Maruti Owner will be blown away by the comfort of cabin. Ample of legroom, Knee room and headroom is available with even seats pushed back all the way back. The doors open very wide and no problem in Ingress- egress especially for elderly people, another positive of Vista. The space inside the car is unrivalled and Vista provides you more feeling of space & comfort.
Despite the huge improvements in quality and panel gaps, Vista still has some niggles. First, the Door pockets are disappointingly very small and good for nothing. Panel gaps are down but some in some areas fit and finish is variable especially where one can't notice it easily. Door handles feel flimsy and gives you feeling that if you tug them hard, they'll come in your hand. Some panels are ill fitted and even they could come in hand if somebody pulled them hard. Although the quality is leaps ahead of previous generation Indica, it has still some way to go before it can match the rivals. ORVMs are odd in shape & don't provide comprehensive outside view.
[singlepic id=5254 w=500 h=340 float=center]
Maruti Suzuki Swift – Swift has not been favorite in terms of space. Swift radical design and thick pillars ate-out most space. Clearly philosophy of function follows form is adopted by Swift. Space, especially at back, for the long time, negates the otherwise very good offering from country's largest manufacturer. Design of Slab type dash is dull but quality of grains used is good with excessive use of black color. However two tone color scheme would be a welcome change. Instrument cluster is neat and readable with overlapping type of rings providing information on Speed, RPM, fuel gauge and hot cold function. Three spoke steering wheel gets audio controls. Front seats are very generous and very well bolstered. This is one of best front seats available with the hatchbacks in India.
Back seat is very week link in Swift value-proposition. Swift is best for 4 passengers. Rear seat feels very cramped, especially when one is comparing it with large hatches. Add to it thick C pillars and small windows, feeling is claustrophobic. In-fact this is big deterrent factor when a family consider the swift for buying. Although in upcoming model Maruti has tried to address problem by adding 50 mm to wheel base but still it won't come even near the class benchmark. With wheel base of 2390 mm it is 160 mm shorter than I20.
Engine, Gearbox & Performance
Hyundai i20 – The car has got a brand new 1.4L CRDI diesel engine. Engine has 4 cylinders and breathes through 16 valves double overhead cam shaft (DOHC), a standard arrangement now days. Power is rated at 90 PS and 22.4 kg-m of torque @ 1750- 2750 rpm. Start the engine and it settles down quickly. In fact it is one of the most refined and quiet diesel around. Although spec sheet claims the Torque @1750- 2750 r.p.m. but it is after 2000 r.p.m., things really start to happen. Before 2000 r.p.m. there is absolutely no turbo and very dismal performance in the lower limit of rev range. One continuously needs to downshift in order to have the momentum. This is one big crucial factor especially in hilly areas. This might be one reason why hilly states have not enough diesels especially from Hyundai despite of its refinement level.
After crossing 2000 RPM, it is like a dam bursting open. There is enough power and grunt to do anything one wants to do. Car has strong mid range and highway is place where one can really feels the power of engine. Rush of torque is very quick and no hesitation to touch the 3 speed mark. In order to meet stringent emission norms and performance criteria, Hyundai uses second generation common rail injection system injecting fuel at pressure of 1600 bar as opposed to 1400 bar in first generation engines along with Swirl valves and EGR. Result is clearly visible as engine is very refined and NVH level is minimum. i20 is first hatchback in its category to have six speed gearbox results in improved fuel efficiency on highway along with long gear ratios but in comparison it is not as good as Fiat's multijet diesel engine. Gear shift is precise and of short throw. It is close to benchmark but still require some effort. For most of the part, it does the job comfortably.
Tata Indica Vista – Refinement and Reliability are always issues with the vehicles from Tata's staple. Thanks to JV with Fiat, Vista now gets 1.3 L multijet diesel engine re-branded as Quadrajet slightly which is in-fact the first technological manifestation of their joint venture. Start the power train and one will be pleasantly surprised, especially the owners of Old Indica's. In-fact it is better than swift at idle and rattle is also less as compared to Maruti's siblings i.e. Swift and Ritz. This is something that is difficult to digest but it is true fact. Tata's engineers have used generous amount of sound deadening material and their hard work have really paid. With all the doors and windows closed cabin is completely hushed almost all the time.
The specification sheet reads 75 PS of power and 19.38 Kgm of torque @1750 rpm. Although the Power to weight ratio (P/W) of Vista (65.78 PS/Ton) is less than that of Swift (70.69 PS/Ton), Vista feels wee bit more tractable than Swift and i20, especially in city. Another change and change for better. Vista actually uses shorter gearing and results in more tractability in city traffic even more than Swift. One can easily crawl in city even in 3rd gear and in gear acceleration of Vista is better than the Swift and i20. Vista engine is especially made to work best in city. Mid range is also good but not so good is top end range. Engine is tuned to provide more fuel efficiency rather than flat out performance. Gear box is also leaps ahead in terms of shift quality and even better than I20. No doubt compared to old generation, it is vastly improved and definitely close to benchmark.
[singlepic id=5239 w=500 h=340 float=center]
Maruti Suzuki Swift – Maruti also uses the Fiat's Multijet diesel engine but with different state of tuning. Swift is in-fact is credited to change the diesel story in Indian market. It is only after Swift people started to believe that diesel engine can also be fun to drive. Engine is 4 cylinder inline with capacity of 1248 cc having power output of 75 PS. Torque figure is also same as of Vista 19.38 kg-m @2000 r.p.m. There is little bit of hesitation in low range of revolution but after 2000 mark the surge is very gratifying. The flat out acceleration of Swift is extremely inspiring and it shames many petrol engines also. Swift strong point is it's mid and upper rev range. It revs up to 5000 r.p.m. without any hesitation.
In city, driving the Swift doesn't feel as spirited as Vista. The turbo lag can bother one a bit and one need to downshift in order to keep the engine running. The only way to tackle turbo lag is downshift and then remain in power band to keep going. Reliability is distinctive competitiveness of Maruti and like all other cars, Swift is extremely reliable. No wonder there is still a waiting period of 4 months for Diesel Swift. Gear box is a delight to use. It is best among the competition. Throw is short and accurate. This can be easily taken as the benchmark among diesel hatchbacks
Ride & Handling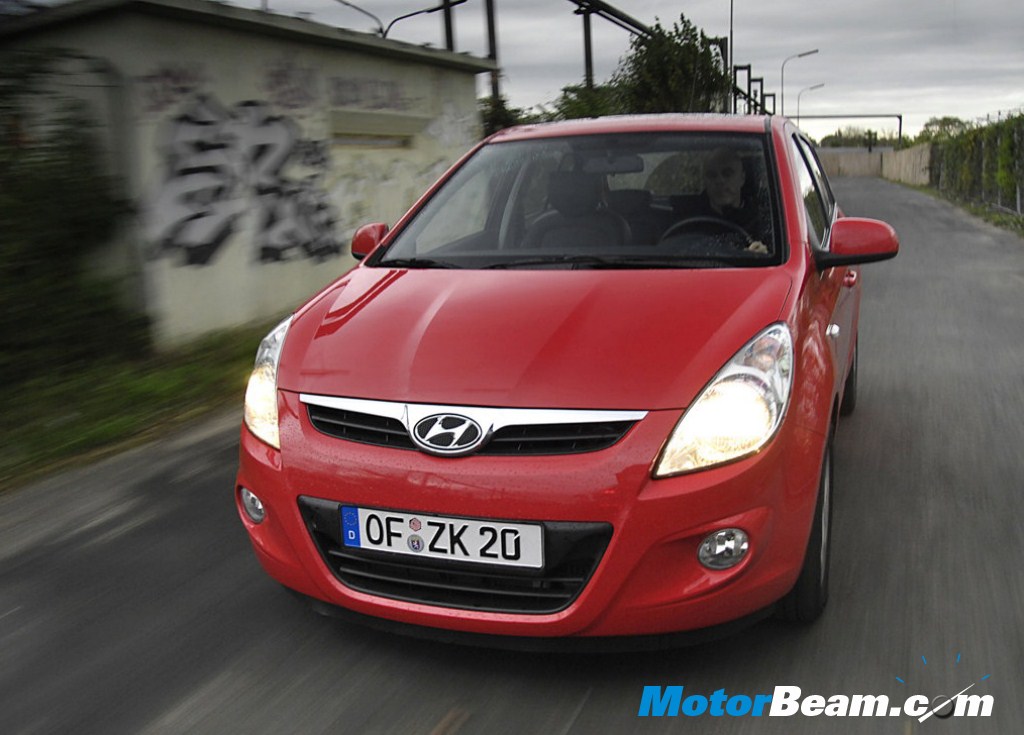 Hyundai i20 – i20 uses the McPherson Strut with gas shock absorbers in front along with couple torsion axle beam at rear with gas filled shock absorbers suspend the wheels. Suspension setting is on softer side that means that the ride quality is stellar on agenda. The set up is quite good at soaking the bumps but when encountered with potholes and large intrusions, it shows lack of finesse. Car pitches on potholes and sharp shock is transmitted into cabin. With option of 185mm width, tyres grip is decent and complement the ride quality of car. High speed stability is definitely better than lower one. Step down the accelerator and feeling of stability increases. Wide stance and long wheel base adds to confidence. With option of 185mm width, tyres grip is decent and complement the ride quality of car. For most of part on highway, ride is very stable and well planted.
Handling department has not excelled like the ford fiesta or Swift, but does its job. As main focus on ride Quality, Handling still manages to do its work adequately. Although it is car not inspire one to attack the corners, still retains its posture for most of time. It is only at very steep curves, it rolls and under steer. For day-to-day driving in city, handling is quite ok. The steering is power assisted electronically and quite a boon to use in city because of light weight in operation. However it doesn't provide the feedback at all.
Tata Indica Vista – Indica Vista rides always well right from its inception. Ride quality is one of the best around and easily comparable with European competitors. The car does a brilliant job in soaking up all the bumps in way and even large potholes with applause. The shock transmits from large intrusions but even that in controlled manner. For most of the part Indica is well composed and stability is decent. High speed stability is an issue and after reaching 3 mark figures, the car usually starts pitching. In comparison to competition, Indica ride quality is best and 175mm width provides good grip.
Setting the suspension for ride comfort doesn't mean the engineers have left handling department. Although it is not entertaining as Swift and doesn't encourage one to attack corners, it still retain its cohesiveness. Body roll is there which is evident due to raised suspension and big body dimensions, it still happens in controlled way.
[singlepic id=5228 w=500 h=340 float=center]
Maruti Suzuki Swift – Swift suffers in ride quality aspect. The ride quality is just average from above average manufacturer. Smaller bumps it takes silently but over large bumps and potholes the suspension crashes. Ride is choppy over large intrusions and passengers get all the shock transmitted to cabin. The culprit is stiffer chassis and narrow width tyres. 185mm width would have made ride quality more enjoyable than actual it is.
Handling of the Swift is benchmark for competitors and best among hatchbacks. Taut chassis, compact dimension and responsive steering make it one of the best cars to handle. Driver can exactly tell what each wheel is up-to and communication is excellent. One can attack corners with confidence and roll in minimum thanks to stiff chassis. Combined with responsive ABS system and accurate steering, one will enjoy driving it even if you are habitual of luxury cars.
Safety & Equipment
Hyundai i20 – Hyundai i20 Asta is indeed a fully loaded car. Hyundai has equipped it with all bells and whistles. Its only car in hatchback, except Honda Jazz, which got 5- star Euro NCAP safety rating and to offer 6 Air bags. Other goodies include ABS with EBD, Rear disk Brakes (another first) and seat belt reminder. Cool glove box, Automatic temperature control, option of Sunroof, Ports for USB and I- Pod connectivity along with information center are useful touches in the car.
Tata Indica Vista – Tata has no artificial pretensions. It sticks to basic so that it can offer it as Value for money proposition. Aura+ model offers Dual air bags with ABS and EBD. Front brakes are disk and rears are drum. Brakes bites well and thanks to ABS, tyres don't lock under heavy braking. The inclusion of Airbags definitely up the Safety feeling among passengers. The 2 din Music system as well as blue 5 is very useful touch. One can connect 5 phones with the help of blue tooth as well as play music in the car audio system. The car also offers USB and Aux-in input so that one can connect audio devices to it.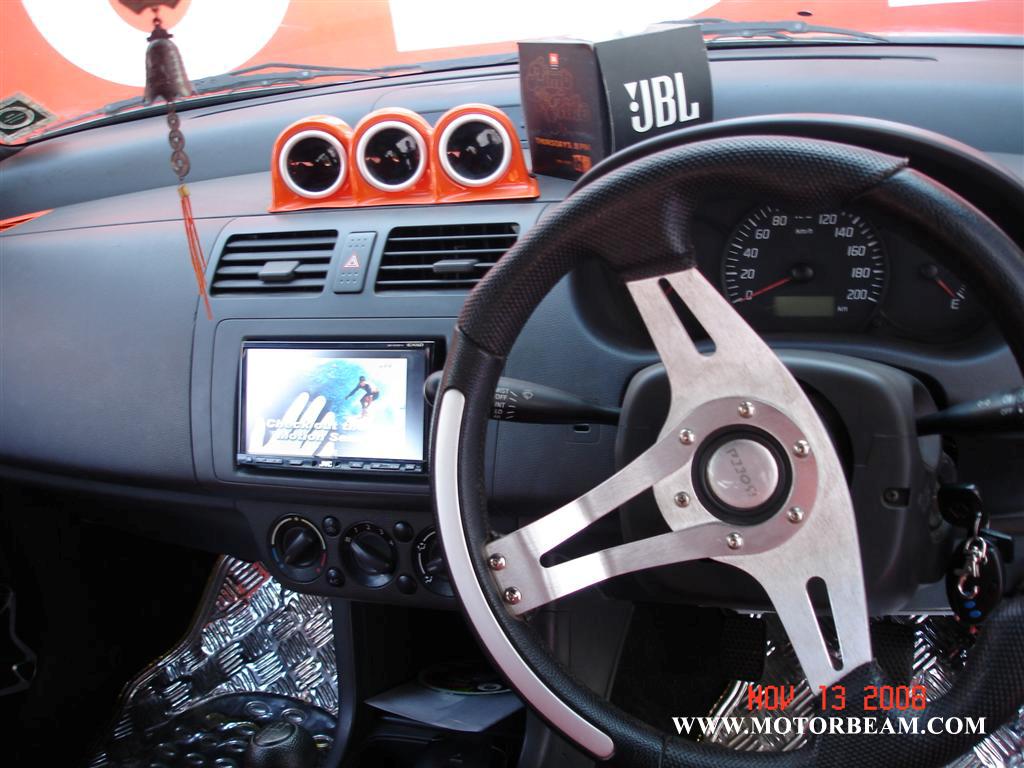 Maruti Suzuki Swift – Surprisingly Swift doesn't offer Climate control on diesel version while it is on offering in Top petrol model. ABS with EBD along with front dual air bags is optional on Vdi model. Driver seatbelt warning lamp is available on Vdi model along with powerful front disk brakes. However it has not been able to offer any innovative feature like Blue 5 on Indica Vista or any USB or Aux- in Compatibility.
Fuel Efficiency – With a difference of almost Rs, 30 to a liter between petrol and diesel, it is not difficult to see the reason why every company is eager to have diesel option in its staple. All cars competing here is diesel and closely matched on efficiency aspect, it won't affect your budget on steeper side. Although on practical side, fuel efficiency won't be crucial factor when deciding to buy a car especially among these 3 cars. These are closely matched on fuel efficiency agenda and all three run on diesels.
Hyundai i20 – With kerb weight of 1220 kgs and P/W ratio of 74ps/ton, i20 delivers mileage of 13 kmpl in city and on highway it returns around 17 kmpl. A very competitive figure for such big car. On highway the longer gear ratios helped it to achieve this astonishing figure.
Tata Indica Vista – Tata claim to have tuned the engine for fuel efficiency than for outright performance. The work really paid off and with the figures of 13 Km/l in city and 17km/l on highway, it is almost as efficient as i20 despite the short gearing for getting useful low down torque grunt used for comfortable city driving. The kerb weight is more than Swift and also P/W ratio is minimum (59bhp/Tonn).
Maruti Suzuki Swift – With the lightest kerb weight and strong mid and high range Swift is winner in fuel efficiency. It returns around 15.5 kmpl in city and 19 kmpl on highway.
Verdict : Wonder or Blunder – Hatchbacks are supposed to be practical cars. The prerequisites for considering a hatchback are: Practicality, Reliability, Ease of driving, Economical to run and low maintenance cost.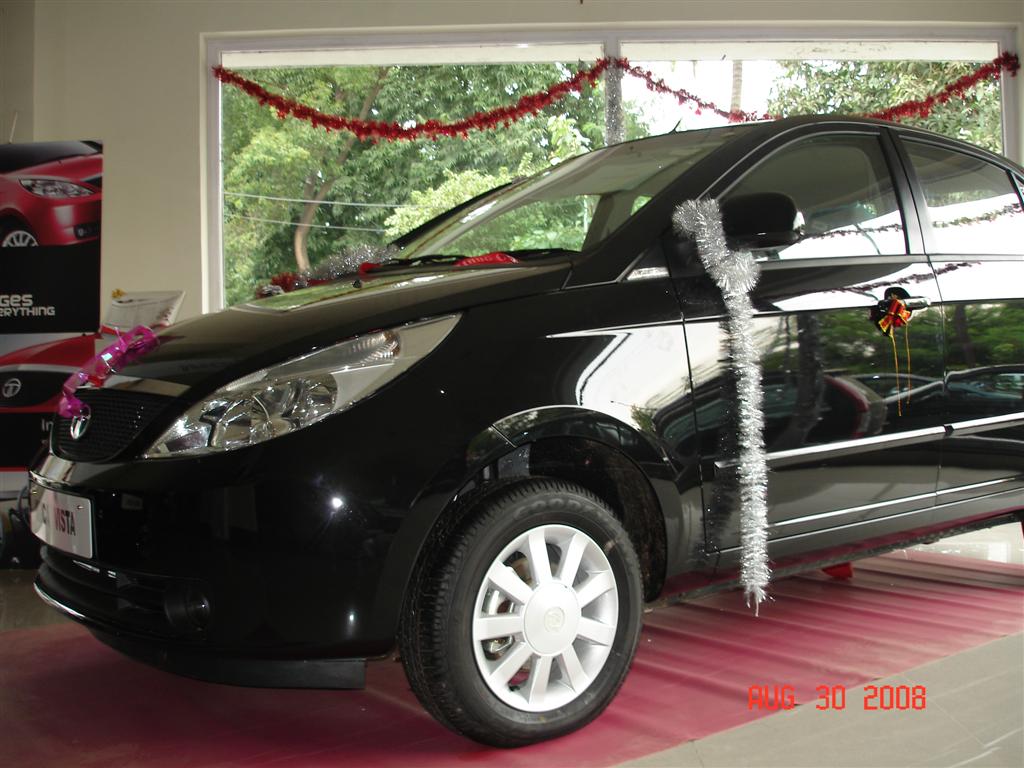 Tata Indica Vista – It is a wonderful car. With Price tag of Rs. 5.55 lakh for Aura +, it is almost like a mouth watering proposition. It cemented the tag line of more car per car. With such a mouth watering price, one get a hatchback that is very comfortable, cavernous interiors, refined Engine and very good ride quality. No wonders it is giving tough time to sales of Swift with almost sales of 10,000 units per month. we don't know any car having offered so much for such a low price. On the flip side, some quality consideration still left for Tata's. Panel gaps are three and fit and finish is not consistent. Some panels could come in my hand if I would tug them hard. Door pockets are disappointingly small and so is the boot space. Nonetheless Great Value for money car.
Maruti Suzuki Swift – It's not difficult to see why Swift has ruled the segment till now. Being a Maruti, it is extremely reliable, refined and fun to drive, have strong mid and top range and most fuel efficient in comparison to competition. With the introduction of many models it started feeling heat and competitors are attacking from head on to company. It still suffers from Lack of space, biggest demerit of car and rear really gives you feeling of confined in tight space. Company has also given a thought to it and new version of Swift, although looks similar to old Swift, has 50mm more Wheelbase than present generation Swift. Even this increase won't be liberating class leading space at the back though. Though Maruti Suzuki strong reputation, Largest and unmatched Quality service will give it sustainable competitive edge to Swift and one won't be surprised if it continue to woo customers.
Hyundai i20 – 'Jack of all trades' is one line that suits the i20. It has optimum mixture of all things: Refined Engine but with weak bottom range, Longest Wheelbase but feeling of space is more in Vista, Good Suspension but in city Vista soaks well than i20, good high speed stability but Handling of Swift is more entertaining. It offers considerably well on all aspects but if you have to choose it on one aspect, one won't be able to do it. It is both dood as well as bad for it. Good because it offers good combination of all and bad because it masters none of aspect. At a price tag of Rs. 7.50 lakh for Asta version, it is also costly bit.
What however favors to buy the i20 is elegant wide stance, roomy interiors, low maintenance cost and safety aspects. It has got a 5 star Euro NCAP rating and many new innovative features also going for it. Company's effort in terms of marketing and advertisement also started giving fruits and it now enters the top ten selling models in the country.
– Kumar Shalender