The Good Old Wine – Premier Padmini
Inception of independent Indian Automobile industry started off with two names – Hindustan Motors Ltd.'s Ambassador and Premier Auto Ltd.'s Padmini. Both are one of it's kind cars plowing their roots deep into every individual born in India. If we notice, both the cars were of foreign origin, Ambassador being an evolved Morris Oxford III and Padmini being an Indigenized version of Fiat 1100. We try to refresh the memories of Fiat that ruled millions of kilometers of Indian soil while ruling billion Indian souls.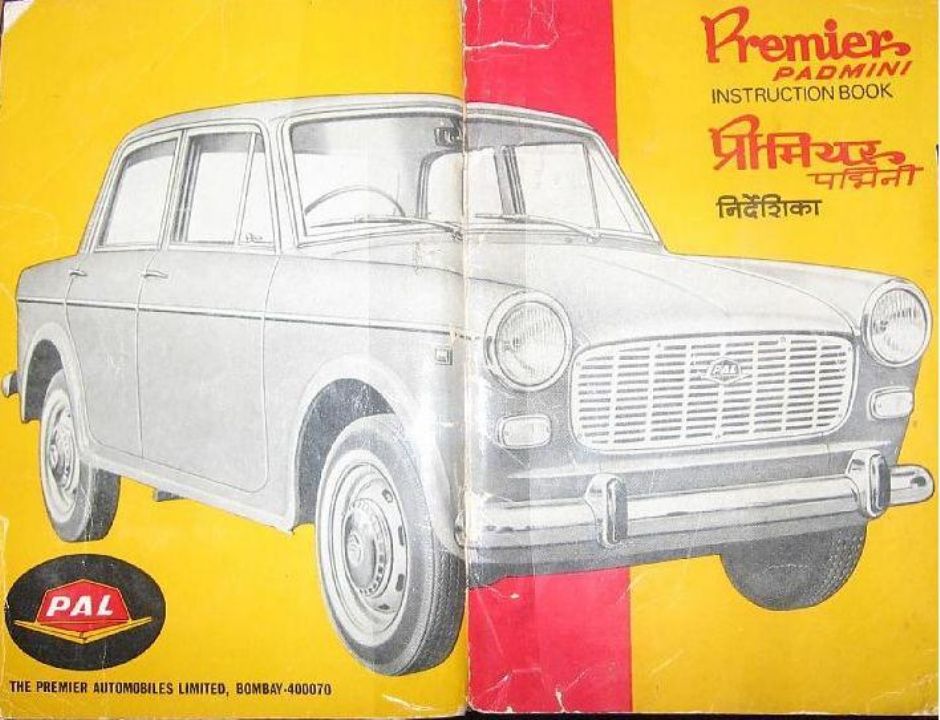 Premier Padmini started off as the Fiat 1100 Delight in 1964 on Indian roads. Yes, the car came to life in Italy under the roof of engineering marvel Fabbrica Italiana Automobili Torino (known as FIAT). Some say, the history of Padmini dates back to few more years. FIAT 500 was the first car from FIAT which was assembled for Indian market since 1951. In 1954, there came a car which all Indians called, the Dukkar. Actually it was a Fiat 1100-103, the predecessor of Fiat 1100 D, an 1100cc, 36 PS four door sedan with its short tail. It transformed a lot before getting evolved into the Fiat 1100D. Fiat 1100D gained pace when Premier Auto started producing it for the Indian market in 1964, under license from FIAT.
At that time the market was dominated by the Ambassador produced by Hindustan Motors based in Kolkata since 1958. The Fiat 1100 Delight was the first car which actually challenged the monopoly of HM Ambassador. It was sleek, compact, more streamlined and a looker than Ambassador thus, it did rise as a potent alternative for the Ambassador. Initially people used to address it as only FIAT, later it gained its identity as Padmini. This car was assembled in Premier Auto's plant in Kurla, Mumbai till 1997 (the year when Premier sold their stakes back to parent). That is why Mumbai has the largest number of Padminis, be it as taxi or as a personal vehicle.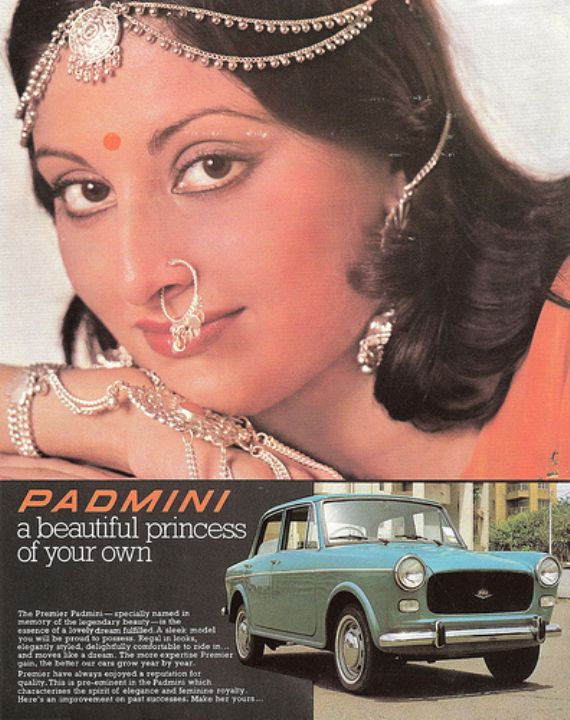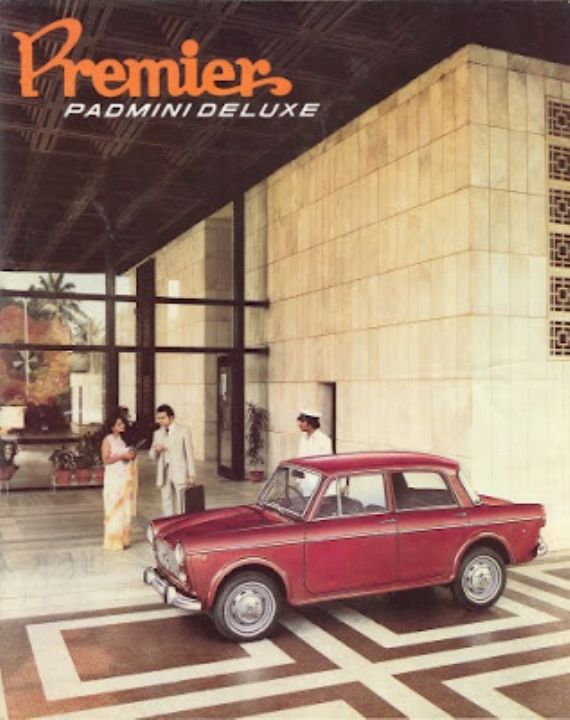 Premier Padmini advert: showing Padmini as symbol of luxury on offering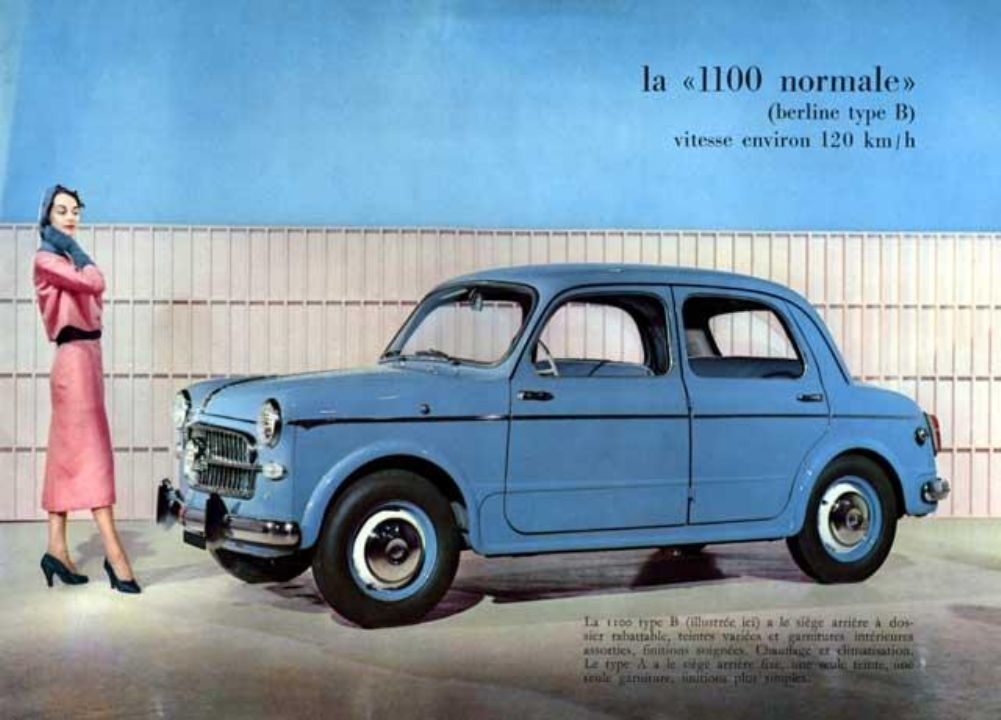 The FIAT 1100-103: Known as Dukkar Fiat in India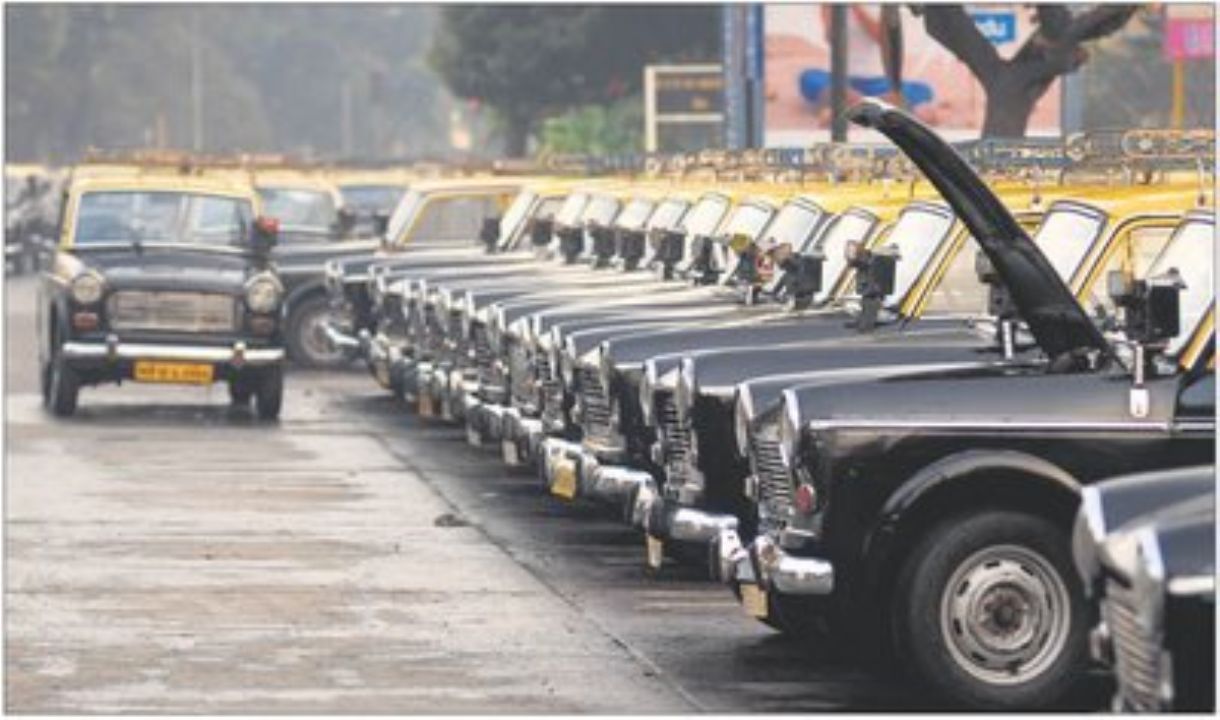 Yellow and Black: Premier Padmini ruled the world of Mumbai Cab
Aesthetically the car was simple and sleek. It had 3-box design with chrome lined round headlights placed at corners with bigger grill at center housing PAL logo and blinkers placed beneath it. The front end resembled the Morris Mini to a certain extent. It had curved front and rear bumpers crafted in chrome which made it stand out of the crowd. Side profile was simple and carried a chrome line running across the length, chrome door handles and hub wheel cap also made up of chrome. Some mounted the tyres with white colored side walls which completed the overall appearance of the car from the side.
At the rear we can find, stretched oval shaped twin level indicators covered by chrome cap and housed finned structure. The chrome was laid all over the car in abundance. Interiors were plain and sober with few knobs and dials and there were no fancy items and storage spaces on the dash. However get inside the Mumbai cab version of it and you'll find many gizmos added there like a fan, TV, many LED throwing lights over religious idols and so on.
The beauty is powered by a sweet sounding engine with following specifications –
– Engine: Fiat 1089cc, Four Cylinders, 2 valves/cylinder , Carbureted, Petrol.
– Power: 40 BHP @ 4800 RPM.
– Torque: 71 Nm @ 3000 RPM.
– Compression Ratio: 7.8:1
– Transmission: 4-speed Manual with column mounted shifter, rear wheel drive.
Just crank the engine and you'll hear the beat that is unmistakably Padmini. From distance it sounds the same over the years irrespective of its age. Later, the engine got a small technical tweak which upped its power to 44 BHP and after that finally it received a major engine upgrade, in the form of a diesel heart in 1996. One of its kind gear lever, placed on the steering column operated a nice four speed gear box. It could do close to 115 km/h of top speed with these mechanicals installed onboard.
The era of the sixties and seventies was not much concerned about gimmicks like ergonomics, pliant ride quality and precision handling, etc. Still ride quality of Padmini was undoubtedly comfortable for city conditions and it would have beaten some of our current generation cars. Seating configuration was like 3+2 which has two sort of comfortable bucket front seats and a flat bench at the rear. Some have fitted it with flat bench at front, which accommodates 3 persons at front, making it a 6-seater. Inside space was enough to occupy 5 people comfortably, although persons measuring more than 6 feet in height may face problem in headroom and legroom. Being a 3-box car, it has full grown 308-litre boot which can house loads, good enough for weekend family trip which sadly was not in trend at those times. So it served many travelers coming to Mumbai by carrying their luggage to destinations. Being a car shorter in height, it had a lower center of gravity and considering light weight of the car, helped in better handling and cornering.
Padmini not only ruled the cab market of Mumbai but also ruled many hearts. Thus, it can still be seen in many avatars now and then. Many proud owners of Padmini have put lot of efforts to keep the car not only in running condition but also to make it a head turner retro beauty. There are fan clubs of Padmini which share their technical knowledge in order to keep the heart of Padmini thumping. Such kind of fanfare is achieved by very few cars in India.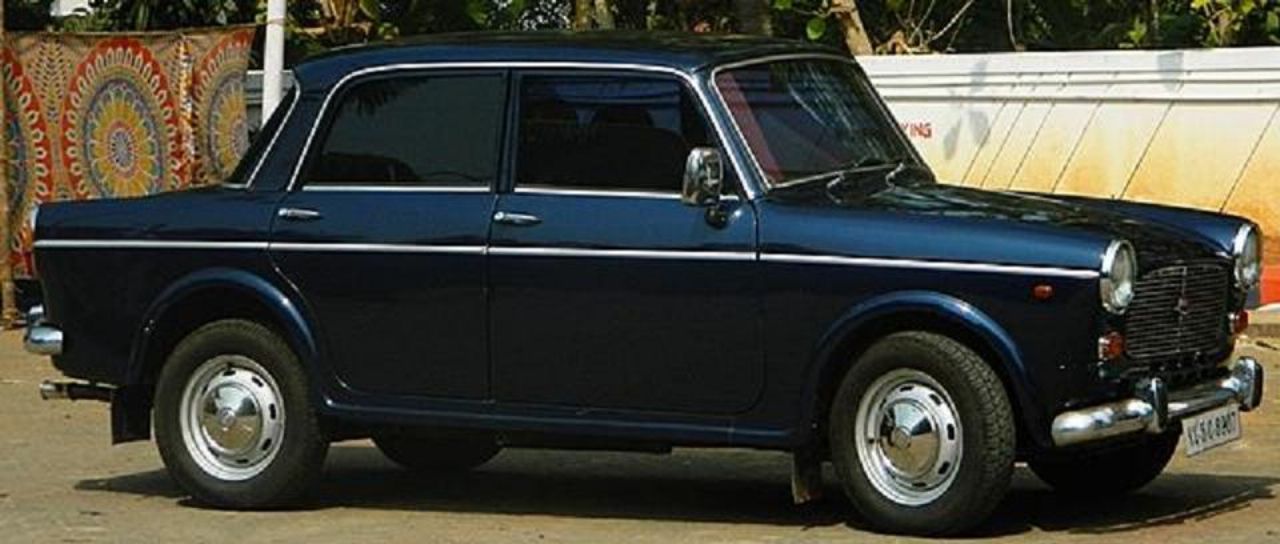 Perfectly restored classic beauty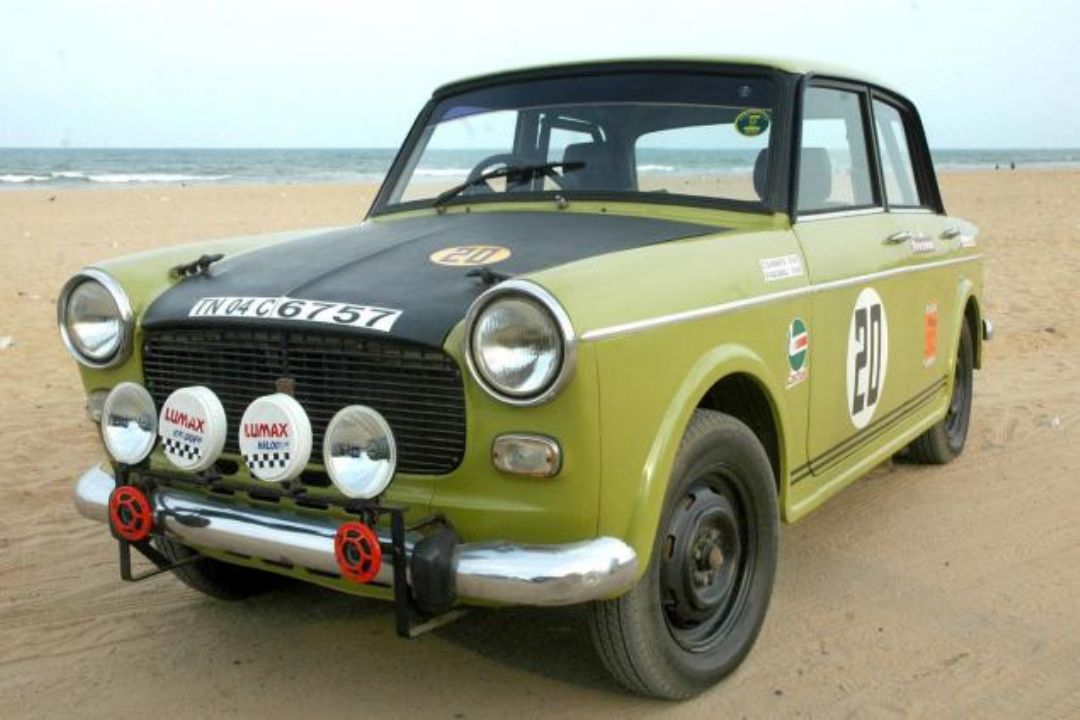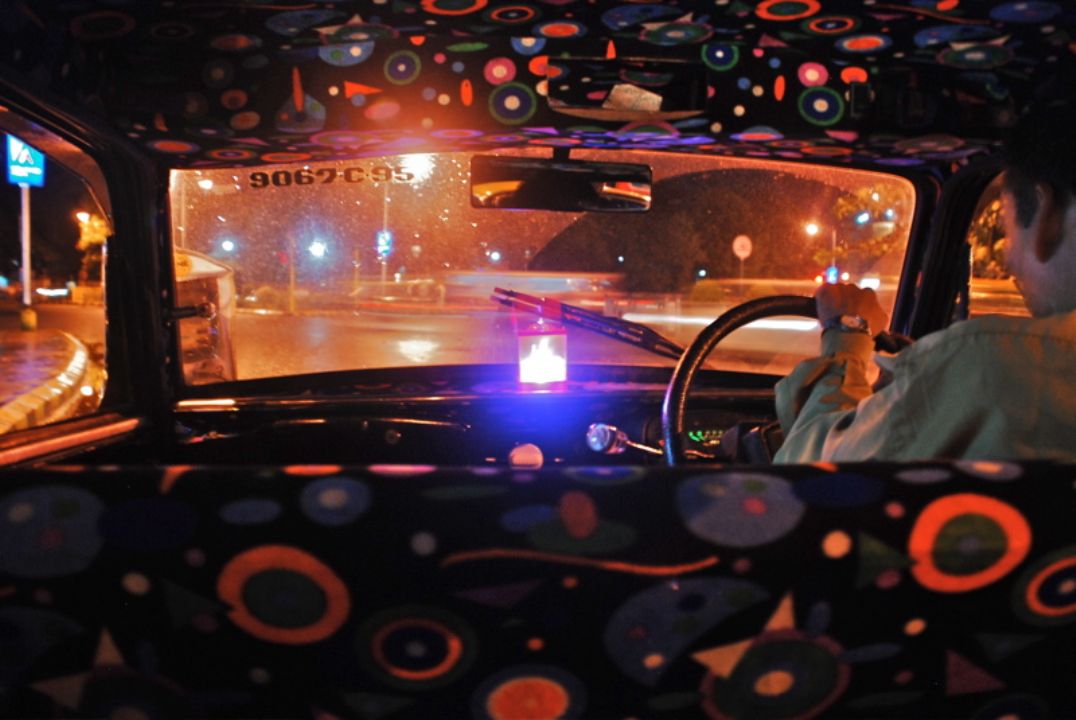 Cabin of Mumbai Taxi
This FIAT legacy has evolved further in India with another Italian beauty FIAT 124 which is known in India as Premier 118NE being launched in 1985. 118NE is the one version out of the many manufactured across the globe like SEAT 124 in Spain, VAZ 21011 in Russia, TofasSerce in Turkey, etc. 118NE is a successor of Padmini for Premier in India. It is placed as a perfect upgrade to its predecessor. Looking at it, we will notice the change of taste with change in generation, curves were gone to make way for sharp and edgy design. The round lamps are replaced by the rectangular ones, same with the tail lamps. Suddenly chrome disappeared from the car and black finishing took its place. Dark black square grill, black front and rear bumpers are reflecting that only.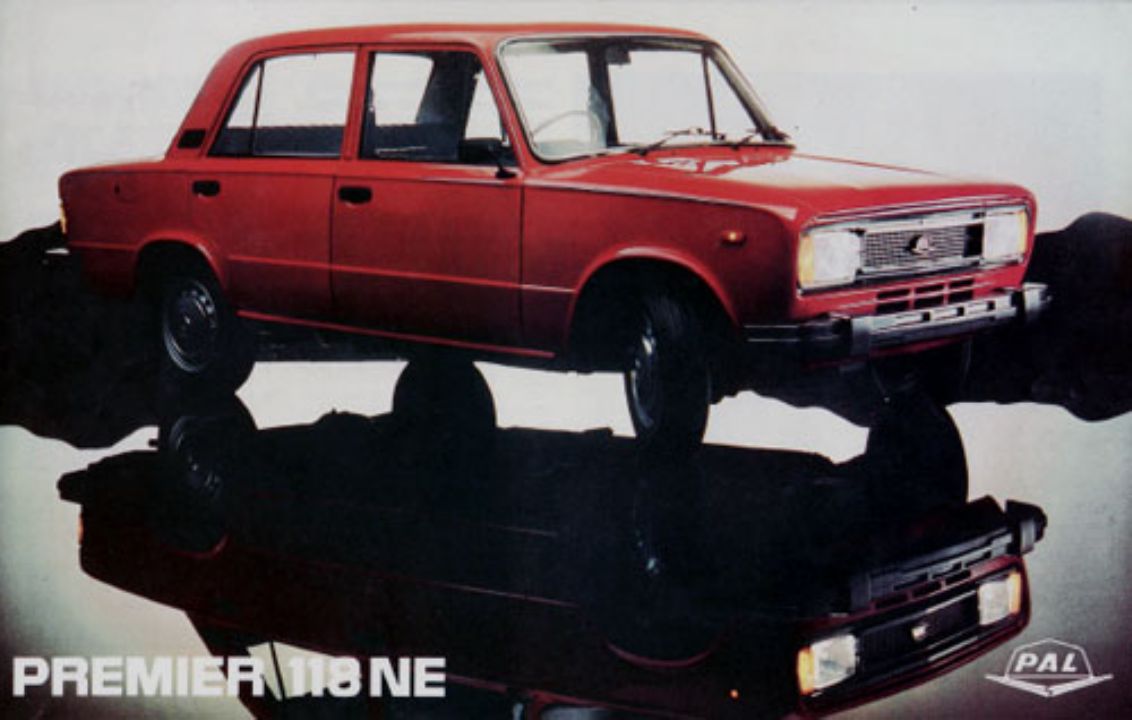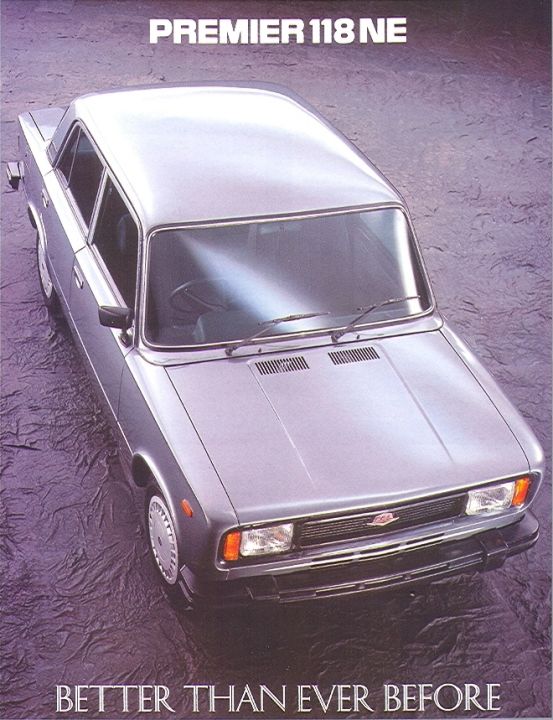 Along with cosmetic changes, the mechanicals have changed too. The 118 NE was powered by an engine sourced from Nissan and a manual box coupled to it was also borrowed from Nissan. The thing that everyone in that era remembers is the Nissan gear box – slickest gear box ever. This power packed engine was way ahead of Fiat's engine found in the Padmini. The power and torque took a big jump assisted by higher compression ratio and higher working RPMs. Later in 2000's the diesel version also came out as people stared to understand the price advantage of diesel over petrol. There was another version, 138D which got diesel heart under the hood.
Following are the engine specs of the Premier 118NE –
Engine: Nissan A12, 1172cc, 4-Cylinder, 2valves/cylinder, Petrol
Fiat PAD 137NC, 1367cc, 4-Cylinder, 2valves/cylinder, Diesel
Power: 52 BHP @ 5600 RPM (P); 41 BHP @ 4500 RPM (D)
Torque: 79 Nm @ 4000 RPM (P)
Compression Ratio: 9:1 (P)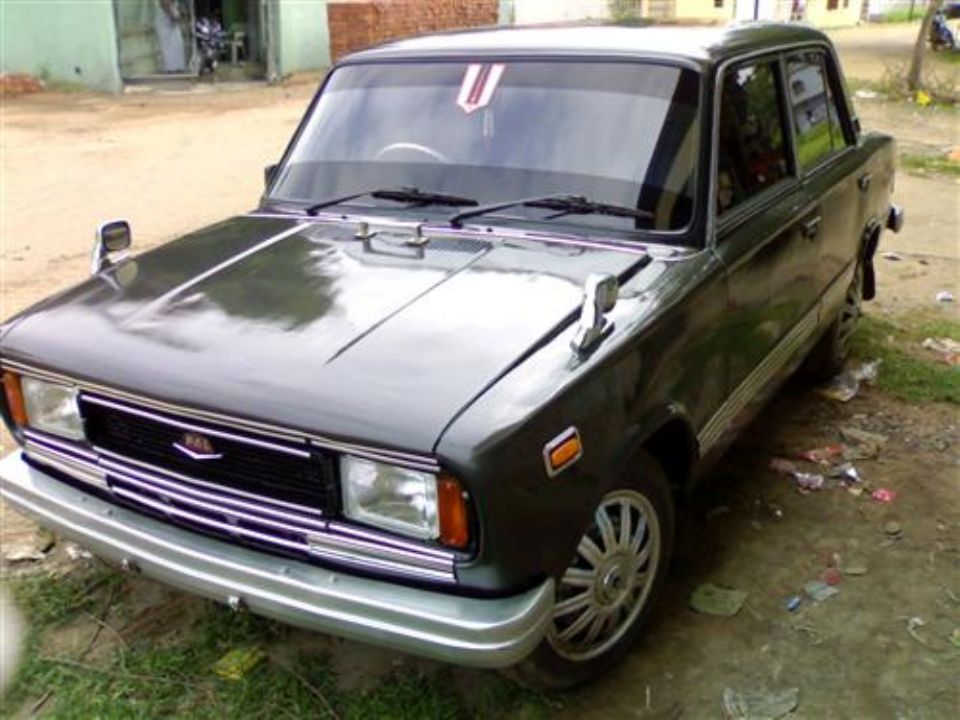 After some complaints from consumers, an improved version called Viceroy was also launched at the end of its life but then it was stopped in 2001. This car hasn't got enough time to breathe as competition started to arise very strongly and the main competitor was the Maruti 800!! Maruti 800 being common people's car which comes at cheaper price tag acted as competition killer for Premier. Finally Premier stopped producing all these cars in 2001 and brought an era, of FIAT's first attempt in India, to an end.
This is a short little story to blow off the dust which had settled with time over these beautiful cars. Time has changed, world has evolved but no one can wash away the impressions these cars made in hearts of many people.