Honda Activa Creates History, 2.56 Lakh Units Sold In July 2016
Honda Activa creates history by breaking the 17-year long stay of the Hero Splendor at the top of sales charts. For the month of July alone, Activa sold 2,56,173 units, leaving its competitors far behind.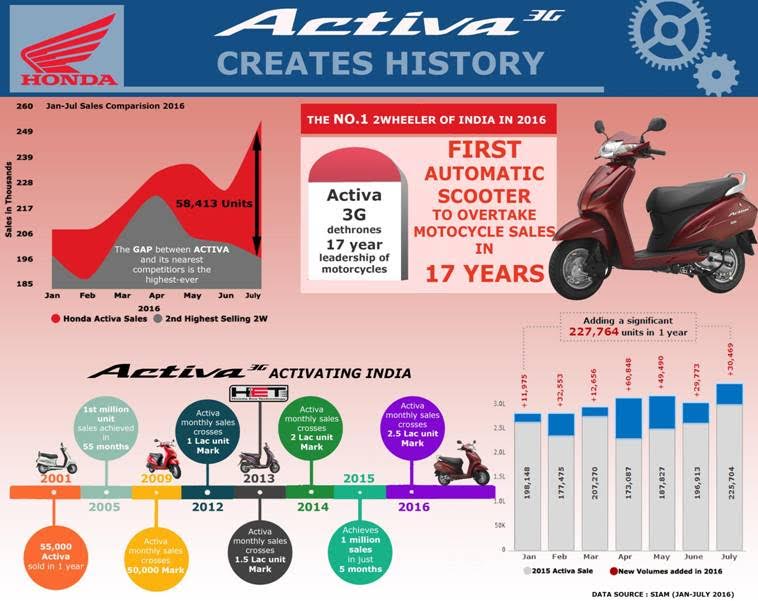 Honda Activa, best known in the Indian household for its practicality and performance, has now reached a new high after it dethroned the Hero Splendor to attain numero uno in sales volumes. It has been no surprise, given Activa's track record in the market since its launch in 2001.
The Hero Splendor had spun a tight web on sales figures for so many years, that numerous products have tried their luck and failed. The Honda Activa has scaled the summit already once in 2014 when it thumped the Splendor, but that was quite a surprise. For nearly five months in 2015, the Activa held the top spot, attributing much of its success to the business year's second quarter.
The Honda Activa has also contributed to nearly 38% sales increment in the scooter segment for the month of July. To milk on the success, the company has now revised its scooter sales upwards to a target of over 24% for this year. The highly successful Activa sold a mammoth 2,56,173 units in July which marks its highest sales figure for the product in a single month since its launch.
To put it into perspective, Honda sold more Activas last month than all bikes sold by Bajaj or TVS. When compared to its Japanese rivals, Honda sold more than twice as many Activas than what Yamaha, Suzuki and Kawasaki sold combined in the same time period.
While the Honda Activa has soared upwards with sales of more than 2.27 lakh units from January up till now, the cumulative sales value of its nearest competitor counts to a mere 19,910 units. Honda has attributed the triumph to the commissioning of the 6 lakh units second line at its Gujarat plant in June.
Honda Activa Creates History
– Honda Activa is now number one in terms of sales figures in two-wheelers
– It has dethroned the Splendor and also broken the 17-year long motorcycle dominance at the top
– Honda Activa also contributed a 38% sales increment in the scooter segment for July
– The 0.6-million second line at Honda's new Gujarat plant helps clear back orders