Honda Brio AT Long Term – Initial Report
Honda Brio Long Term Review
Honda Brio V AT Price – Rs 7,21,280/- (on-road, Mumbai)
While most in the over populated city in Mumbai are doing their best to avoid traffic, we at MotorBeam have nothing to worry as the Honda Brio Automatic recently got inducted in our long term fleet. With traffic getting only worse by the day, the recently launched, Honda Brio AT knows how to gobble up congested roads without causing much stress to the driver. The most advanced automatic vehicle in its segment, the Honda Brio is aimed that those who prefer the convenience of an automatic, especially in stop-go traffic. We have been driving this Honda in city conditions to make life easier for ourselves. The lack of clutch and gear operations coupled with the compact dimensions of the Brio makes driving a breeze.
The Honda Brio is an apt city car, it's easy to drive and you don't get tired even after continuous amounts of time behind the wheel. The steering is light and the compact dimensions make it extremely easy to maneuver even in the worst of traffic, while at the same time helping you to slice through congestion without a hiccup.
The airy interiors have generous glass area giving a good view of the surroundings. The Honda Brio doesn't feel as small as its exterior dimensions suggest and there is good amount of space for four passengers to travel in comfort, in fact, it's more than the new Maruti Suzuki Swift. The right use of colours and the well designed dashboard makes the Honda Brio a very good place to be in. Many have been skeptical of its all glass boot lid but we have put it through some nerve wrecking and it holds on pretty well. The instrument cluster lacks twin trip meters, which is not such a good thing although there is a mileage meter, which is reasonably accurate.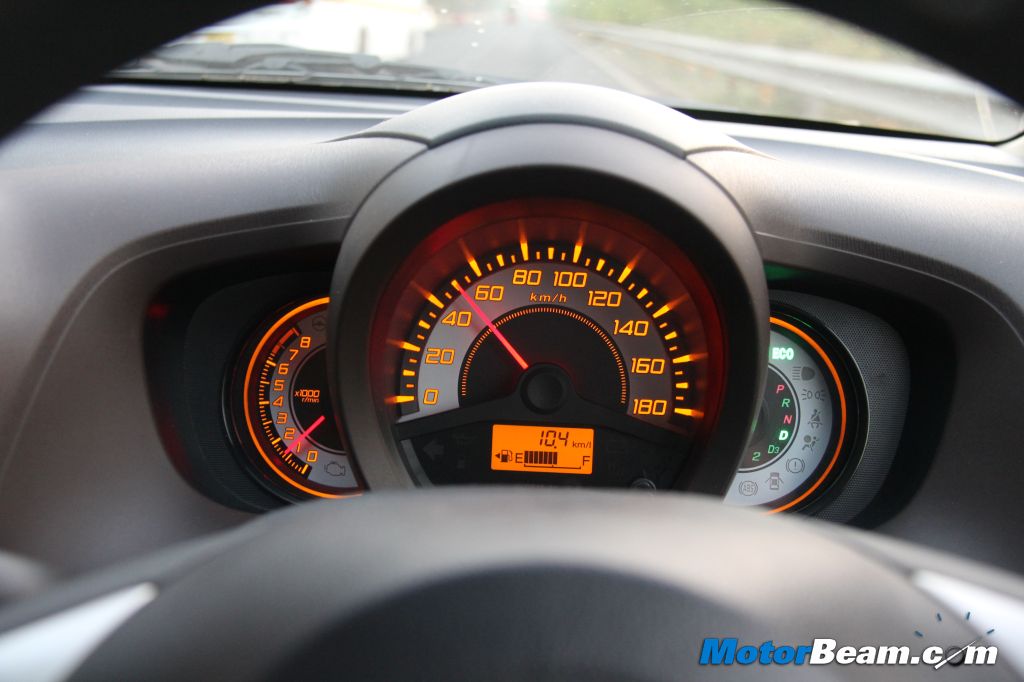 The automatic version offers decent performance and fuel consumption. We have been getting a mileage of around 10.5 km/l which is good considering the vehicle has spent most of its time on crowded Mumbai roads. The auto box offers good response and for this price, it's undoubtedly the best transmission. This 5-speed Honda transmission is smooth and when you really want to overtake in a hurry, you can shift to D3 to extract the best out of this machine. Braking performance is decent and the limited engine braking does tend to take a toll in stopping the car quickly. Ride quality is smooth and handling is good but the steering lacks feel at high speeds, however the Brio impresses with its high speed stability.
Our initial long term impressions of the Brio Automatic are very positive. The vehicle is very practical and is the apt tool to tackle the daily city traffic conditions. The automatic gearbox doesn't blunt performance or mileage by much and offers the convenience of driving stress free. We are loving it.