Honda Brio Sedan Teaser Image Up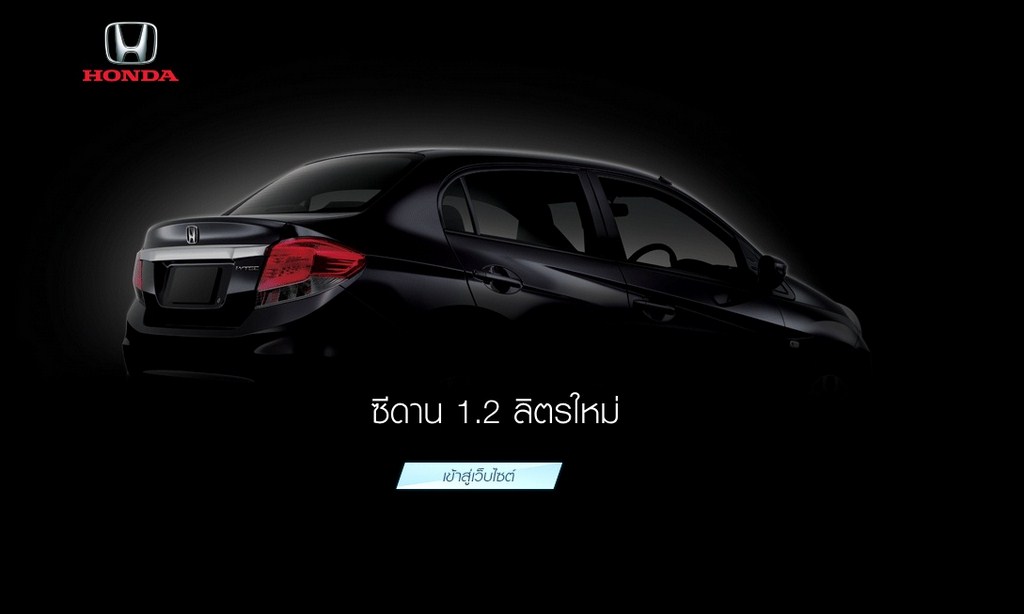 'It loves you back' is what Honda came up with when it launched Brio hatchback. It indeed saw a good response and it did not take much time for Honda to launch the automatic. The company's plans were already in air that a Honda Brio sedan too can be expected very soon. Well, the wait will not be a long one as Honda's Thailand website has already hosted the teaser image of Brio based sedan. Code-named as Honda 2TP, the company is yet to give it a name. However, we can expect the vehicle to be launched by March 2013.
The Honda Brio based sedan is expected to attract more customers, thanks to the demand for compact sedans in India. The sub-four metre length will help the Brio sedan get excise duty benefits and thus, it can be priced competitively. Another good news is that, the Brio sedan would burn diesel and thus, it would become the first diesel based Honda vehicle in India. The diesel Brio sedan will be followed by diesel versions of the Brio hatchback and City.
Once launched, the Honda Brio sedan can be a serious competitor to cars like the Maruti Suzuki Swift Dzire and Ford Classic. As mentioned earlier, it will get the new 1.5-litre four-cylinder diesel engine which is expected to have a decent power output and good mileage. Honda has shown too much aggressiveness in the last few months. Its Brio hatchback is now being exported to South Africa as the first consignment of 390 units was flagged off yesterday from the Mumbai port. Sales of the Brio hatchback will start by early December 2012 in South Africa.