Honda CB300R Accessorised Version Showcased
Honda CB300R accessorised version gets refreshed looks as showcased at the launch.
Honda launched the CB300R at Rs. 2.41 lakhs (ex-showroom). The bike has created such a buzz in the motorcycle community that even before the prices had been revealed, it had been booked out for three months. At the launch, the company revealed the optional extras that will be available for the bike to make it a bit more visually catchy.
Honda is offering a headlight grille for the bike to give it a more rugged look, also adding extra protection to the headlight in the event of a fall or a wayward stone hitting the headlamp and damaging it, without affecting the illumination of the headlamp. A rugged metal bash plate is on offer in place of the plastic cowl to provide an extra bit of underbelly protection for the engine and all the other important bits and pieces in case the bike tackles off-road terrains.
The radiator also has an optional grille on offer for the bike, which protects the radiator fins from various elements. Engine and frame sliders are available to protect the bike from damage in case of an unfortunate fall. To enhance the aesthetic appeal at the rear of the Honda CB300R, the bike gets a tail-tidy with the registration plate and side blinkers moving up, just under the pillion seat, exposing the Michelin tyres.
Another minor cosmetic option extra offered to the Honda CB300R is the silver finished bar-end weights, replacing the standard black weights. Some of the optional extras on offer make the CB300R look sportier, while some help protect the bike if you plan to take it off-road.
Honda CB300R Accessories
– Headlight gets an extra grille for protection without hampering the intensity of the light
– Tail-tidy kit is available to make it look more appealing
– Silver finish bar-end weights instead of the black finish give a more premium feel to the bike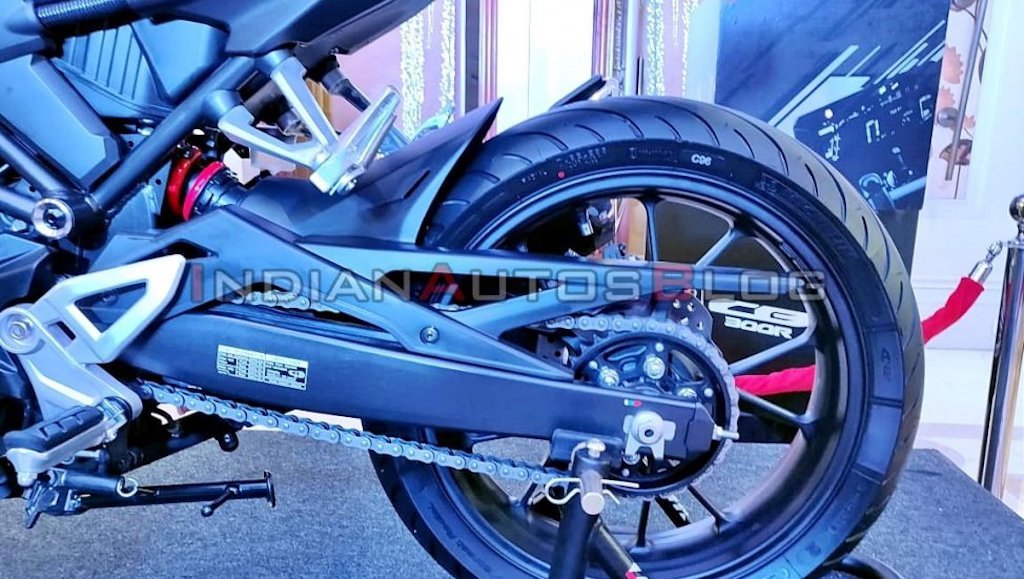 Source – IndianAutosBlog.com