Honda Connect App Launched In India, Gives Real Time Car Info
The Honda Connect app is a useful software that provides all the important updates about your car including location services and car service details.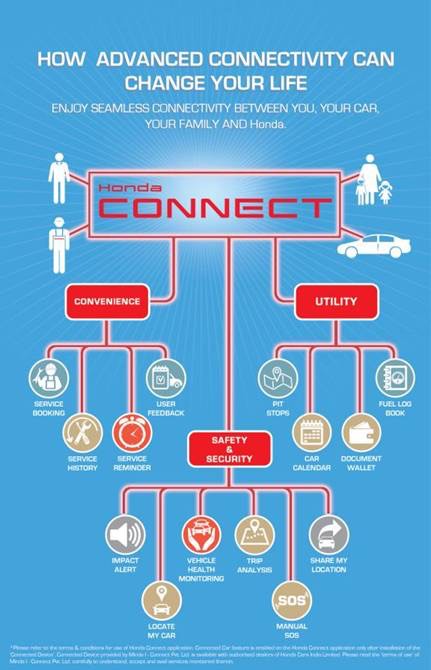 Honda has launched Honda Connect, which is an information platform exclusively made for the Indian market. This new app helps customers connect with their car, family and Honda itself. The app is available on both Android and iOS platforms. It comes with various useful functions that adds to the convenience of a Honda owner and makes one feel safe and connected. One just has to plug in the device from any Honda dealership which is initially available for Rs. 2999/- for the first 20,000 devices with 1 month free subscription.
Once the device is plugged in, the owner needs to download he app on his smartphone and enter the vehicle details including VIN number and engine number. Now you will get updates from Honda regarding the vehicle's maintenance and you can also schedule an online service appointment and check history of each maintenance action. You will get regular updates about the new products and campaigns offered by Honda and a direct medium of giving a feedback about your ownership.
There is a manual SOS feature that one can use under emergency situations and the system lets your friends and family know the vehicle's location. Pit stops feature shows a list of fuel stations and Honda dealers on the map. There is an insurance and PUC renewal feature that reminds you to keep your car documents up to date. The document wallet stores the copies of your car papers. There is a nifty fuel log function as well through which you can record your fuel economy and money spent on refuelling the car.
The Connected Device has sensors that measures the car's 3D orientation which can detect an impact. This impact alert feature informs the HCIL's 24×7 helpline and they generate an assistance call to the customer along with detecting the location to provide help. The system is basically connected with cloud and dealers so that each aspect of the car is being monitored in real time. You can also locate your Honda car through this app if you forgot where you parked the car.
The Honda Connect app also has a trip analysis function that helps the owner keep a tab on the driver or children. It will provide information about the driving behaviour with the help of statistics including route taken, average speed, hard braking and idling time. Through your phone you can check your car's health anytime which includes battery status, engine status and so on. All in all it is a very useful system that gives the owner a piece of mind and women in India a sense of safety while driving at night.
The Honda Connect Device can be installed at any dealership pan India. The new platform is developed by Minda i-Connect, which is also involved in developing many more automobile related systems. The new system is currently being offered exclusively to new customers of Honda Jazz, City and CR-V. People who own the current generation of Honda cars can install the device but older generation Honda owners won't be able to use this device. Honda is celebrating their 20th anniversary in India by launching this new platform for the tech-savvy consumers.
Catch All The Latest Videos, Subscribe To
Catch All The Latest Videos, Subscribe To