Honda Mobilio Crash Test Rating 0 Stars For Base, 3 For Airbags
India-spec Honda Mobilio has been crash tested by Global NCAP which scored 0 stars for the base variant and 3 stars for the airbags equipped variant.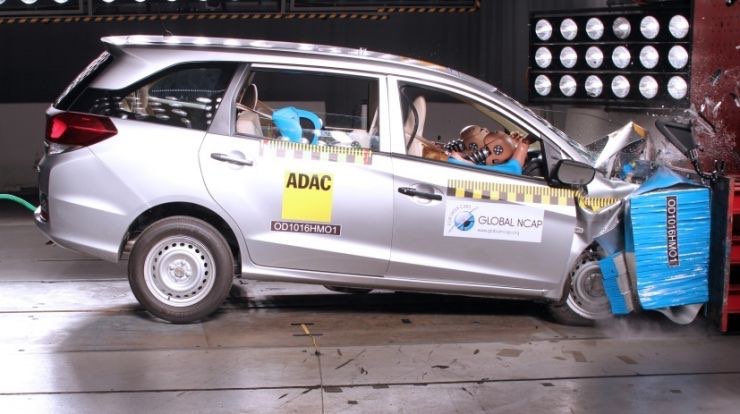 Global NCAP has recently conducted crash tests for the Honda Mobilio. The MPV failed in the first attempt of the crash test, which was done with the base variant that had no airbags. It scored 0 stars rating for adult safety while only one star was given for child safety but the car showed stable structure. This is the same car being sold in the Indian market.
The MPV went for a crash test again but this time it was equipped with dual front airbags and as expected, Global NCAP gave a decent 3 stars rating for adult safety and two for child safety. This tells us how important is the role of airbags in a car, even if there are only two up front. Hence, the Indian government is coming up with stringent rules for standard airbags in future cars.
Such scenarios have occurred time and again with India-spec cars. As a routine, Global NCAP always tests base variant of the cars to check the standard safety offered by the carmaker. However, with the lack of stringent norms for airbags in India, carmakers usually skip on these safety features to keep the price in check and hence these cars fail the crash tests.
The Honda Mobilio MPV is based on the Brio platform and is aimed directly against the Maruti Ertiga. The Mobilio couldn't make good numbers for the Japanese carmaker. It is a spacious MPV with 7-seat layout and comes with both 1.5-litre diesel and petrol engine options but the lack of features and relatively high price point, the Mobilio couldn't attract the Indian car buyers.
Honda Mobilio Crash Test
– Honda Mobilio scores 0 stars for the basic variant having no airbags
– In spite of 0 stars rating, the Mobilio showed stable structure
– The airbag equipped Mobilio scored 3 stars
– The crash test shows the importance of airbags