Hyundai Alcazar – 4 Reasons To Buy & Not Buy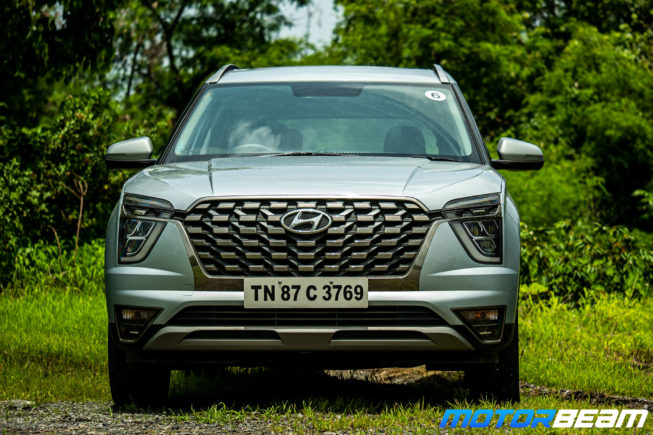 We tell you the reasons why the Hyundai Alcazar makes sense and some more on why it could be avoided
Ask people to state a few reasons why they would buy the Hyundai Alcazar, instead of the Creta and they would simply say that it looks better and that it also has an extra row of seats.
Acceptable as they may be, there are other reasons why one should really consider buying the SUV. Of course, it is not perfect, no car is for that matter, and we point out its flaws as well. Read on!
4 Reasons To Buy
Design – The biggest compliment one can give the Alcazar is that it looks better than the car it is based on. It has a nice new radiator grille, is longer than the Hyundai Creta (by 200 mm) and is thus more proportionate, while the rear profile is better-looking in comparison to the Creta as well.
Cabin Quality & Features – Although the dashboard has been lifted straight from the Creta, the new brown and black theme gives the Alcazar's interior a fresh look and it is well put together too. What's more, even the base variant has a good number of goodies, while top trims get a 10.25-inch digital cluster, large infotainment touchscreen, panoramic sunroof, electrically adjustable driver seat, wireless device charger, connected car tech and more features.
Petrol Engine Refinement – Those looking for a premium SUV with a strong, yet silent powerplant, should go for the Alcazar's petrol variant which has a 2.0-litre mill. The engine is refined and delivers its power (159 PS) in a smooth manner. The fact that it can also be had with a torque convertor auto, apart from the manual, is a bonus.
Light Steering & Driving Dynamics – Hyundai has given the Alcazar a very pliant suspension setup, which matches the car's demeanour rather well. The car remains stable at high speeds and in the city, its light steering is a boon. It also has strong brakes.
4 Reasons Not To Buy
Third Row Space – Accessing the third row of seats is rather easy thanks to the second row seats that tip and tumble. Fully grown men would struggle for knee room when seated in the third row. It would be wise to only put children or tiny adults back there.
No 7-Seat Top Variant – For some reason Hyundai has decided not to offer the 7-seat version in the top Signature variants. Thus, people who want the fully-loaded version will have to contend with 6-seats only.
Not So Frugal Petrol Engine – Although the Alcazar's petrol variant offers a pleasant driving experience, the large motor is not very fuel efficient. Those who want a longer driving range would be better off opting for the diesel version.
Least Powerful Diesel Engine In Segment – There is a drawback when it comes to the diesel variant as well and that is, it is not very powerful. The 1.5-litre oil burner only has 115 PS, which means it is not that punchy. However, since the SUV is not too heavy (it weighs around 1.4 tonnes) people would be able to just about manage thanks to the 250 Nm of torque.