Hyundai Elantra/Avante Spied In India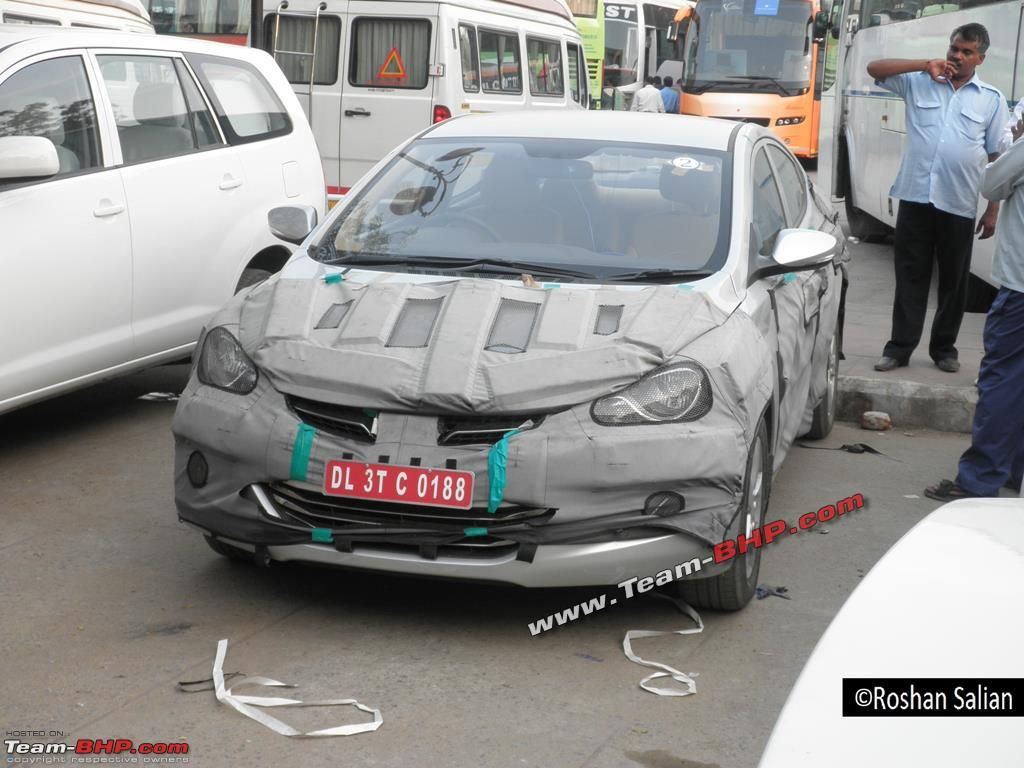 Just yesterday we wrote about the upcoming cars in 2012 and had the Hyundai Elantra/Avante in our list and today we come across spy pictures of the car. The 2012 Hyundai Elantra Avante was spotted at Taj Mahal in Delhi and featured heavy camouflage. Although Hyundai has its plant in Chennai, its corporate office is in Delhi and the company could be in the early stages of testing of this D-segment sedan. The Elantra was launched in India a few years back and did not do well. However the next generation Elantra looks very promising with the Fluidic syling and loads of features. Hyundai would position the Elantra Avante right between the Verna and upcoming Sonata (i45), pricing the car around Rs. 12-14 lakhs.
Internationally, the Elantra is powered by a 1.6-liter, Gamma GDI motor and a 1.6-liter diesel, which produces around 140 BHP of power. In India, we feel Hyundai will adopt the Avante name (just like it plans to rename the Sonata to i45) to prevent customers from remembering the erstwhile Elantra. The Korean automaker might share engines and transmissions from the Fluidic Verna to take advantage of the economies of scale, helping the Elantra to be priced very aggressively against the Chevrolet Cruze, Honda Civic and Toyota Corolla. The Elantra Avante along with the Sonata (i45) will be showcased at the upcoming Auto Expo to gauge customer response.
[singlepic id= 8044 w=540 h=375 float=center]
[singlepic id= 1714 w=540 h=375 float=center]
[singlepic id= 1715 w=540 h=375 float=center]
[singlepic id= 1716 w=540 h=375 float=center]
[singlepic id= 1717 w=540 h=375 float=center]
[singlepic id= 1718 w=540 h=375 float=center]
[singlepic id= 1719 w=540 h=375 float=center]
[singlepic id= 1720 w=540 h=375 float=center]
[singlepic id= 1721 w=540 h=375 float=center]
[singlepic id= 1722 w=540 h=375 float=center]
[singlepic id= 1723 w=540 h=375 float=center]
[singlepic id= 1724 w=540 h=375 float=center]
[singlepic id= 1725 w=540 h=375 float=center]
[singlepic id= 1726 w=540 h=375 float=center]
[singlepic id= 1727 w=540 h=375 float=center]
[singlepic id= 1728 w=540 h=375 float=center]
[singlepic id= 1729 w=540 h=375 float=center]
[singlepic id= 1730 w=540 h=375 float=center]
[singlepic id= 1731 w=540 h=375 float=center]
[singlepic id= 1732 w=540 h=375 float=center]
[singlepic id= 1733 w=540 h=375 float=center]
Spy Pictures Source – Team-BHP