Jaguar Showcases Project 7, F-Type Coupe At Expo [Live]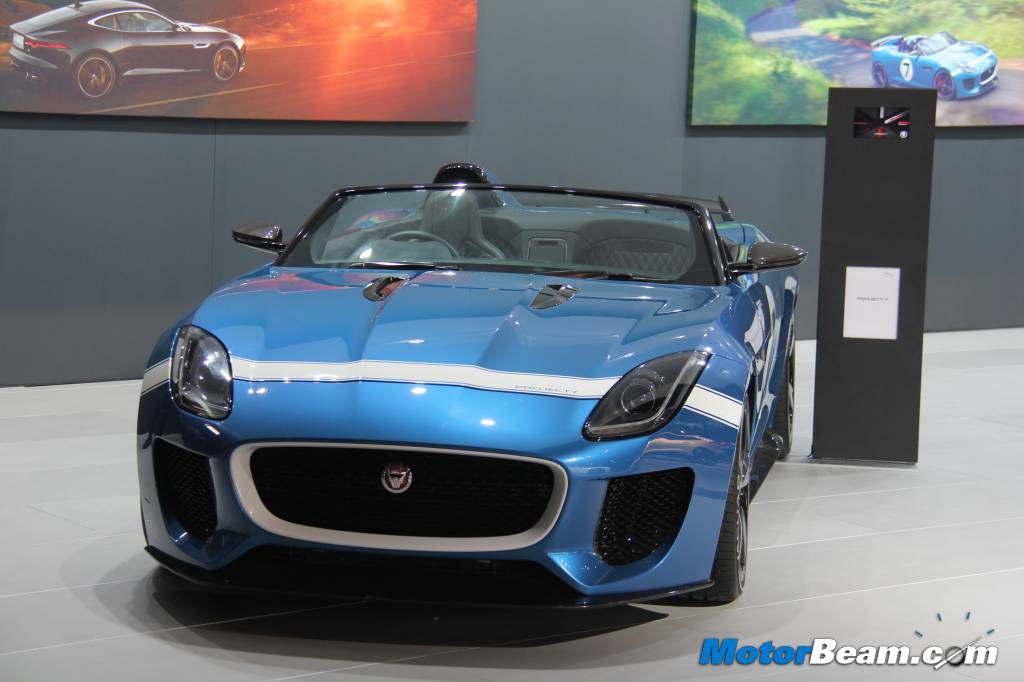 The Jaguar F-Type convertible was unveiled in 2012 that left everyone spellbound with its gorgeous styling. In 2013, Jaguar revealed the speedster version of the F-Type, termed as Project 7 that is inspired by the Jaguar's legendary D-Type race car. Later in 2013, the stunning Jaguar F-Type Coupe was launched. Now at the 2014 Auto Expo, Jaguar is showcasing both Project 7 and F-Type Coupe that are attracting massive attention. The Jaguar Project 7 reveals a raw performance oriented stance, while the F-Type Coupe is a pure fashionista with an aggressive face.
The Jaguar Project 7 made its first public appearance at the Goodwood festival of speed in UK. The Jaguar D-Type Project 7 won the 24-Hours of Le Mans race. The new speedster from the British automaker is named after that legendary car. For its race centric nature, the Project 7 gets a steeply raked windshield with a flared design at the back of the driver side. New elements on the Project 7 include front splitter, side skirts, rear diffuser, upgraded exhaust, alloy wheels with carbon fiber inserts.
The Jaguar Project 7 and F-Type Coupe V8 R, both feature the same 5.0-litre supercharged V8 units with higher state of tune compared to the F-Type Convertible. The supercharged V8 unit produces a maximum power of 550 PS with a peak torque of 680 Nm, mated to a 8-speed automatic transmission. However, the Jaguar Project 7 comes with weight saving components and is relatively more aerodynamic because of its track focused character. 0-100 km/hr sprint in Jaguar Project 7 and F-Type Coupe comes up in 4 seconds with a top speed of 299 km/hr.