Jaguar Turns On The Heat, Unveils XFR-S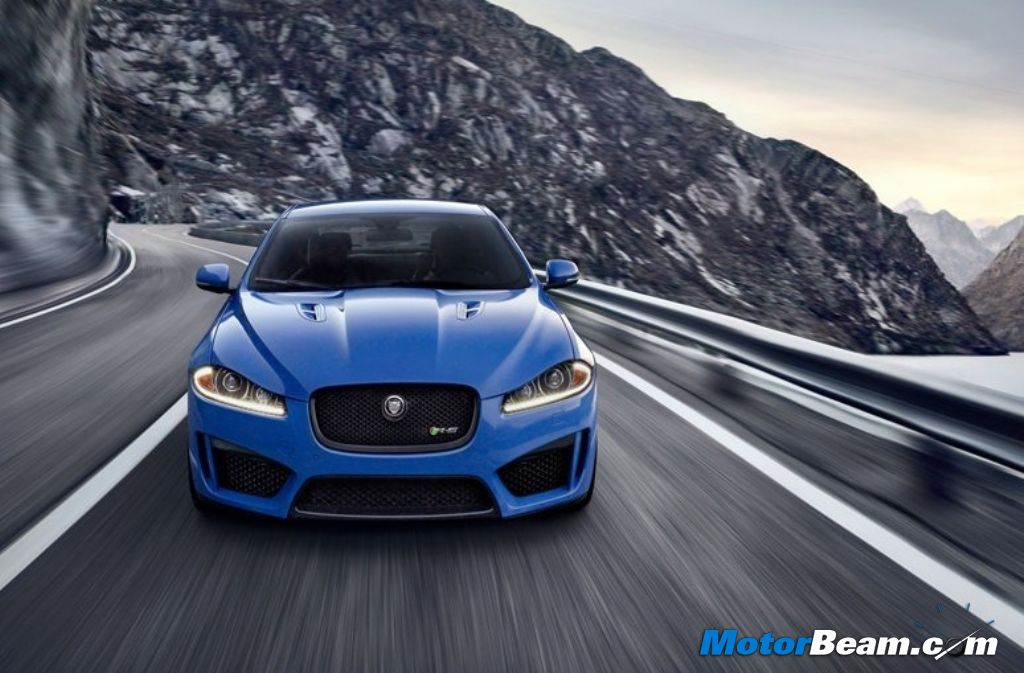 Jaguar has just unveiled more pictures of it's BMW M5 rival a day before the Los Angeles Auto Show. The Jaguar XFR-S looks every bit the part, ready to pounce on 4-door performance saloons from Germany. This high performance version of the XF gets quite a few exterior changes, which makes it look extremely hot from every angle. The styling changes are not many, but what ever minimal changes have been made, transform the appearance of this Jag into a completely different beast.
The Jaguar XFR-S gets a similar blue color which features on the XKR-S coupe. The vehicle also gets a body kit, along with bigger wheels, aggressive rear spoiler (available in two sizes) and a rear diffuser with quad tail pipes. The front bumper is very aggressively styled, giving the Jaguar XFR-S a sporty appearance. However the main change is under the hood. The XFR-S is powered by the fire breathing 5.0-litre supercharged V8 which belts out around 550 PS of power and 680 Nm of torque, giving this Jag a 0 – 100 km/hr time of 4.6 seconds and a electronically limited top speed of 300 km/hr.
[youtube:http://www.youtube.com/watch?&v=AkSmOMtNKm8 540 375]
Dubbed as a ultra-high performance version of the XF series, the XF-RS is the fastest and most powerful Jaguar sedan yet. The British automaker has upgraded quite a few components, including the exhaust, suspension and electronics to give this vehicle better performance. The company has also used carbon fibre trim for more eye candy and given the interiors a carbon black finish with contrasting color stitching.
This rear wheel drive vehicle will sit above the XFR in the Jaguar line-up, offering performance enthusiasts more options to choose from. Only 200 units of the XFR-S will be offered in the U.S. Jaguar is likely to offer this vehicle in the Indian market too, pricing it around Rs. 1 crore. The Jaguar XFR-S is a worthy competitor to the likes of the BMW M5, Mercedes E63 AMG and Audi RS6, offering similar levels of thrills in a more desirable package.