Kawasaki Ninja 250R vs Honda CBR250R
The most happening motorcycle segment in India will soon be the 250cc segment. The quarter liter bikes which will be at the forefront of this action will be the Kawasaki Ninja 250R and the soon to be launched Honda CBR250R. The Kawasaki Ninja has more power thanks to its twin cylinder engine but the CBR250R enjoys a major price advantage of over a lakh. However overall which is the bike to pick? Well Motorcycle USA recently put both the bikes in a comparison test to find out and their results are no surprise. Does the Kawasaki Ninja 250R retain the best 250cc motorcycle in the world tag or the Honda CBR250R takes over?

Dyno result of the Honda CBR250R

Max. Power Output – 26 Ps @ 8500 rpm
Max. Torque – 22.9 Nm @ 7000 Rpm
Dyno result of the Kawasaki Ninja 250R
Max. Power Output – 33 Ps @ 11,000 Rpm
Max. Torque – 22 Nm @ 8200 Rpm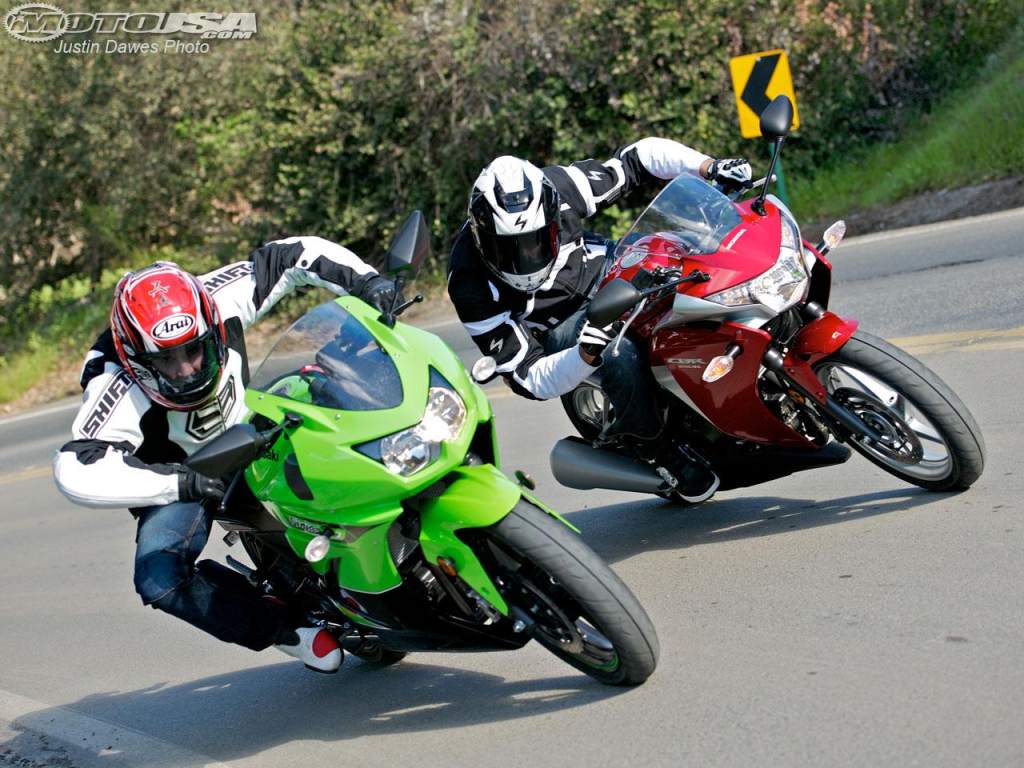 Honda CBR250R vs Kawasaki Ninja 250R
The Ninja in the U.S. is a carb version and thus cost the same in the U.S.
The Honda weighs 7 kgs less than the Kawasaki at 162 kgs.
The CBR250R's clutch is lighter but the Ninja's clutch has better feel.
The CBR250R is very easy to ride and the low end torque makes it a breeze in the city.
The Ninja 250R does not feel out of breath on the highway, the CBR 250R does.
The Ninja has a higher red line due to which overtaking at high speeds is easier than the Honda.
ABS on the CBR250R does not work that great, both bikes have similar braking performance.
The CBR has a more comfortable seat than the Ninja.
The CBR delivers slightly better fuel efficiency compared to the Ninja.
Contrary to popular beliefs, the Kawasaki engine feels smoother than the Honda.
The Kwacker feels more planted and has slightly better build quality too.
The CBR turns more heads than the Ninja.
The Kawasaki Ninja 250R is overall a better bike than the Honda CBR250R.
Read the complete comparison test here.