Kia Seltos Launched, Priced From Rs. 9.69 Lakhs
The Kia Seltos is priced between Rs. 9.69-15.99 lakhs and is available with 3 engine options in India.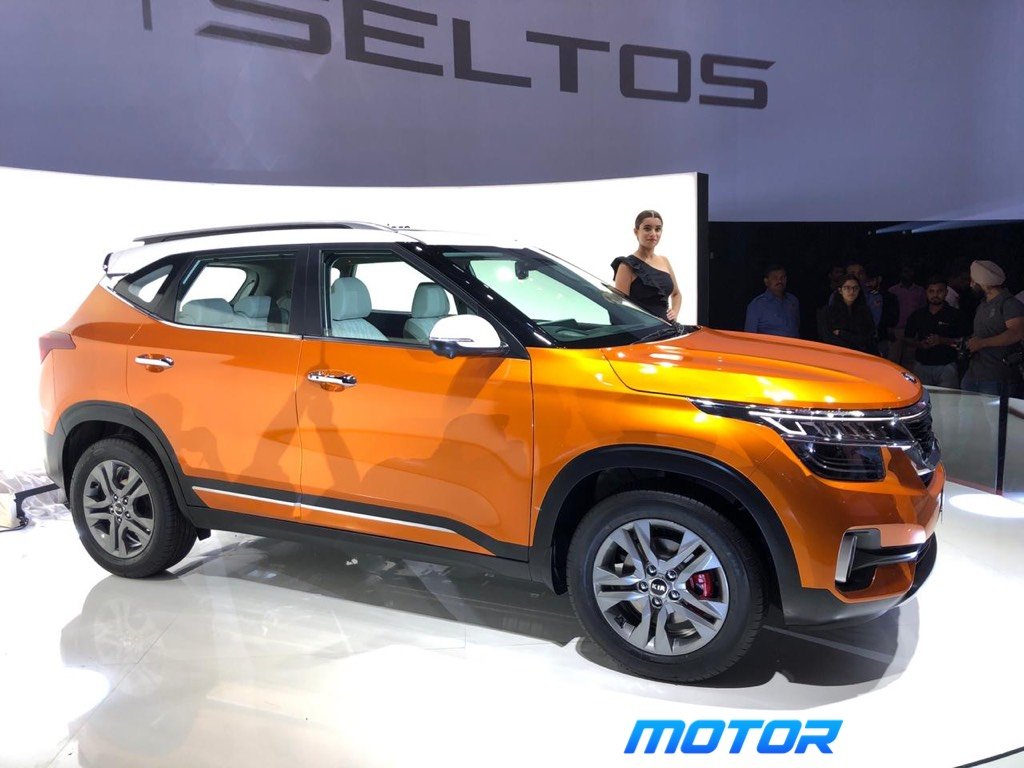 The Kia Seltos compact SUV, which made its world debut recently, has now been launched in India with prices ranging from Rs. 9.69-15.99 lakhs (ex-showroom). The Kia Seltos already has a few competitors ready in its segment and its prime rival is the Hyundai Creta, but it'll also compete with the likes of the MG Hector, Renault Duster/Captur and Nissan Kicks.
Starting from the exterior numbers, the Seltos measures 4315 mm in length, is 1800 mm wide and has a height of 1620 mm. There are 8 monotone shades and 5 dual-tone shades for the paint options. The wheel options range from 16-inch to 17-inch in size and are available with crystal cut and hyper-metallic patterns. The front fascia comprises of the Tiger-nose grille, large headlamps with full LED fitment, long band-like turn indicators, and the ice-cube fog lamps. The rear-end has full LEDs for the tail lights and a scuff plate as well.
The Kia Seltos comes equipped with a 10.25-inch HD touchscreen infotainment system, 7.5-inch multi-info display for the instrument cluster and an 8-inch head-up display. Kia's UVO connectivity (similar to Hyundai's BlueLink system) is loaded with a list of 37 features and is compatible with both Android and iOS devices. The vehicle also gets Bose speakers. Furthermore, the steering wheel comes wrapped in leather and has two options, of which the sportier one gets a flat bottom. The boot space is 433-litres and with 60:40 rear seats folded flat, the car offers added storage space on the inside.
The Kia Seltos is offered with 3 engine options, a 1.5-litre naturally-aspirated petrol engine that pumps out 115 PS/114 Nm, a 1.5-litre diesel engine that makes 115 PS/250 Nm and a 1.4-litre turbo-petrol that makes 140 PS/242 Nm. A 6-speed manual transmission comes standard with all the aforementioned engine options. All three motors get an automatic transmission as well, one for each. The 1.5-litre gets a CVT, the 1.5-litre diesel gets a 6-speed torque converter and the 1.4-litre turbo petrol gets a 7-speed dual-clutch transmission. The safety net consists of 6 airbags, ABS, ESC, HAC, TPMS and VSM.
Kia Seltos Price
– 1.5 Petrol
* HTE – Rs. 9.69 lakhs
* HTK – Rs. 9.99 lakhs
* HTK+ – Rs. 11.19 lakhs
* HTX – Rs. 12.79 lakhs
* HTX CVT – Rs. 13.79 lakhs
– 1.5 Diesel
* HTE – Rs. 9.99 lakhs
* HTK – Rs. 11.19 lakhs
* HTK+ – Rs. 12.19 lakhs
* HTK+ AT – Rs 13.19 lakhs
* HTX – Rs. 13.79 lakhs
* HTX+ – Rs. 14.99 lakhs
* HTX+ AT – Rs. 15.99 lakhs
– 1.4 Turbo Petrol
* GTK – Rs. 13.49 lakhs
* GTX – Rs. 14.99 lakhs
* GTX DCT – Rs. 15.99 lakhs
* GTX+ – Rs. 15.99 lakhs
(all prices, ex-showroom)