Kiirus Tuned KTM Duke 200 Review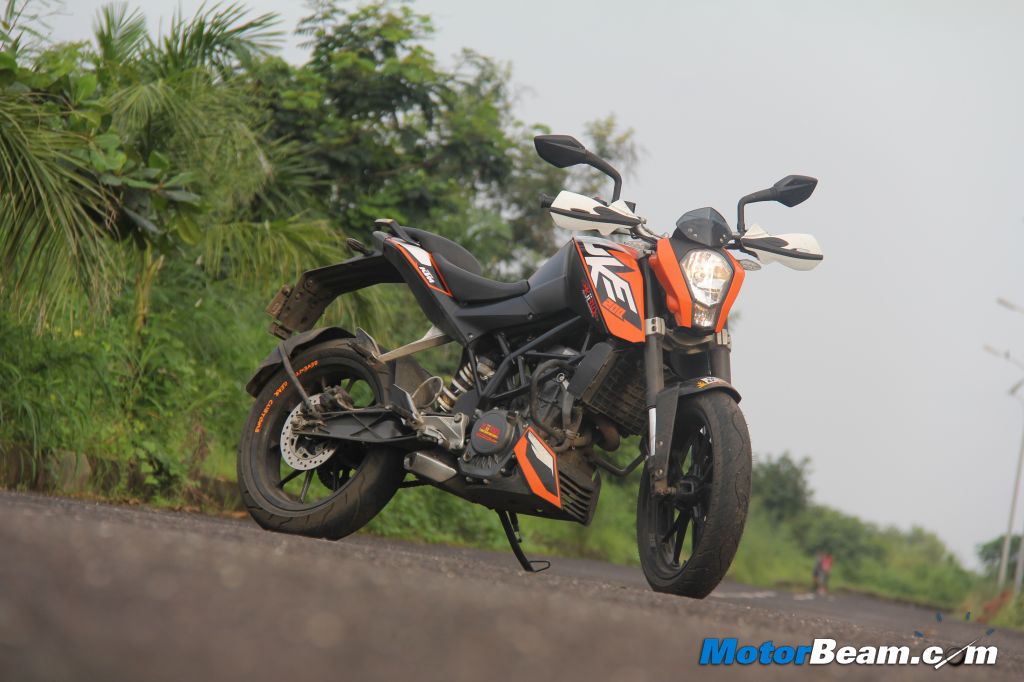 Calling the KTM Duke 200 a monster is an understatement. This 200cc street-fighter machine has everything going for it. Right from the eager and quick-revving motor to the high-tech hardware, the KTM Duke 200 impresses thoroughly with ample amount of performance to match the aggressive styling. The Duke 200 is infact so good, you cannot actually remove many faults with this bike. But there is one small, minor, not so obvious issue with the Duke 200 and that is the revv-limiter!
[flickr size="center" float="medium"]http://www.flickr.com/photos/motorbeam/8108267913/[/flickr]
The KTM Duke 200's revv-limiter kicks in angrily at just 10,500 RPM and it does it in a very abrupt manner, robbing all the momentum from the motorcycle. One really needs to be ultra careful with up-shifts to ensure they are timed perfectly. The Duke 200 does feel way more capable than what KTM makes us believe. In the interest of reliability, the revv-limit has been enforced which bogs down the rider. However Mumbai-based tuner, Kiirus Auto Sports has brought out a remap which promises to boost performance of this already quick motorcycle.
[flickr size="center" float="medium"]http://www.flickr.com/photos/motorbeam/8108274190/[/flickr]
Kiirus claims with the remap, power output is up by around 3 BHP, while mileage should see an improvement by 10%. When we rode the tuned Duke 200, we found the vehicle to have softer idle than the stock motorcycle. The bike felt more refined and did not heat as much. The shift light no longer works and the tuned Duke 200 revvs all the way up to 11,700 RPM. You are no longer abruptly interrupted by the revv-limiter. While Kiirus claims a top speed of 149 km/hr on the dyno, we could manage 140 km/hr in sixth gear, without the revv-limiter kicking in.
[youtube:http://www.youtube.com/watch?v=1rS_iL–WzI 540 375]
With the remap, the Duke 200 does feel marginally faster than the stock motorcycle. Top speeds in each gear are higher as well, thanks to the increased revv-limit. However one really needs an aftermarket filter and exhaust system to truly benefit from the remap. Since there is no physical changes with the remap, KTM service centres will not be able to recognize the remap during regular servicing and thus warranty won't get void. These remaps have been running on Duke 200 motorcycles since a few months now.
[flickr size="center" float="medium"]http://www.flickr.com/photos/motorbeam/8108268213/[/flickr]
The remap has been tried and tested by Kiirus and can be done anywhere in India. For those who are based in Mumbai, they can head to Kiirus personally, a job which takes around four hours to complete. Out station customers will have to ship their ECU for the remap to be done. At a price of Rs. 12,000/-, the Kiirus remap is offered with a BMC stock replacement filter worth Rs. 3990/- for the Duke 200. This makes it reasonably priced, however we recommend an after market exhaust to extract the best performance from this Duke 200 remap.
[flickr size="center" float="medium"]http://www.flickr.com/photos/motorbeam/8108266603/[/flickr]