Mahindra Marazzo Interiors Completely Revealed
The images confirm what was already known about the Marazzo's interiors.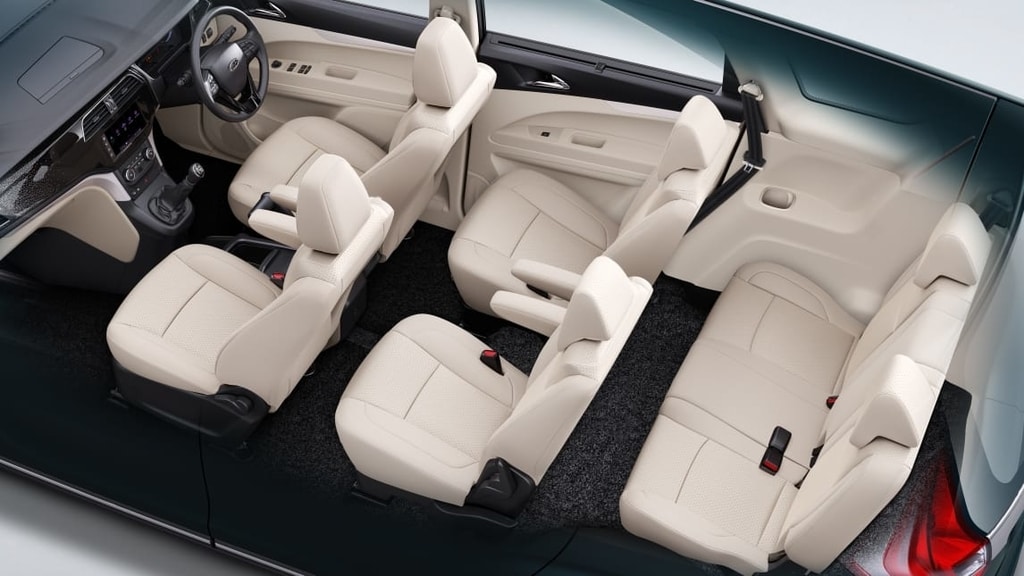 The official photos of Mahindra Marazzo's interiors have been released by the company on the dedicated site and it is clear that Mahindra has tried to keep it uncluttered and give it an upmarket feel.
The Mahindra Marazzo, as reported earlier gets an 8-seat and 7-seat configuration options. This is similar to the one offered with the Toyota Innova. For the 8-seat configuration, the second row gets a flat bench whereas the 7-seater version gets executive seats with armrest in the middle row. This also allows for passengers to easily move into the rear seats through the empty centre space.
The third-row seats look smaller than the other two rows which is also the case with its competition, the Toyota Innova and the Maruti Ertiga. However, the Marazzo is said to be the widest and longest MPV from Mahindra till date which might just help in giving it that extra leg room. The third-row seats also fold flat to provide for more luggage space. The second-row seats on the 8-seat version have a 60:40 split while in the 7-seat version they fold down and stand vertically.
The dashboard of the Mahindra Marazzo will come with a touchscreen infotainment system that is most likely to support Android Auto, Apple CarPlay and navigation. There will be automatic climate control and the top of the dashboard has a nice flow to it. The passenger side of the dashboard even gets a textured finish.
The instrument cluster has already been seen at the time of the name unveiling of the Marazzo and it will get a multi-information display slotted in between the RPM and the speedometer. A modern touch is provided by the bluish-purple lights surrounding the cluster. It has well-sized numbers and figures which makes it easy to read them.
The Mahindra Marazzo will be launched in October 2018 and will be supposedly sold through Mahindra's upcoming Prime Zone.
Marazzo Interiors
– The MPV will come in 8-seat and 7-seat configurations
– It gets all beige seats
– The dashboard has a neat layout with modern features