Mahindra Scorpio Facelift Caught Without Camouflage, Looks Tacky
Mahindra will launch the Scorpio facelift on the 25th of September (same day Skoda will launch the Rapid with the new 1.5-litre diesel engine). Bookings of the new Scorpio have started and it will be offered in five trims.
Mahindra will be launching the updated Scorpio on the 25th of September and has commenced bookings of the car (including online bookings on e-commerce website Snapdeal). The car will be available in five trims (S2, S4, S6, S8 and S10) with two engine options and 7,8 and 9 seater configurations. While most things about the updated Scorpio are known (like the changes and added features), the design of the car wasn't unveiled. Even the interiors were leaked which showed heavy influence from the XUV500. Mechanical changes to the facelifted Scorpio include a new hydroformed chassis and an all new gearbox for the 2.2-litre engined model.
Now the first pictures without any camouflage of the Mahindra Scorpio facelift have emerged and we are quite disappointed. After testing the car for more than a year, Mahindra seems to have forgotten the design altogether. While it is certainly different from the old model, there are bits which are quite unnecessary. From clean and sophisticated to overdone and jazzy, the Scorpio's design has gone this route in the past 12 years of its existence. Looking at the design, we can confidently say that anything else would do. The company has tried to make the vehicle look masculine as so evident by those huge wheel arches.
While the front of the new Scorpio is still fine with a chrome strip on the top of the tooth-like grille, the rear is where we are dazed. The headlights of the car get a daytime running light strip on the top of the headlight and that seems like a nice touch. A hood vent is also nicely incorporated. However, the design at the rear is very tacky. The long and vertical christmas tree lights have been done away with and the reflector elements are replaced with handles but for what? Is the Scorpio an 11-seater that two people can hang at the rear like we see with so many Jeeps in Rajasthan?
The black finish in the centre just doesn't gel well and wait till we come to the lights. What on earth is that blue colouring in the tail light? Design aside, the new Scorpio is expected to drive better and even if it doesn't (going by the Quanto which drove worst than the Xylo after being tested for like eternity), this car has more features which is enough to seal the deal in rural markets, the place where most Scorpios sell any way. What are your thoughts on the design of the new Scorpio?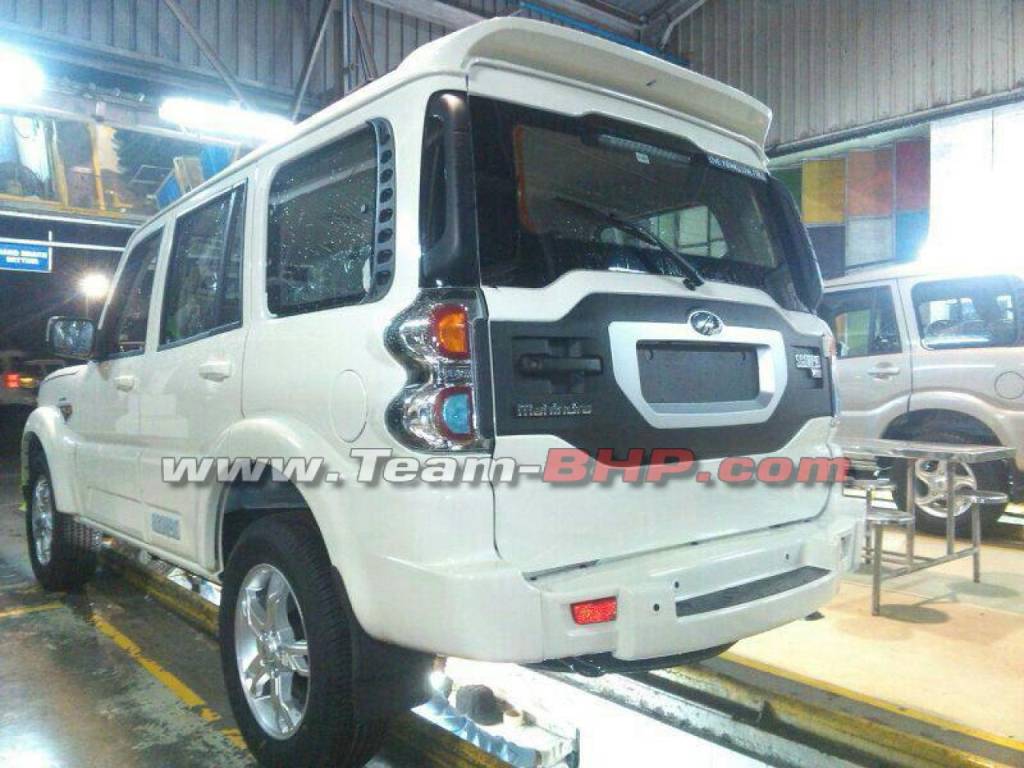 Source – Team-BHP.com