Mahindra Scorpio S11 Facelift Spotted – Twist In The Tail!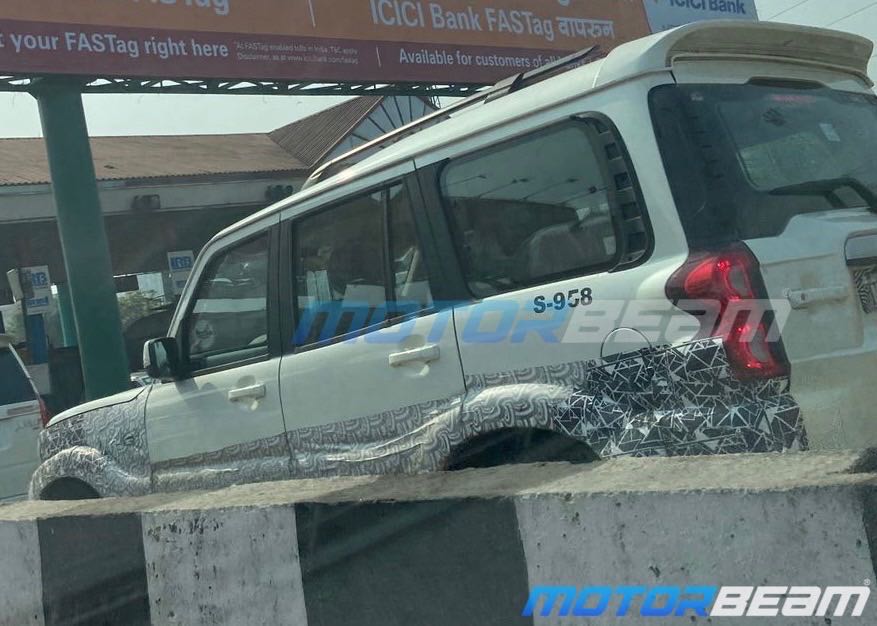 Mahindra Scorpio S11 facelift spotted partly camouflaged
Range-topping Mahindra Scorpio S11 facelift spotted on test with camouflage covering the lower half of the SUV. The test mule was spotted by MotorBeamer Amit Takalkar on the Mumbai-Pune expressway. He confirms that the SUV had the S11 badge on the tailgate.
We recently spotted the base variant of the current gen Scorpio as well with black ORVMs, door handles and cladding along with steelies. This made us speculate that Mahindra will continue offering the current model in its base variant along with the new gen Scorpio. However, there is a big twist in the tale as the range-topping S11 trim has been spotted in camouflage.
Is it a stop-gap measure to push the launch date of the new gen Scorpio amid the chip shortage crisis or an aggressive strategy to offer a wide range of SUVs without worrying about cannibalism? Well, it's a win-win situation in both the scenarios for Mahindra.
We all are aware about the fact that the chip shortage has hit Mahindra hard as they're not able to produce enough vehicles according to the demand. The Mahindra Thar and the XUV700 are witnessing a huge waiting queue of more than 1 year. There's not a single Mahindra product that you can get off the shelf right now.
While the orders are piling up for the existing lineup, Mahindra has this pressure of introducing the new gen Scorpio which is under testing since ages. To accommodate the production of the new Scorpio in this scenario is a hard nut to crack for the company. Since the new SUV will have more features on offer, it'll require more semiconductor chips as well compared to the current model.
Introduction of the facelifted Scorpio might ease out the situation for the time being and hence the current Scorpio's entire lineup is getting an update soon. Even if they decide to continue selling this Scorpio along with the new model, they'll have to cut the prices substantially as the new model will be positioned below the XUV700 which already starts at Rs. 12.50 lakhs (ex-showroom). Either way, the Thar, Scorpio and XUV700 already cannibalise each other.
We don't have the images of the front profile of this test mule but we believe it'll get a mild visual update for the grille and the bumper. The side cladding is covered as well which means it'll get updated as well. The interior will remain unchanged but you can expect a couple of changes with some new add-ons for a fresher appeal.