Mahindra XUV700 Drive Modes, Amazon Alexa-Based Features Revealed [Video]
The Mahindra XUV700 will come with 4 drive modes including a 'custom' mode
A new video revealing yet more features of the Mahindra XUV700 shows the drive modes the SUV will come with, along with details about the car's AdrenoX system.
Earlier this day, we saw a couple of images that disclosed the exterior styling of the XUV700 in full and on the same day the automaker has uploaded the above video online.
The short video primarily showcases the AdrenoX system of the car that connects with Amazon Alexa and executes functions like operating the sunroof, music system (3D Sound by Sony), among others.
And the other functions include changing the drive modes. Yup, the XUV700 comes with as many as 4 drive modes and they are named 'Zip', 'Zap', 'Zoom' and 'Custom'.
Mahindra has put in a word of caution, stating that the modes are available only in the diesel version of the XUV700, which seems odd, since the car is also set to come with a 2.0-litre turbo petrol engine.
Apart from providing information about the Mahindra XUV700 drive modes, the video also shows the cabin of the soon-to-be unveiled SUV, complete with its twin digital screens that sit on a single pane.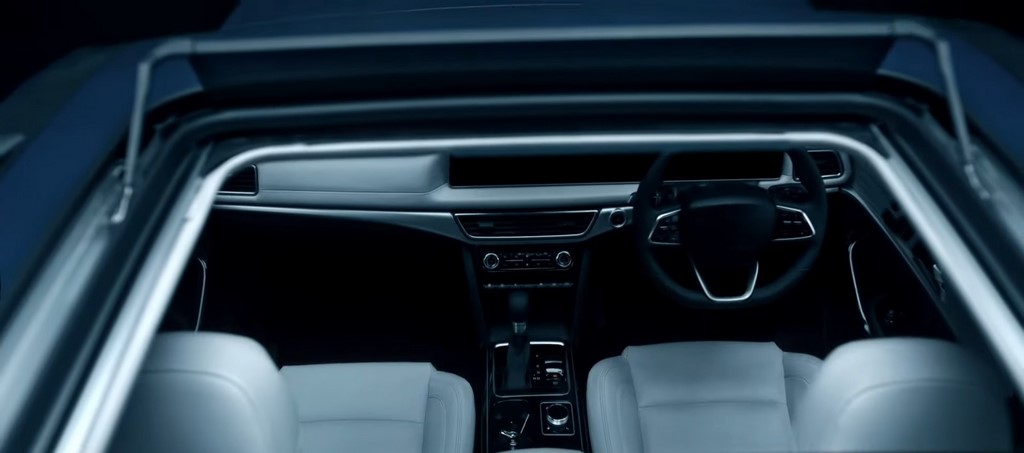 Other details that can be seen include the white-coloured upholstery for the seats, a central front armrest, a dashboard that looks premium with metallic accents, the auto gear selector and the panoramic sunroof.
Expect more such videos to be released by Mahindra before the unveiling of the XUV700 takes place.