Maruti Suzuki Launches Ritz @buzZ Limited Edition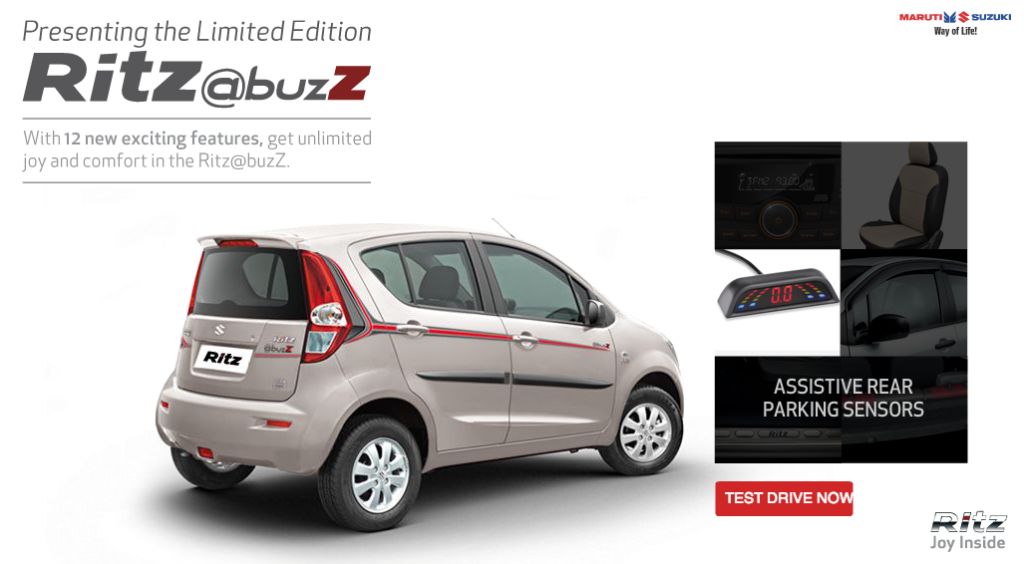 Maruti Suzuki continues to tickle our funny bone with limited edition models. The company has now launched the Ritz @buzZ edition which according to the automaker gets 12 new exciting features. So what are these "exciting features"? The Maruti Ritz gets door visors, rear parcel tray, Ritz branded artificial leather seat covers, steering wheel cover, rear parking sensors, floor mats, audio system compatible with USB and Bluetooth, 6-inch speakers, sill guard, bumper protector, mud flaps and body graphics on the side.
All these features can be added by any Ritz owner as aftermarket accessories, so we really don't understand what is so limited about it. Maruti Suzuki is a master of launching special edition models, which offer nothing significant to the buyer. However most buyers in India fall for this, as they find value in limited edition models. The alloy wheels on the vehicle clearly point to the @buzZ edition to be based on the Z variant of the Ritz. Since diesel is in high demand anyways, the @buzZ edition is only offered with a petrol heart.
The Maruti Suzuki Ritz is offered with two engines, a 1.2-litre K-series petrol and a 1.3-litre Multijet diesel, both mated to 5-speed manual transmission. Additionally the petrol Ritz is also offered with a 4-speed automatic gearbox. Maruti Suzuki refreshed the Ritz just last year, giving it very minor cosmetic changes. With the petrol engine producing 87 PS of power and the diesel engine producing 75 of power, the Ritz offers decent performance and is quite frugal too. Do you think the Ritz @buzZ edition makes any sense?