Kawasaki Ninja 650 Ownership Report By Ram Varma
I was never a fan of the Ninja 650 but one ride on it simply blew me away.
My name is Ram Varma and you might remember me from my ownership report of the CBR250R (HERE). After owning the Honda CBR250R C-ABS for almost two years, I had the keeda to upgrade for the simple reason that the power delivered by the 250 was just not enough. Maybe I was too used to it. After covering 21,000 kms on the CBR and riding it from Kanyakumari to Khardung La, an upgrade was surely needed. My first thought was to jump into the 1000cc segment and pick a bike once and for all. But the price factor comes into picture and that spoils all the fun. Stupid Indian import duties are to be blamed. The second hand market is not so trust worthy unless you know the bike and the owner pretty well. With very less options around, I started saving for an upgrade.
One of my close friend suggested to check out the Kawasaki Ninja 650. There was a bike on display too. I was never a fan of the Ninja 650. I did not think it was my kind of a bike. After digging some contacts, found a N650 owner who was kind enough to let me ride his motorcycle. One ride and the Ninja blew me away! I mean literally! I was so impressed that I was hell bent in picking the Kwacker. A month later, I bought the bike. That's when the obsession for green started completely (I had the obsession for green from the day Ninja 250 was launched but not completely because I own a CBR so partiality kicked in).
My Kawasaki Ninja 650 is now 8 months old with 3500 kms on the odo and two services done. I have done quite some runs on the highway which includes a 780 kms round trip done in the first week of June. My experience with the Ninja 650 has throughout been amazing!
Ride quality – Smooth! It doesn't take a toll on your back at all. Super comfortable even on bad roads. I rode it on the highway for 190 kms at a stretch and I never knew when all those kms were covered. Even in the city during bumper to bumper traffic, the Ninja 650 is a pleasure to ride.
Handling – Bang on! Kawasaki does know how to make a bike stick to the ground. Unlike my Honda, this can go around corners, glide over bumps and make sure the bike is planted at all times.
Fit and finish – Compared to the Ninja 250, I must say it's maybe around 10% less. There are very few parts which are good but could have been better. Example – Footpegs. They aren't as sturdy as they are on the Ninja 250.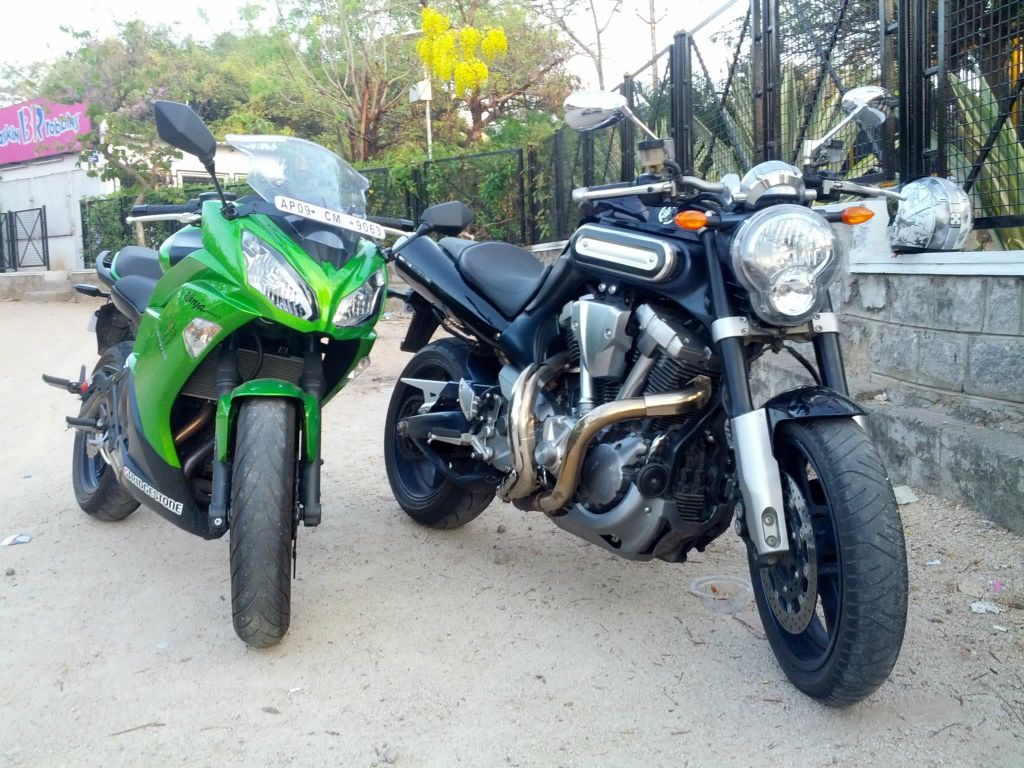 Economy – A good 19-20 km/l in the city and on the highway with frequent bursts of speed north of 150 km/hr.
After sales service – Pretty good. You get what you want. No nonsense. Regular service costs less than Rs. 5000/- (around Rs. 4300/- to be precise). Service booklet says oil change every 10,000 kms but I change it every 5000 kms. Service charge is Rs. 810/- (plus cost of oil filter and 2 litres oil).
Engine Response – It comes to life right from idling point. The Ninja 650 has its power in the low to mid range. High revs aren't so impressive. Never felt the power was less on the highway or while overtaking super long trucks on the highway. This bike can gain speed faster than you can expect. Often people ask me if it makes the "Brooom Brooom" noise, The answer is no. It's a twin pot engine and twins don't make that sound. And it's a tourer for God's sake! Trust me, loud bikes just aren't good for long rides. Period. 16-litres tank capacity means I can do a good 250 kms before the last fuel bar starts blinking.
Braking – Brakes tend to fade after maybe like an hour of enthusiastic riding. Best solution is to upgrade the lines and pads to aftermarket ones.
Console – Very detailed. Shows ODO, trip 1 and 2, average km/l, real time km/l and range.
Headlights – More or less like the N250. Not so impressive.
Mods – None yet. Brake lines, pads, frame sliders and touring screen coming soon.
Bits and pieces –
1. Comfortable sport tourer which can go on and on and you won't even notice the stress.
2. Attention seeker.
3. Can be run on normal fuel. Compression ratio – 10.8:1.
4. Saddle comfort has been kept in mind while designing it. It's an opposite of the Ninja 250's saddle.
5. It does generate a lot of heat when ridden in city/hot days. Have burnol handy if you're planning to ride at those times.
6. A dedicated hazard light switch. Good for people who travel at nights on the highway.
7. 3 stage adjustable windscreen is a boon.
8. ORVM stems are long. So you can actually see whats coming from behind.
9. Adjustable levers are very helpful.
10. Very flickable in traffic, thanks to the handlebar.
11. Exhaust stays under the belly. On hot sunner days, expect a burn on your right foot if you're planning to ride it wearing slippers.
12. No ABS option for India.
13. Spool sliders are a must if you want to use a paddock stand. Since the swing arm is a tube and is inclined, usual paddocks used in general wont fit the Ninja 650.
Overall Rating – 8.5/10
– Text – Ram Varma, Pictures – Kiran Borra (Facebook fan page HERE)