Mini Xylo Spied Again – High Resolution Pictures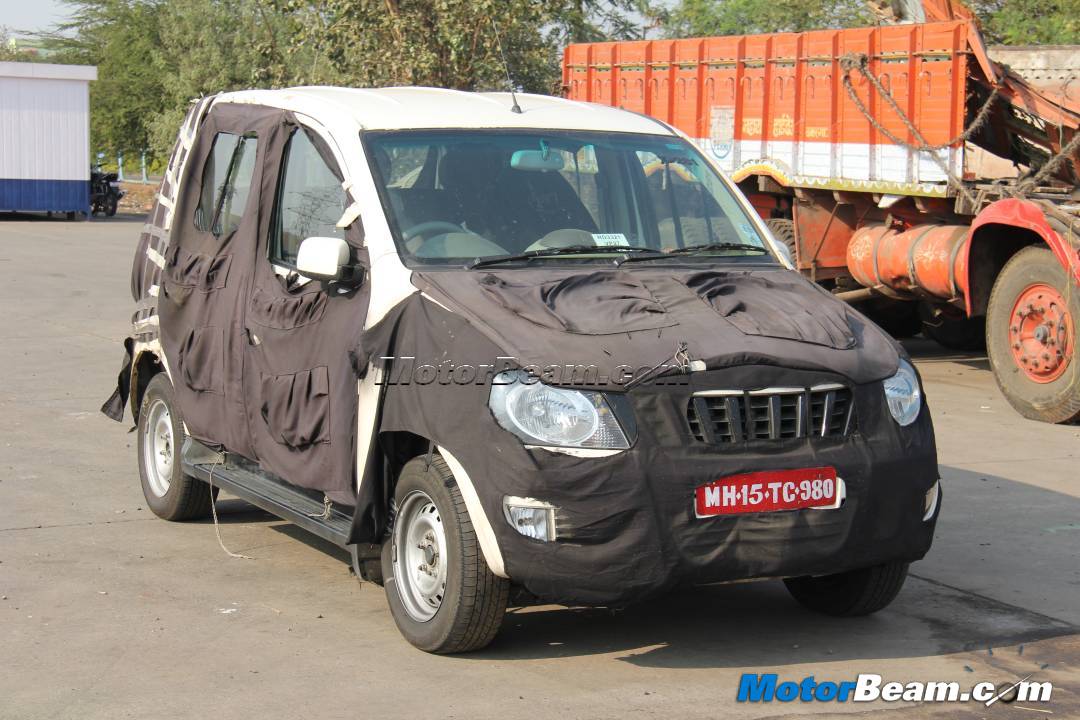 If there is a motorcycle which has been tested for the longest time before being launched, it is undoubtedly the Yamaha R15 Version 2.0. When it comes to cars, the same award should go the mini-Xylo. The Mahindra Xylo Mini, which is a 5-door hatchback has been under test for eternity now, with no signs of the camouflage shedding anytime soon. But finally it has. We spotted the 5-door Xylo at the Food Mall on the Mumbai-Pune expressway. The driver seemed to have taken a refreshment break, logging kms on the highway and generating vital data for the engineers.
As can be seen, the Mahindra Xylo-mini does not have the upgrades which the Xylo facelift will receive next week. The headlights are clearly visible and are straight out of the Xylo. So is the complete front. Mahindra will not call this hatchback by the Xylo name, like it has done with the Xylo pick-up, calling it the Genio. We don't want to dwell much into the engines which will power the mini-Xylo but all new petrol and diesel engines are said to debut. These engines could be based on current engines which power the Xylo MPV, with altered cylinders and hardware.
What is still unknown is what exactly Mahindra has on its mind. The company has never been a manufacturer of small cars and has pioneered people movers like MUVs, MPVs and SUVs. The Xylo 5-door could very well be a compact SUV (the running boards suggest so) and not a hatchback, gunning straight for the Premier Rio and Ford EcoSport. Measuring a tad under 4-meters in length, the Xylo-mini has its spare wheel mounted on the tail gate and should be priced between the Rs. 5-7 lakhs range. The question is, will Mahindra be able to fend off the Multijet powered Rio?