MPV Sales September 2015, Innova Remains The Leader
We analyse the sales of MPVs in India during September 2015 and conclude that it is still the oldest elephant in the room, the Toyota Innova which rules.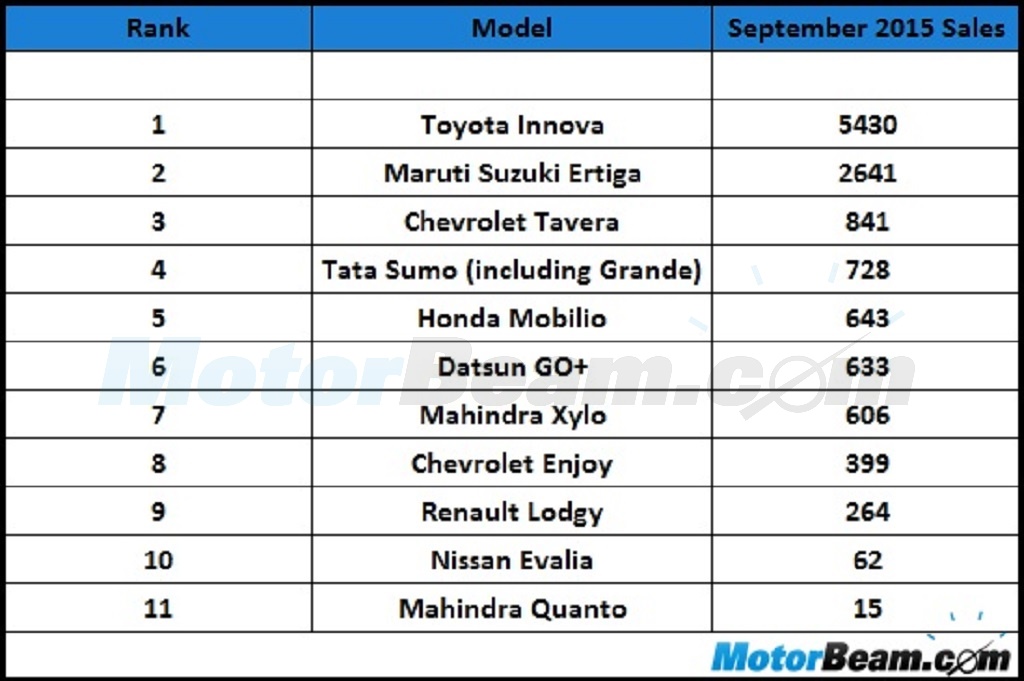 Over the past few years, the number of MPVs available in India has increased. However what hasn't changed since the past decade is the dominance of the Toyota Innova in the segment. The 10 year old vehicle which hasn't changed much since then and is priced at almost double its original price now manages to lure in more buyers than all other cars put together except the Maruti Suzuki Ertiga. The reliability associated with the brand and the no-nonsense nature of the vehicle makes it achieve this feat.
Sales of most of the vehicles on the chart have fallen down in September as compared to August. Only the Toyota Innova, Chevrolet Tavera and the Nissan Evalia have registered increase in figures. However practical these vehicles might be, the image associated with them is not too great which makes private car buyers shy away from them in various cases. The drop in sales of Maruti Suzuki Ertiga can be attributed to the impending facelift which is about to be launched very soon.
The Chevrolet Tavera is still managing to sell in decent numbers despite the emissions controversy it was a part of. The major reason for this is that the demand for this MPV comes in from Tier 3 and Tier 4 cities who do not care much about the news floating around and buy cars based on hearsay and practicality. The ancient Tata Sumo still manages to be at the fourth position beating newer cars like the Honda Mobilio and the Renault Lodgy. The old workhorse also sells in the interior areas of India where it serves its purpose well.
Newer vehicles like the Honda Mobilio, Datsun GO+ and the Renault Lodgy haven't been able to crack the market and sales remain lower than expected especially in case of the latter most. Renault was betting big on the Lodgy but seems it is the Duster which will continue to get them some volumes. The Nissan Evalia suddenly found 62 new owners after months of close to nil sales. The Mahindra Quanto sales have come down due to the launch of the TUV300 which is technically its successor and is a much better car.