Nishanth Shares His TVS Apache RTR 180 Ownership Experience
I am Sai Nishanth from Chennai. I am a B.E graduate, working currently at DELL Services. My passion for bikes, frankly saying isn't from childhood, because I was more interested in cars than bikes, in fact till I bought my Apache I didn't even know how to ride a bike! Both my parents had scooters (Kinetic Nova 135 and TVS Scooty Pep) and so these were the ones which I rode before getting a bike, till my 3rd year in college. As I moved to 4th year (March 2010) my parents decided to get me a bike because 4th year students are not allowed to come in college bus.
Then I started to look for a bike and I was very much confused which one to buy, but the only aim I had in mind was to get a fast bike because I love to ride fast and I have an insane love for racing and I wish to become a racer, so speed was the main thing I looked for and another thing is I wanted the bike as soon as possible, I was not ready to wait even for a month to get my new bike. My choices were Hero Honda Karizma R, TVS Apache RTR180 and Honda Unicorn (obviously crossed out as the waiting period was more). I didn't even think about having a Pulsar as an option because 1 out of 10 bikes in Chennai was a Pulsar.
So I got down to the Karizma and RTR 180. Went to the Hero Honda showroom first and they said it would take 1 or 2 months after booking which made me feel very bad since my first choice was ruled out. Then went to TVS where the sales people said if I make the full payment today I will get the bike tomorrow evening with the registration completed. I was so happy to hear it, made the full payment and came home with all excitement and anxiousness (because I had never ridden a bike before). I booked the black color as I love black and I wanted my first bike to be in black.
The day came and I took the bike home with some choking at signals from neutral to first gear as the clutch was very sensitive and I had only tried riding my friend's Hero Honda Splendor once before getting the bike. Somehow I managed to ride it home. Then the week after that I practiced a lot to ride the bike and switching gears. Riding a 180cc bike wasn't easy as it was always ready to plunge on the road when you twist the throttle. Somehow I learnt to switch gears without the bike getting choked.
First 1000 km – As soon as I was confident enough to ride it on the road I took it to college (20 km from my home). I was very much focused on getting the best mileage from RTR hence I rode it at 50-55 km/hr for the first 1000 km and it was very tough because the bike was capable of doing much more and reaching 50 would happen in less than 4 seconds then I would have to keep the throttle in the same position with just slight variations, and the road to college is the Poonamalle highway where all vehicles would be doing the best they can but I rode the bike slowly for mileage, phew! A very hard time for all speed lovers like me.
Mileage run gets over, Performance run Kicks In – – So while riding the bike at 50-55 km/hr I got an average of 40-42 km/l which I was ok with and had nothing to complain. I was counting on the ODO for the first 1000 km to get over and one day I was riding on an empty road as usual slowly and I saw the ODO which showed 980 km. I became very much impatient and suddenly something got through me. I twisted the throttle and the bike jolted into wind the numbers in the speedometer climbed up at a startling rate and I was very much excited riding my bike fast for the very first time. The throttle response was very instant as the name suggests "Racing Throttle Response" and the handling was as so cool that one could ride this very confidently through corners. After that day I started riding fast and I would reach my college in 12-15 minutes everyday with my friend and I rode at 120-123 km/hr almost daily as the route is the highway. It gave me a similar mileage varying between 38-40 km/l and nothing less than that, but with riding at such speeds these are good numbers to get through.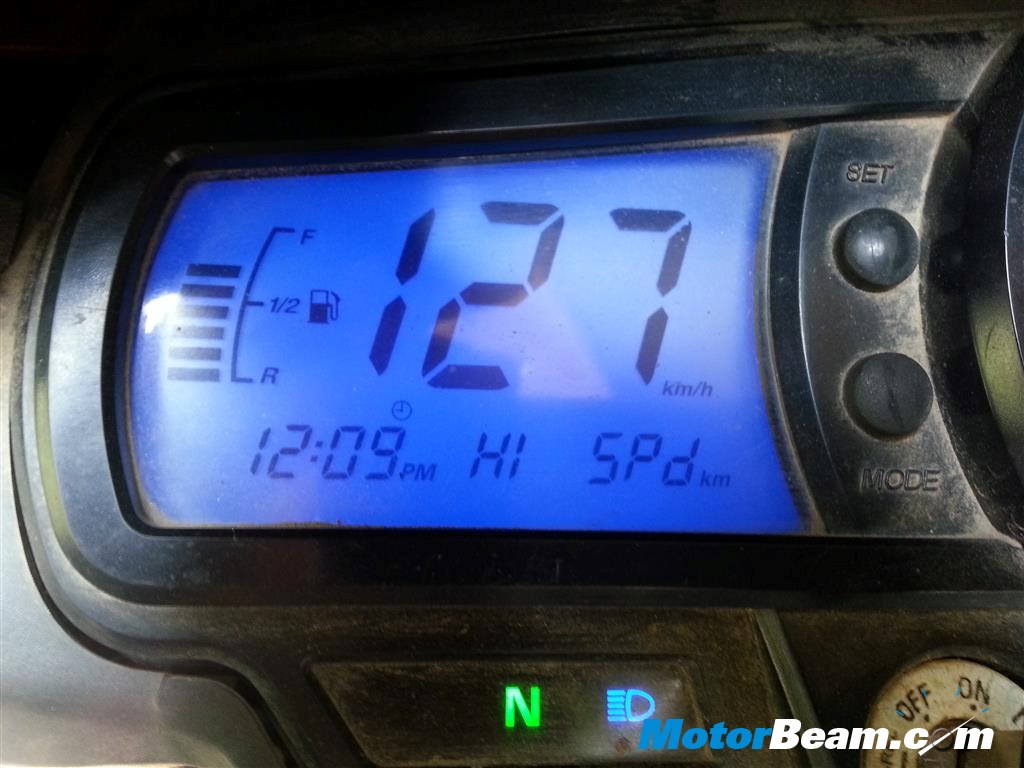 Console – Let me put together the features of the bike. To start off with let's see the console- the Apache RTR 180's console is back-lit with a blue light and at that time none of the other bikes had a blue illumination and I like it very much. It gives the info such as time, fuel level, time taken to reach 0-60 km/hr, top speed, distance covered, trip meter and we have an analog tachometer too. The fuel indicator is somewhat accurate and if it shows a single line it means you have 2.5 litres (reserve capacity) of petrol left. The fuel tank is 16 litres and a full tank can take you to approximately 620-630 km.
Engine – The RTR180's throttle response is instant and it can challenge any bike in the 180cc-200cc segments and the engine is well refined for the throw while the gear shift pattern is 1 down and 4 up. The bike feels unstressed at any speed and is ready to zip through traffic. The major thing that I don't like in the bike is the vibration as soon as it reaches 60 km/hr. It starts to vibrate and I find it very irritating. Till 60 km/hr it stays calm after that the bike starts to vibrate badly. The bike instantly climbs to 110 km/hr without any effort and after that the climb is steady but not quick.
Tyres – The Apache features TVS tyres which are reliable and the RTR 180 has got tubeless tyres which are very long lasting. In 4 years of my riding I had only 2 punctures and that too the bike just goes even if it has a hole but the air reduces gradually. Even if you have a puncture you can ride the bike without much wobbling till you get to any shop, but not too long as it will damage the tyre. The first time when I had a puncture (after 2 years from buying) was when I was riding with my friend and after sometime a rider nearby told that the back tire is punctured but I was like what? Because I didn't feel the bike running with any difficulty that too with a pillion rider. I got down to check and he was right! The back tyre was flat.
By God's grace there was a shop nearby and I got it fixed. The cost was Rs 100/- per hole and there were two holes. The worst part about TVS tyres is that they lack grip and hence you can easily make the bike skid by applying the brakes and in muddy roads they skid a lot. You need to be conscious on the surface you are riding while applying the brakes and how hard you apply them or else easily it will skid bringing you down. But as the months pass on you will master it.
Brakes – The Apache has very good brakes and they are very powerful. The 180 comes with two discs as standard. The bike does require two discs for its power and they do a very good job bringing the bike down from high speeds quickly and this increases the rider's confidence. Especially the back disc is very powerful and it stops the bike suddenly. It felt a bit hard in the beginning but I got used to it.
Durability – The parts used in the bike are of good quality and the paint used for chassis is very good and it retains the new look. In the handlebar and grab rails the paint came off soon. The bike has an open chain and it turns out to be a huge problem in rainy season since the mud gets accumulated in the chain and starts giving noise and I have to clean it and lubricate it often. Summer gives no problem. I am not happy with the open chain in bikes as they cause problems in the chain sprocket due to dirt accumulation but there is no other way to go because most of the high end bikes also have an open chain design. Another problem in the rainy season is that when you ride it on the road it splashes the water on your legs due to the design of the wheel but thanks to the crash bar I will keep my legs over it while riding through flooded roads. The crash bar saves the bike even when it is dropped hard on the ground.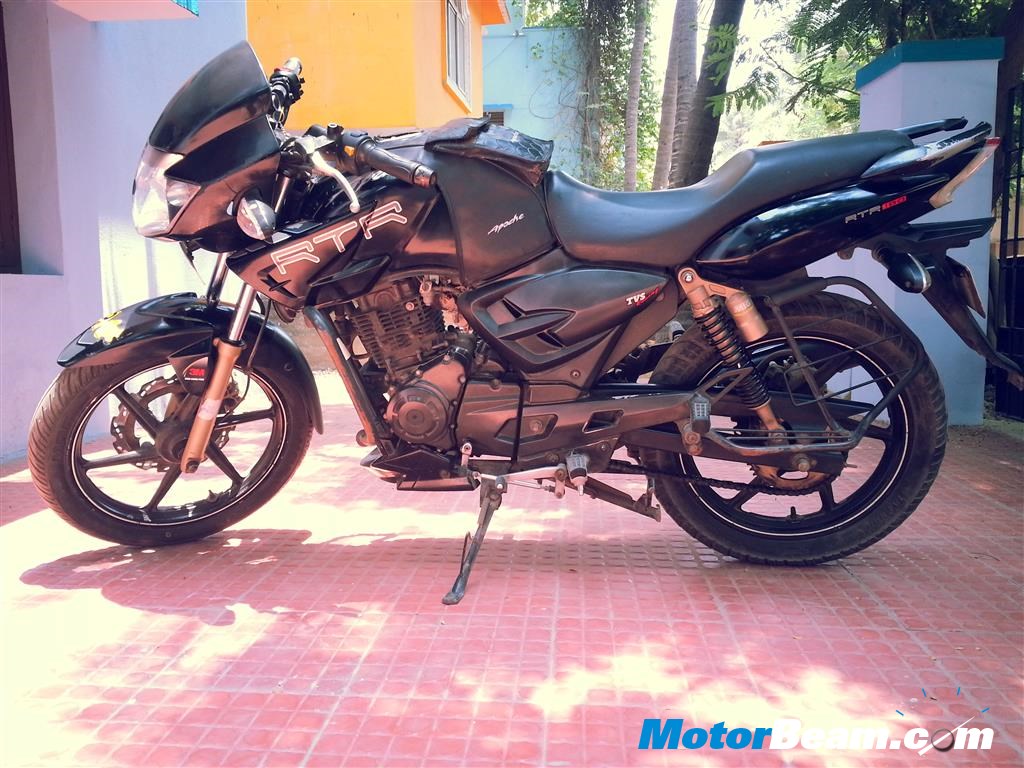 Comfort – The Apache has a telescopic front shock and gas charged rear suspension that performs very well in absorbing pot holes and bumps; it has different settings by which the suspension can be adjusted as hard or soft as per your preference. The stock seat is good but not that comfortable for long rides. I have ridden the bike for 4 years/21702 km and I didn't get any backache riding the bike. The riding posture is slightly leaned forward but for tall guys that won't be an issue. Headlights are adequate and they could have been a bit more powerful but they are fine for riding in the city at night.
Tyre Pressure – I would like to put this as a separate topic because most of the people don't follow the prescribed tyre pressure mentioned in each bike's manual. All go with the default Front-25 and Rear-35 setting which will decrease your tyre's life and check the tyre pressure for your bike and ask the person at the bunk or any service center to follow the appropriate pressure setting for both the tyres. Check your tyre pressure once a week or try filling up nitrogen in your tyres they will last longer than normal air and they keep the tyre temperature low. Tyre pressure for RTR180 is Front – 28, Rear – 32.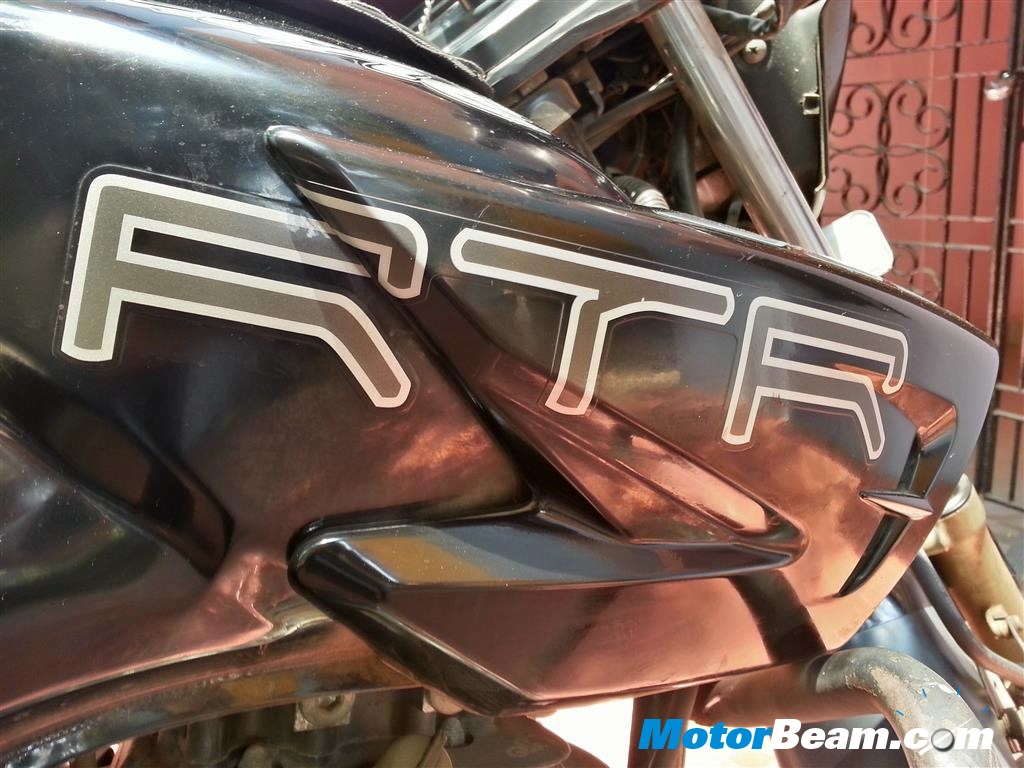 Conclusion – So altogether the TVS Apache RTR180 is a great bike for this price and besides being sporty it delivers a convincing mileage too. I have never felt bad on choosing this bike and highly recommend it to riders who want a combination of performance and mileage.This bike is a very nice warm-up that you can ride and practice before you buy a bike with higher displacement. The RTR180 is the one which created a passion for bikes in me and now I have become a bike lover and I wish to own a superbike soon. As soon as I get up in the morning I check MotorBeam first even before checking my mails.
Also guys always wear helmet during your rides. I always wear it not only to protect my head but my eyes too and I have also seen many people driving with their windshields open and this is not a good practice. If something hits your eyes then that might distract you and make you stumble over so please close it and ride. Thanks for reading my review and please share your thoughts below. Wish I could review new bikes every day. Hope to see you guys in my next bike's review.
Pros –
1. Looks – Apache has killer looks, undoubtedly the most stylish bike from TVS.
2. Acceleration and handling are great. It accelerates without a delay like a race bike and handles well. Its weight is 139 kg which also makes the handing hassle free.
3. Sound – Apache has the roar, the thump that no other bike in this segment has. I just love its sound, no need to modify the exhaust or anything to get the thump.
4. Mileage – It offers an affordable mileage and even with rash riding returns 36-37 km/l.
5. Brakes – Best disc brakes I have seen which stop the bike real quick. They also look great not like the usual circular disc but these are petal discs.
6. Console and tachometer look good and also give necessary information.
7. Suspension – The gas charged suspension is good at absorbing bumps and also have different sets of adjustments that can be made.
8. Price – At such a price (Rs. 79,000/- on-road) the machine is a complete value for money.
9. Cold starts were never an issue. I never kick-started my bike and always used self-start and with a single press it comes alive.
10. No Waiting – Quick availability and delivery from TVS.
Cons –
1. Looks – TVS didn't make any remarkable changes for differentiating between the 160 and 180 variants. Just the graphics were little different and the 180 logo on the handlebar, otherwise they both look the same.
2. Vibrations – Hell lot of vibrations kick in as soon as you reach 60 km/hr. TVS could have refined it to reduce the vibrations.
3. TVS Tyres – Though they are reliable, they lack grip.
4. Open tyre design splashes muddy water on legs during rainy season; TVS could have given a tire hugger to handle this.
5. No further improvements to the Apache series.Though the Apache was a big hit TVS didn't introduce higher (200cc, 250cc) variants so that the people who intend to buy the bike have options to select the variant that they can afford.
6. Service – TVS service is not up to the mark (at my outlet).