Nissan Micra Primo – Ranbir Kapoor Special Edition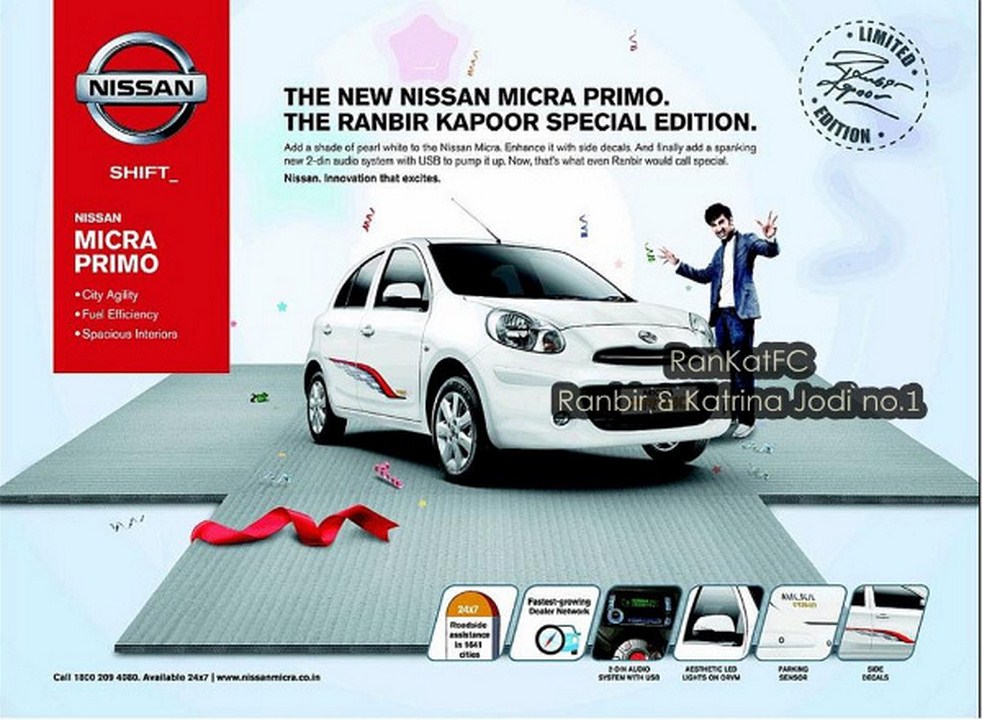 After the impressive performance by Ranbir Kapoor in his movie 'Barfi', the Japanese car-maker decided to grab on to the opportunity by launching a special edition of its Nissan Micra. Perhaps, Ranbir's success in the movie has been so great that the company has launched the "Ranbir Kapoor special edition" namely the Nissan Micra Primo. With the name, the newer version also gets a host of new features. Customers have the choice to go for either petrol or a diesel one. It is perhaps, also a celebration of two successful years with Ranbir Kapoor as their brand ambassador.
Offered in only pearl white body color, the Primo will come at an additional cost of Rs. 22,000 over the existing price of Micra. Apart from leveraging on the success of Ranbir in Barfi, the company has launched this vehicle at a very apt time. It is the festive season and people in India find it to be the right time to buy anything. At the same time, it is also rumored that the company is still looking at launching a newer version of Micra sometime in the next year.
Primo, as mentioned earlier, has got new features like double DIN Kenwood Stereo with USB and Bluetooth, LED Lamps on the wing mirrors and rear parking sensors. The special trim is available on XV petrol, XL petrol, XV diesel and XV Premium diesel. The petrol version comes with a 1.2-litre 3-cylinder engine which produces a peak power output of 80 BHP. The diesel model is equipped with a 1.5-litre K9K powertrain which produces a peak power of 65 BHP.