Nissan Patrol First Drive Review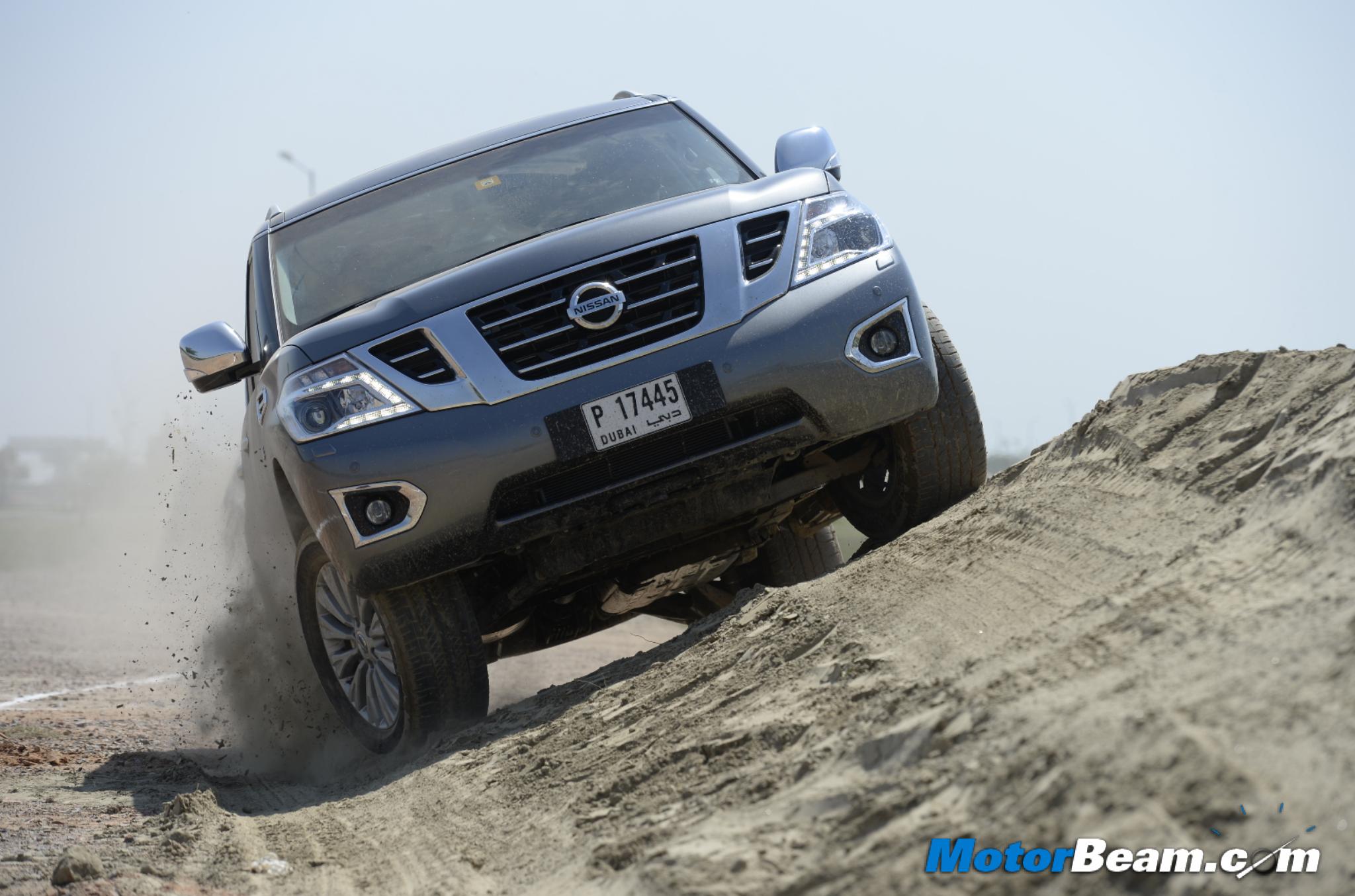 Nissan Patrol Review
Car Tested: 2015 Nissan Patrol LHD
Price OTR Mumbai: Rs. 1.3 crores (est.)
After completing a journey of five decades, Nissan Patrol is in its 7th generation today
Everyone loves money. Once we have the money we need and we get some more, we generally tend to pamper ourselves in various ways. All our goods are generally big, covered in leather, carpeted, having expensive features in them while using a lot of power. Cars too are no exception and the 2015 Nissan Patrol is a prime example of that. Brought in from the Middle East for the 'Nissan Carnival', Nissan's 10 year anniversary event, we drove the Patrol to see how fit it is for the Indian market. Visitors also had the opportunity to have some fun with the Micra (Manual and Auto), Sunny (Manual and Auto), Terrano and the all electric vehicle, the Nissan Leaf (LHD).
Tight and curvy driving course was made on the tarmac using traffic cones for the Micra, Sunny and Leaf experience. The Nissan Micra had precise steering and reassuring brakes. The CVT is pretty sharp with the torque coming in quite fast for an everyday sedan. A different terrain altogether was made for the Terrano experience which consisted of a number of off-road styles. The Terrano comes with a hefty clutch but has a decent ride quality. Build quality is not very consistent and a few rattles had begun to show up in the track cars. The Nissan Leaf created its own cult among those who were present. It is an easy and fun to drive car, however, there is still a lot of time for such cars to become mainstream. The major attraction of this event was no doubt the Nissan Patrol.
Talking about its size, the Patrol is a true behemoth in its own right. It is around 5.2-metres long, 2-metres wide and sits 273 mm above the ground. Also, the version we had was shod with 265/60/R20 tyres on alloys that would put a Land Cruiser Prado to shame. However, while it is big, it does not look imposing. The front end, with lots of chrome, big headlights and DRLs, looks like it had designers from different tastes working on it. This resulted in a high-tech but mixed look to it. The side is more traditional "Sheikh Utility Vehicle", with big windows, chunky wheels, chrome side slats with a proud "V8" badge, roof rails and running boards. Move on to the rear and it gets quite simple here with a large rear windshield, Fortuner like tail lamps and a perfectly finished pintle hook, which clearly says, "I can tow".
While the exteriors are a mixed bag, the interiors have one theme to them, unadulterated luxury. Right from the leather and wood wrapped steering wheel, soft thick leather seats, 14 AC vents, Bose sound system and the 2-inch thick carpets, this SUV believes in trying its best to create a cocoon around all its occupants. While it is sold as an 8-seater in Dubai, five well built Sheikhs with two of their lowly servants at the last row would be the ideal number of people the Patrol could seat in comfort.
Haul yourself into the driver's seat, which has 2 memory settings, adjust the controls, and you are rewarded with decent visibility on all sides. In fact, the low window line and the large rear windshield go a long way in helping the driver manoeuvre this truck easily, be it a crowded mall parking slot or the 'wadis'. Equipment list is naturally very generous and one would need pages to list them down.
Back in 1962, the Patrol became the first vehicle to cross the Simpson Desert
The big steering wheel could have looked slightly more modern and the gear shifter could have had slightly more character to it, but floor the Nissan Patrol and you forget all of that. 400 Arabian horses and an airplane pulling 600 Nm of torque from the 5.6-litre V8 engine literally make the nose lift, the rear lowers and makes this 3 ton barge get to triple digit speeds so quick that you are left utterly satisfied (6.6 seconds). The only drawback in the Patrol is the super light steering wheel with no feel to it and a slightly soft suspension. That said, ride quality is pliant, articulation is decent and one can simply fly over corrugations and broken roads with ease with the silent petrol mill mildly hissing under the bonnet.
Off-road, thanks to the fact that the Patrol still uses a ladder frame construction, it has great ability. Also, it has a long list of electronic aids, which help it overcome most obstacles without a whimper, and being a Japanese SUV, fixing it should also be pretty cost effective, compared to say a Rangie. However, Nissan having full service support (with various running parts) for the Patrol seems doubtful, considering the expected sales numbers of this mammoth machine. Thus one will have to wait till parts are imported, like has been the case with fully imported models.
Overall, the Nissan Patrol is exactly what one would expect it to be. A super luxury and fast palace on wheels that can jump up and down a lot of dunes, with most of its occupants sleeping like a child. With its new style, smart off-road technologies and overall superior packaging, the Nissan Patrol does stand a chance to beat the competition in the Indian market if rightly priced. However, coming via the CBU route puts it an inherent price disadvantage, given that more established German brands are locally assembling their offerings in the segment. Still, for the time being, the Patrol's Indian launch isn't confirmed and Nissan is still contemplating.
The Nissan Patrol makes for a great alternative to the Toyota Land Cruiser. However, with sales in this segment being limited for Japanese SUVs, the Patrol's appeal will be very limited in the Indian market.
What's Cool
* Exterior and interior styling, screams SUV like no other
* Performance of 'VK56VD' 5.6-litre V8 engine which does a good job of moving this 3-tonne SUV
* Unbeatable legroom for even the second and third row passengers
What's Not So Cool
* CBU pricing against more established brands will limit sales