Popular Indian Hatchbacks Fail Global NCAP Crash Tests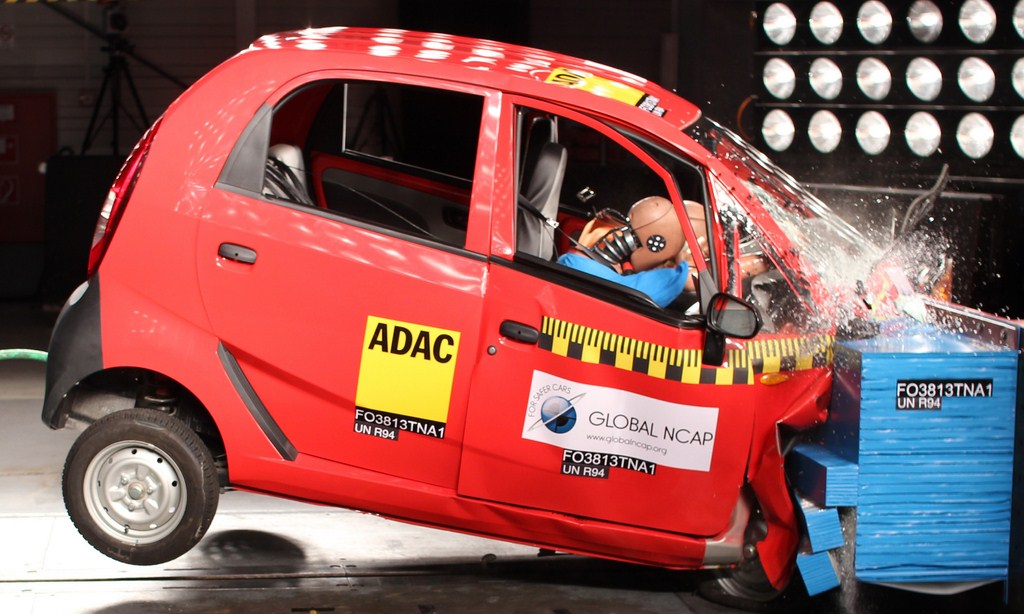 Global NCAP has conducted crash tests of some of the popular hatchbacks on sale in India and the results are disappointing. The hatchbacks that were tested include the Tata Nano, Maruti Alto 800, Hyundai i10, Ford Figo and Volkswagen Polo. While Ford Figo and Volkswagen Polo had some propriety to score decent ratings, other cars revealed heart-rending ratings with poor structural integrity. India is one of the fastest growing markets and a major global market and the safety levels offered here are 20 years behind the 5-star standards now common in Europe and America.
To top it all, the road conditions and driving manners in our country are worst than the conditions under which these tests are conducted. We all are aware that the entry level variants of most of the small cars don't come equipped with basic safety features such as ABS and Airbags, while manufacturers offer these features as standard internationally (Maruti doesn't even offer left side mirror on some variants). This is because the manufacturers enjoy selling good volumes with lower price tag and some buyers only seek for a value for money proposition. However, Volkswagen has announced dual front airbags as standard across its Polo range.
The Volkswagen Polo and Ford Figo are the two cars that managed to retain their structures in a 64 km/hr collision, thereby passing the test. While the best selling Alto 800, the famous Tata Nano and the tallboy Hyundai i10 crumpled at a slower speed of 56 km/hr that would lead to fatality or serious injury even with airbags provided. All the cars tested were entry level basic variants of the hatchbacks. The Volkswagen Polo came out to be the safest car of the lot with a 4-star rating and is also said to be the safest hatchback in its segment.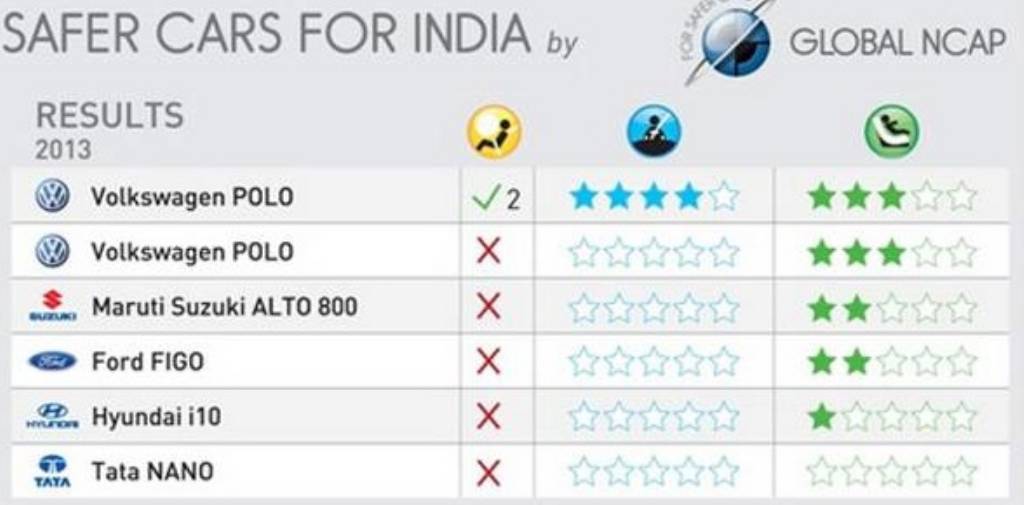 While the Volkswagen Polo has got 5-star rating from Euro NCAP, the same can't be held true in India as the safety equipment on cars is different from its European counterparts. Maruti Suzuki's Swift has also got 5-star rating from Euro NCAP but we doubt it will be as safe in India. While the Polo and Swift got top rating only recently (around 4-5 years back), Fiat's Grande Punto got 5-star safety rating way back in 2005. Fiat doesn't compromise on safety and thus their cars are heavier, leading to lower mileage which doesn't appeal to our mileage conscious buyers.
We will soon be getting our independent state of the art crash test facility in Chennai in a couple of years. The Road Transport Ministry has begun setting standards for the New Car Assessment Programme (NCAP) and all the new cars will undergo crash tests to get certification and safety ratings for their structural strength. Before going on sale, all new cars will undergo frontal car to car crash, sled test, full vehicle crash test and angular car-to-car crash in the new facility being setup.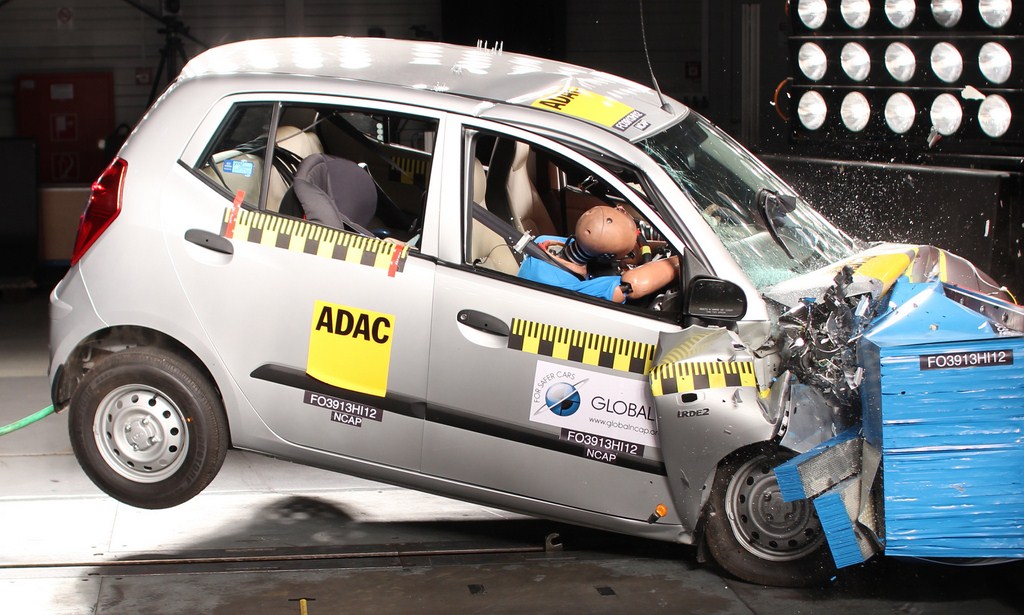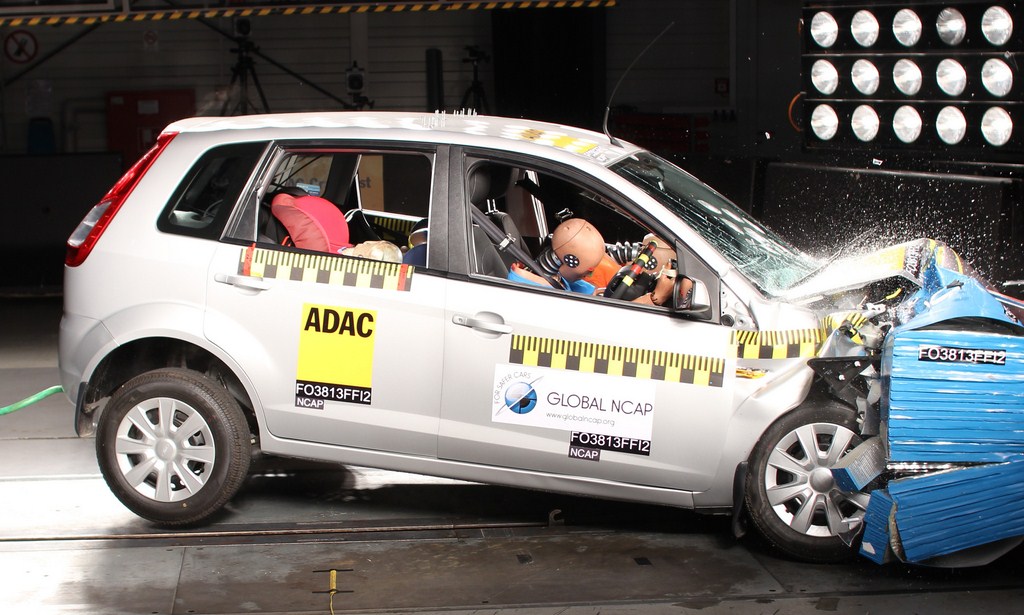 Here is the video of all the crash tests –
[youtube:http://www.youtube.com/watch?v=NcDEck0jOGA 540 375]
[youtube:http://www.youtube.com/watch?v=Q8jkeKXQW1Y 540 375]
[youtube:http://www.youtube.com/watch?v=buMXtGoHHIg 540 375]
[youtube:http://www.youtube.com/watch?v=bJJyJ1gvatQ 540 375]
[youtube:http://www.youtube.com/watch?v=WcIQXmN5rsc 540 375]
[youtube:http://www.youtube.com/watch?v=PLOo5g73284 540 375]
Detailed report of all the crash tests –