Post NCAP Results, Maruti Promoting Swift's Safety On Twitter
While the Maruti Swift failed the Global NCAP test recently, the company hasn't hesitated one bit to promote the safety of the vehicle on its Twitter channel.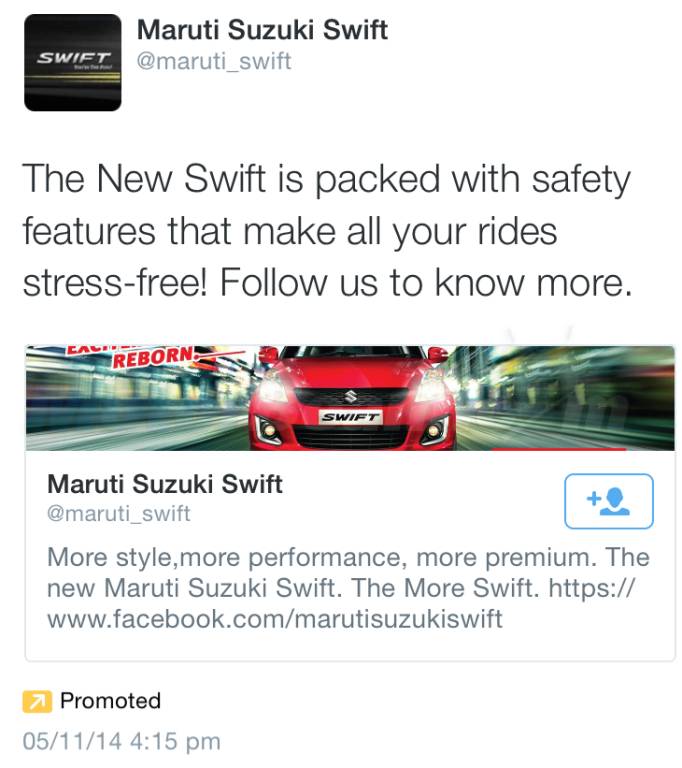 It's ironical to see how some companies make a fool of themselves. India's largest car manufacturer by volumes, Maruti Suzuki has never stressed on safety while at times the company has also rubbished NCAP tests saying the average speed in India is much lower and the speed at which the safety organisation conducts tests isn't practical enough for our country. In spite of all that, Maruti Suzuki has defended itself saying it meets Indian safety norms but if their cars are subjected to global crash tests, they may not pass.
The Maruti Swift failed the Global NCAP crash test as the vehicle did not have airbags, thereby scoring 0 stars. Most Swifts sold in India are base and mid-variants, with V trims accounting for a major chunk of sales. Dual front airbags are only offered on the top-end Z trims, demand for which is quite low. The Swift with front airbags managed to pass the crash test but Maruti hasn't done a Volkswagen, it still doesn't offer airbags on lower trims of its best selling hatchback.
Maruti Suzuki recently launched the Swift facelift which gets additional features like a push button start/stop, Bluetooth audio system, reverse parking sensors, etc. (most of these features are limited to the Z trims). The company recently started promoting the new Swift by using sponsored Tweets on the micro-blogging platform. The tweet says that the Swift is packed with safety features but somehow none of them help in improving occupant safety. Rather than focussing on sales alone, Maruti should also help promote safety in the right way.