After R3, Yamaha R25 Spotted In India Creating New Confusion
After spotting the R3 on test in recent spy shots, images of a dismantled R25 in Delhi have emerged online, creating the confusion as to which bike will Yamaha launch.
Not so long ago, the YZF-R3 was caught testing in India hinting that Yamaha will finally launch the highly awaited offering in the following months with the pre-launch process right on track. With two models offered internationally, the question has always been as to which one will the Japanese manufacturer bring to India and while the previous spy shot had cleared the doubt to an extent, these new spy shots have brought us back to square one as the R25 was recently spotted in Delhi in a dismantled condition. As perplexing as it gets, Yamaha India is tight-lipped about its plans for the domestic market.
As per the import records, Yamaha had imported a 250cc bike back in April 2014 for R&D purpose and we reckon that it could be this diablo red YZF-R25 that was spotted at a prominent motorcycle accessories dealer in Delhi. The bike is in a dismantled condition with the fairing separated and had tyres wrapped in MRF rubber. The source further adds that the bike is here for testing purposes. At the time of import, the R25 was valued at a price of Rs. 2.16 lakhs, a little bit more than the R3 that was valued at 1.88 lakhs when two of its units were imported in India earlier this year.
Compared to the Indonesian market where bikes using a 250cc or larger motor are subjected to heavy taxation, the Indian market does not come with such a norm and hence it would make sense for the Japanese manufacturer to launch the larger R3 in the country. Sharing the same underpinnings including the Diamond combination frame, DiASil coating on the engine and the 6-speed gearbox, it is the larger 320cc powertrain that separates the 249cc equipped R25 from the former unit. With this unprecedented twist though, we now eagerly await to see which product does Yamaha plan to launch in the country and why.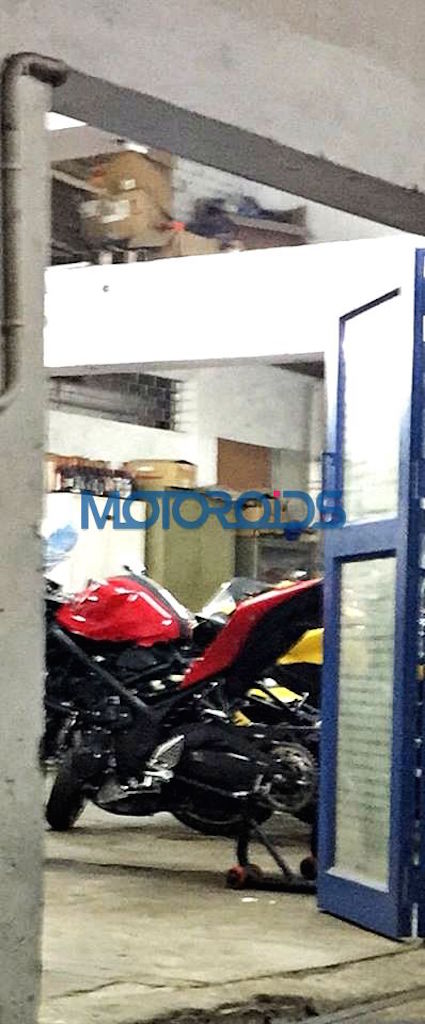 Spy Pictures Source – Motoroids.com