Range Rover Mk4 Launched In India [Updated]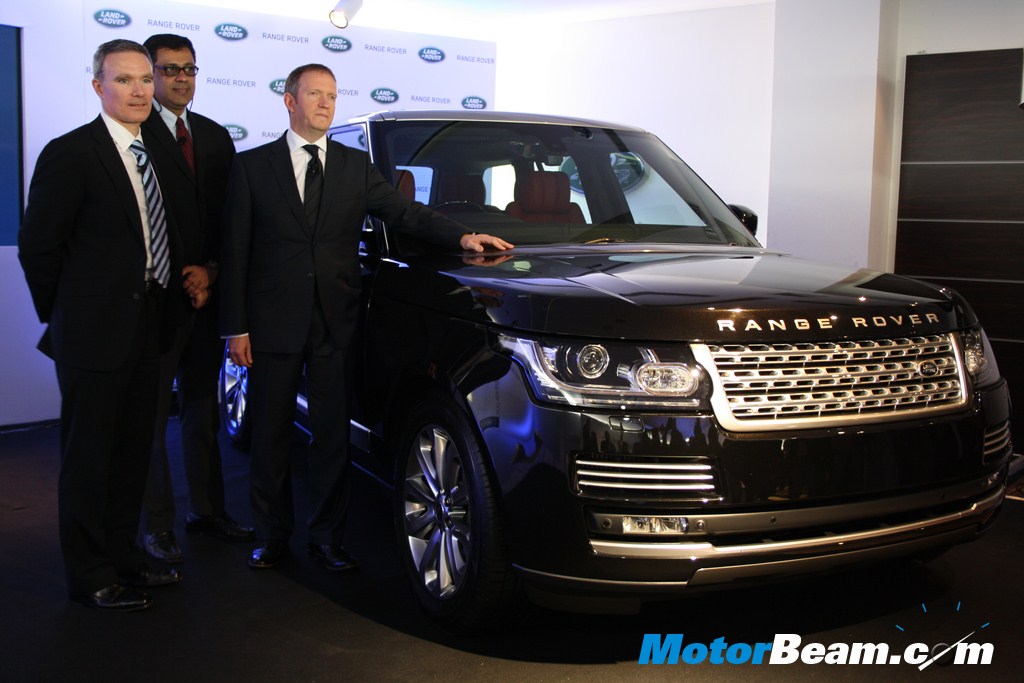 Land Rover has launched the Range Rover Mk4 in the Indian market today, which is one of the fastest launches we have seen for a global product till date. The fourth generation Range Rover might stay true to the Mk1 model of the 1970s, in terms of styling language, but is an all new vehicle underneath. The British automaker has improved the flagship Land Rover vehicle in all departments, making it one of the most capable on and off-road machines in the market.
The body of the new Range Rover is now tighter with impressive detailing around the headlamps and bumper. An new, all aluminum monocoque structure helps in reducing weight by 420 kgs, resulting in reduced body roll and improved driving dynamics. The new Range Rover gets a completely re-engineered air suspension which ensures carpet like ride quality even on the worst of roads. This SUV also gets Terrain Response System 2 with auto function.
The new Range Rover is offered with both petrol and diesel powertrains, which are mated to a new 8-speed ZF automatic gearbox. The 4367 cc V8 diesel engine produces a peak power output of 338 BHP at 3500 RPM and 700 Nm of torque between 1750-3000 RPM. The 5.0-litre supercharged V petrol engine produces 510 BHP of power at 6500 RPM and 625 Nm of torque at 6500 RPM. Both these engines take less than 7 seconds to sprint from 0 – 100 km/hr, which is impressive for a car of this size.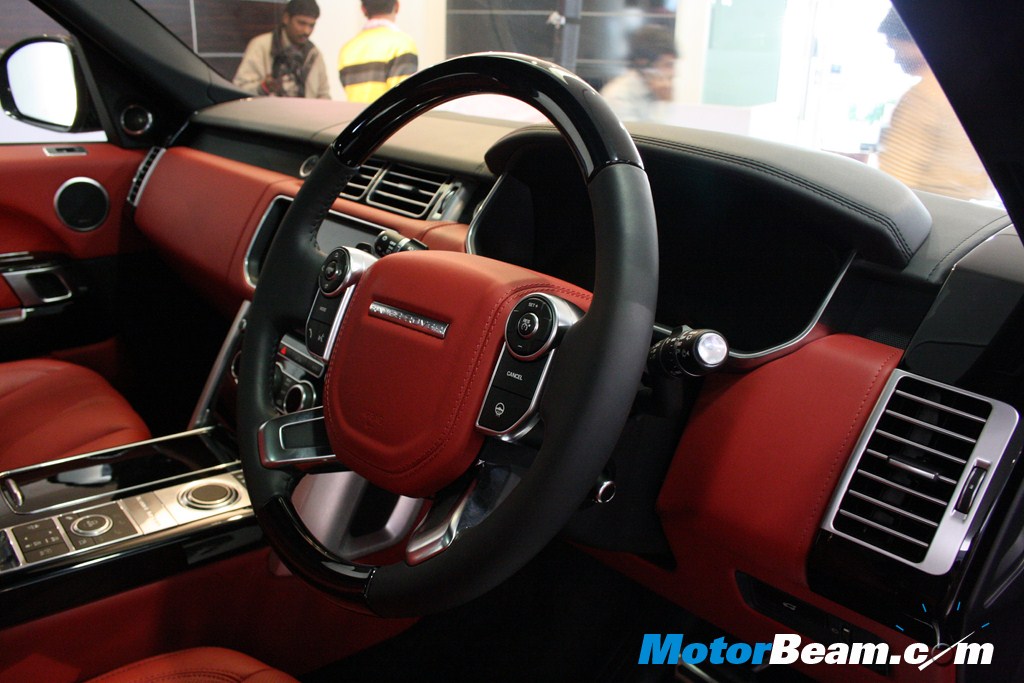 2013 Range Rover Prices (ex-showroom, Delhi) –
* V8 Diesel Vogue SE – Rs. 1.72 crore
* V8 Diesel Autobiography – Rs. 1.79 crore
* V8 Petrol Autobiography – Rs. 1.84 crore
The fourth generation Range Rover is offered in two variants Vogue SE and Autobiography. The diesel version is offered in both variants, while the petrol version if only offered in Autobiography trim. Range Rover started the modern day SUV segment and today its sold in 170 countries worldwide. The vehicle is the first all aluminum SUV in the world and also boasts of the largest panoramic glass roof in the SUV segment. Lineage comes from – Iconic design evolution, Ultimate refinement and Land Rover capability.
The Audio system of the Range Rover consists of 29 speakers from Meridian and is claimed to be the best sounding system in any car. Tata Motors will commence deliveries from January end and bookings can be made at any of the 15 Jaguar Land Rover dealerships across India. A cheaper entry level variant with the 3.0-litre TDV6 diesel engine will be launched in the Range Rover by mid-2013. This motor produces 255 BHP and 600 Nm.
[flickr size="center" float="medium"]http://www.flickr.com/photos/motorbeam/7950745748/[/flickr]
[flickr size="center" float="medium"]http://www.flickr.com/photos/motorbeam/7950749280/[/flickr]
[flickr size="center" float="medium"]http://www.flickr.com/photos/motorbeam/7950749854/[/flickr]
[flickr size="center" float="medium"]http://www.flickr.com/photos/motorbeam/7950746090/[/flickr]
[flickr size="center" float="medium"]http://www.flickr.com/photos/motorbeam/7950747140/[/flickr]
[flickr size="center" float="medium"]http://www.flickr.com/photos/motorbeam/7950740144/[/flickr]
[flickr size="center" float="medium"]http://www.flickr.com/photos/motorbeam/7950741190/[/flickr]
[flickr size="center" float="medium"]http://www.flickr.com/photos/motorbeam/7950739794/[/flickr]
[flickr size="center" float="medium"]http://www.flickr.com/photos/motorbeam/7950742750/[/flickr]
[flickr size="center" float="medium"]http://www.flickr.com/photos/motorbeam/7950748576/[/flickr]
[flickr size="center" float="medium"]http://www.flickr.com/photos/motorbeam/7950745352/[/flickr]
[flickr size="center" float="medium"]http://www.flickr.com/photos/motorbeam/7950744910/[/flickr]
[flickr size="center" float="medium"]http://www.flickr.com/photos/motorbeam/7950749562/[/flickr]