Range Rover Sport Test Drive Review
Car tested: 2011 Range Rover Sport 3.0 LTR V6 HSE
Price OTR Mumbai: Rs. 92,47,210/-
Land Rover is second oldest maker of four wheel drive vehicles in the world (the oldest is Jeep) and since Tata Motors bought it a few years ago, JLR is steadily expanding their base in India. It is well known that the demand for luxury cars has shot up beyond comprehension since the last few years and though BMW is the king of the game, JLR is eager to take a bite off the market share. Land Rovers are globally accepted as one of the best off road vehicles and are extensively used by the British Army. We take the Range Rover Sport for some fun in the rain and find out if it is as strong as its muscular looks suggest.
Exteriors – The Range Rover Sport is big, muscular and you just cant give it a single glance. Try it and you will find yourself turning to have another look. Its not too futuristic, neither too retro but falls somewhere in the middle. The front is highlighted with projector headlamps and the daytime running LED's look absolutely fantastic. The front meshwork grille is small and houses the Land Rover emblem, the grey area around it looks good too. Range Rover is boldly scripted on the bonnet.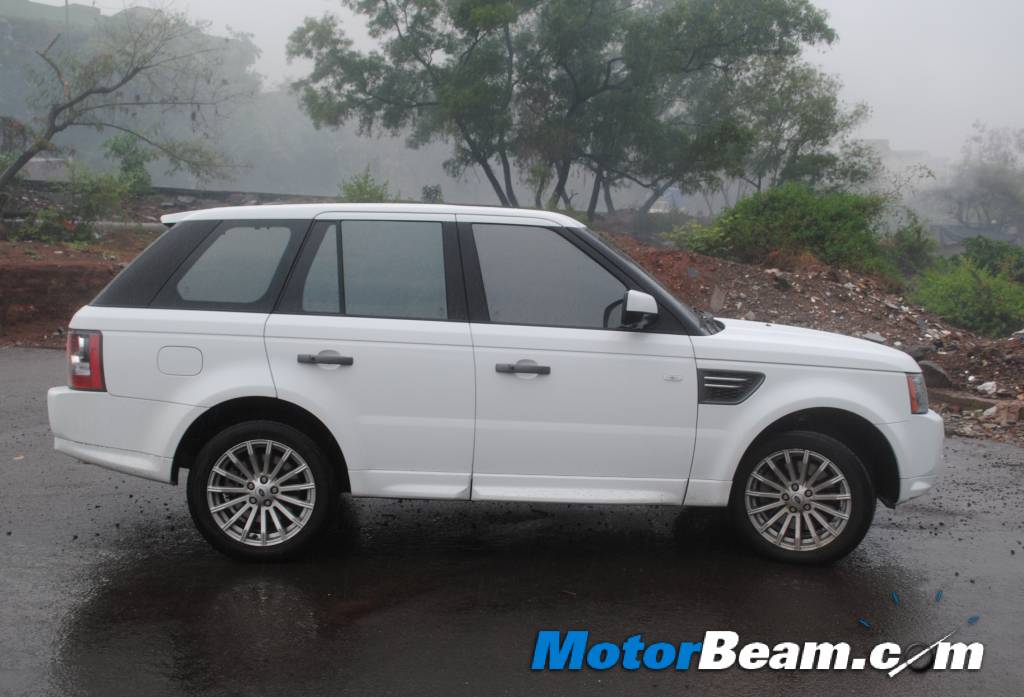 From the side profile, the RR Sport looks rather plain and the rear design, not to eveyone's liking, gives it a retro look, which we presume is intentionally done. Chunky multispoke alloy wheels look cool and so do the blackened out A,B,C and D pillars. A small cladding seems to line the lower end of the doors.
[singlepic id=6114 w=540 h=375 float=center]
The rear is subtly styed with Range Rover again mentioned in bold at the bottom. LED taillight cluster looks classy and a small spoiler adds to the appeal.
[singlepic id=6145 w=540 h=375 float=center]
Spare tyre conveniently hidden on the underside.
[singlepic id=6149 w=540 h=375 float=center]
Interiors – Step in and the interiors have a halo of luxury around them. This mean machine is very comfortable and there are loads of gizmos inside to keep you pampered. Fit and finish is fabulous with top notch build quality. The drivers seat is no less than a cockpit with various controls on the centre console.
[singlepic id=6157 w=540 h=375 float=center]
High quality leather seats are comfortable and memory option is standard for the front seats. Front seats are also heated for additional comfort. Legroom and thigh support are good for both the rows, a little more headroom would have been ideal.
[singlepic id=6120 w=540 h=375 float=center]
The A/c is efficient with dual zone climate control and vents for the rear seats. Audio system supports USB and AUX with the Harman Kardon system giving out quality sound. The rear seats get 2 independent LCD screens which play USB and support AUX connectivity and are mounted on the backside of the front headrests. Headphone jack is also provided and is located on the door panel. 4 spoke steering houses various buttons and the 5 inch TFT screen gives information about various parameters and also doubles up as the screen for the rear parking camera. The split tail gate opens up in two parts, either as full or only the rear glass area. Large volume can accommodate more luggage.
[singlepic id=6108 w=540 h=375 float=center]
On the Move – Press the Start button and the engine is barely audible in the cabin, insulation is top notch and so is the build quality. Everything feels upmarket. Driving position  is commanding with a full view of the road. All the controls are easily accessible.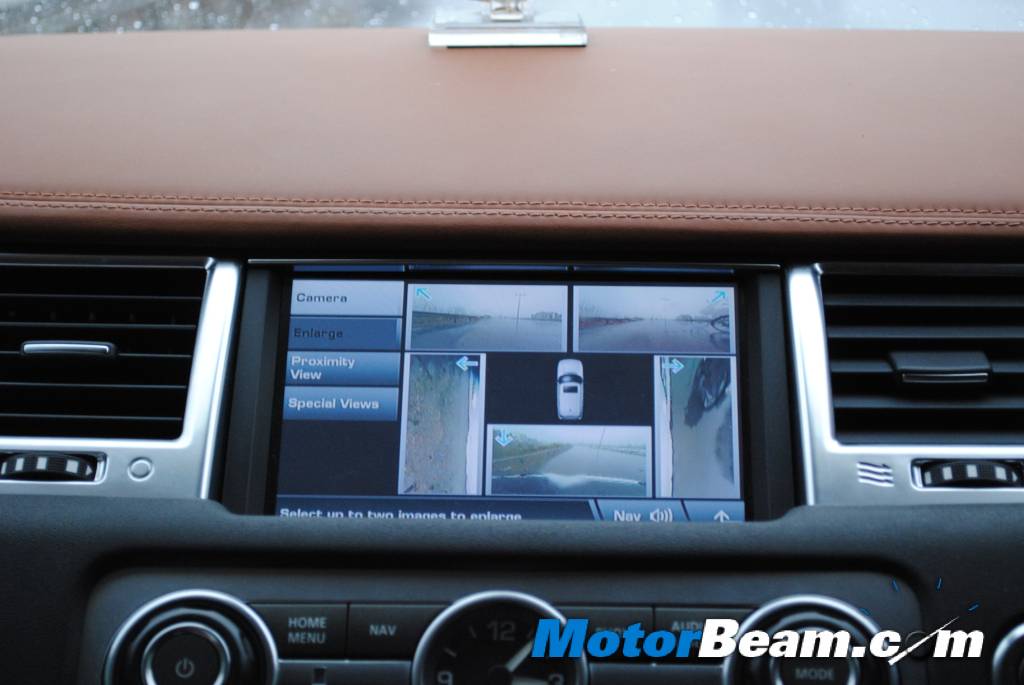 5 cameras provide a 360 degree view of the car. Suspension is soft for a good ride quality and can be tweaked as per the requirement. Ground clearance can be increased by almost 2 inches for offroading purpose. In an offroading situations, you need to be a really bad driver to get stuck as the RR Sport conquers all terrains.
[singlepic id=6141 w=540 h=375 float=center]
Ride, Handling and Braking – The RR Sport is a reputed offroader and proves one too. It comfortably made through slushy terrain without any major fuss, thanks to Land Rovers very own Terrain Response System, which was first seen on the Discovery 3 and is now available as standard across all models.
[singlepic id=6161 w=540 h=375 float=center]
This system basically allows the driver to adjust chassis and transmission settings based on the type of terrain. It also manipulates the ride height, engine management, throttle mapping, transmission settings, electronic driving aids like Electronic Traction Control (ETC), Dynamic Stability Control (DSC) and Hill Descent Control (HDC). Ride quality is good and in the urban jungle the luxury and the ride quality is fit for a king. Steering is light, carry some speed through a corner and bodyroll is evident and immediately the electronics of the car step in to keep it to bare minimum. Weighing almost two and a half tons, the RR Sport handles fairly well on the tarmac and high speed stability is fantastic, one of the reason for that being that at high speeds the ride height reduces for better on road stability.
[singlepic id=6133 w=540 h=375 float=center]
Riding on 19 inch alloys, the 255/55 tyres offer decent grip and braking distances are kept to a minimum with all four discs playing their role,  great for a car which weighs so much.
[singlepic id=6135 w=540 h=375 float=center]
Performance – Powered by a 2993 cc, V6 Diesel engine, the RR Sport churns out 245 bhp at 4000 rpm and an impressive 600Nm of torque at 2000 RPM. Power delivery is smooth and a run from 0 to 100 finishes in 9.1 seconds, which is might fast for the weight it carries. On our test, 6.7 kmpl was the worst mileage we got and one can expect the mileage to be in the range of 6.5 – 8.5 kmpl, depending on driving conditions.  Mated to this engine is a 6 speed automatic gearbox with Command Shift, which allows the driver to shift to manual transmission, especially while offroading. There is a certain lag between shifts but its within the acceptable range. Paddle shifts provided for those who wish to have more fun.
[singlepic id=6164 w=540 h=375 float=center]
Conclusion – Land Rover is one of the most reputed company as far as off roading vehicles are concerned and the Range Rover Sport, besides being a true offroader, also adds a sporty zing to the equation courtesy of good road manners and a thrilling performance by the 3 ltr V6 engine. Currently available as a CBU, JLR might assemble it in their Pune plant in due course of time. The RR sport is loaded with tons of gadgetry and there is absolutely no reason why you wouldn't want the R A N G E  R O V E R badge on your hood.
[xrr label="" overall=true group="s1″ ]
[singlepic id=6165 w=540 h=375 float=center]
Whats Cool
* Build Quality
* Off Road Performance
* Gadgetry
* Performance
* Premium Badge
Whats Not So Cool
* Thin Dealership Network
* Service Costs
[singlepic id=6163 w=540 h=375 float=center]
Range Rover Sport Specifications : –
* Engine: 2993cc, 24V, V6
* Power: 245PS @ 4000 rpm
* Torque: 600 Nm @ 2000 rpm
* Transmission: 6-speed automatic
* Top Speed: 210kmph
* 0-100kmph: 9.2 seconds
* Fuel Consumption: 6-7 kmpl (City), 7-8 kmpl (highway)
* Fuel Type: Diesel
* Suspension: Electronic Air Suspension
* Tires: 255/50/19
* Safety: ABS, EBD, Front Airbags, Curtain Airbags, Immobilizer
Range Rover Sport Dimensions : –
* Overall length x width x height: 4783 mm X 2158 mm X 1789 mm
* Wheelbase: 2745mm
* Ground clearance: 227 mm
* Fuel Tank Capacity: 70 litres
* Kerb Weight: 2535 kgs