Red Bull Racing Drives At 18,380 Feet!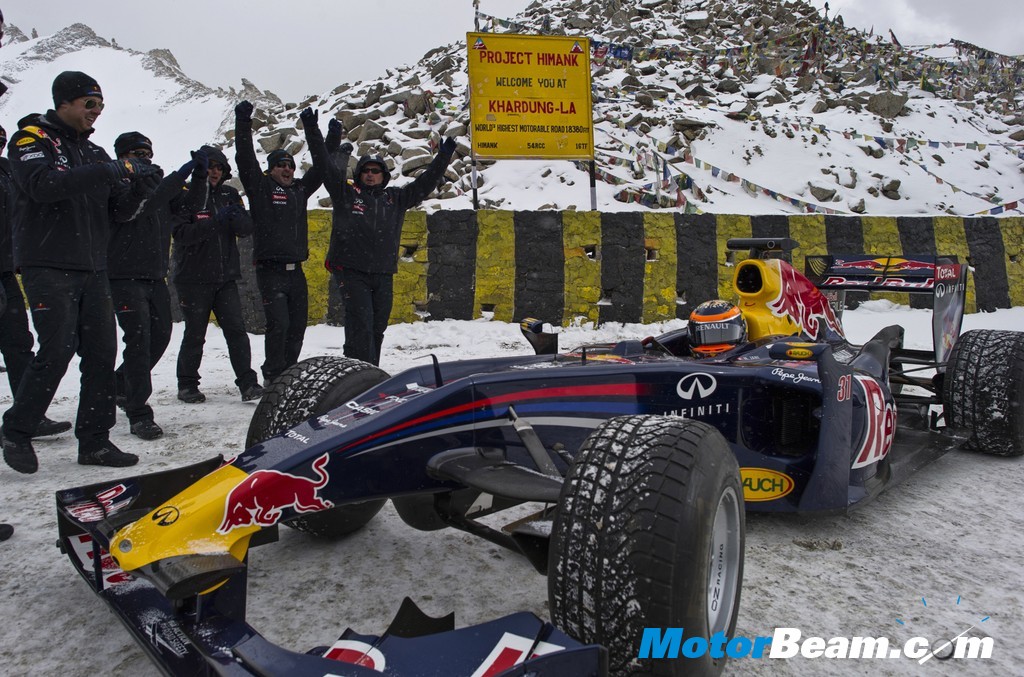 Red Bull Racing is the name that became synonymous with Sebastian Vettel winning the 2011 Formula 1 drivers championship. The Red Bull driver Sebastian was recently crowned the winner of the drivers' championship at the Japanese Grand Prix. But back in India, the Red Bull Racing team was also upto something, scaling new heights. Red Bull Racing driver, Neel Jani drove the Red Bull Racing Formula One Show car on the World's Highest Motorable Road at the Khardung-La pass in the Leh region of India at a dizzying height of 18,380 feet. This achievement makes Red Bull the first ever Formula 1 team to have transported, fired up and driven a Formula 1 car on the most challenging driving terrain in the world.
Red Bull Racing driver Daniel Ricciardo enthralled the streets of New Delhi a week ago when Red Bull had organized an event called Speed Street at the Janpath. This time it was Neel Jani who took to the wheel and drove the car through the various roads of the Leh region in India's extreme north covering famous landmarks like the famous Thiksey Monastery, the Shanti Stupa and the famous rolling roads of South Pullu. The event was flagged off by Honourable Chief Minister of Jammu and Kashmir, Mr. Omar Abdullah.
Anthony Ward, Head of Brand for Red Bull Racing said, "It is a testament to the engineering crew of Red Bull Racing that we have been able to get a Formula One car running from 11,000 feet, all the way up to the 18,380 feet mark. Logistically too, this project demonstrates Red Bull Racing's commitment to continually pushing boundaries." The driver, Neel Jani also commented that "Of all the places I've driven around the world, Khardung La has got to be the most humbling. The Himalayas are as imposing as anything in the world and to become a part of history here will be a cherished memory,"