Shahrukh Khan Shares His Duke 200 Experience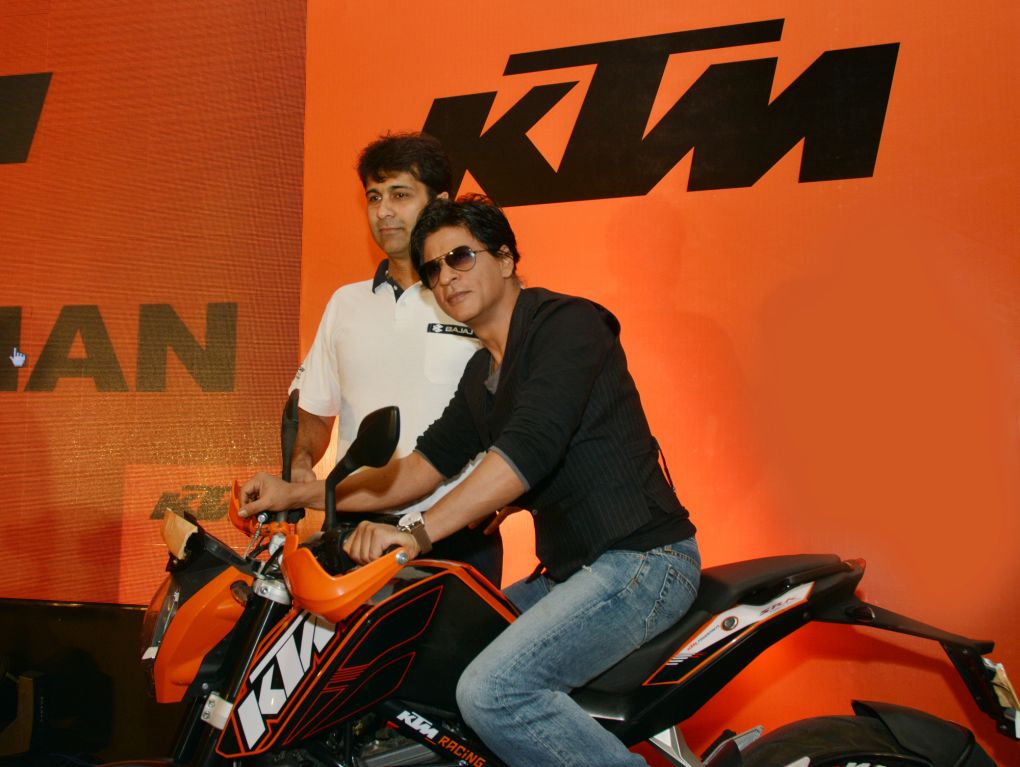 Shahrukh Khan and KTM have come together, although the collaboration doesn't seem to be involving money (he is not the official brand ambassador of KTM). Last year, Rajiv Bajaj gifted Shahrukh Khan a highly customised Duke 200 on his birthday and the Bollywood actor being a big fan of KTM, started riding the bike occasionally, wearing PowerGear. Today Shahrukh Khan handed over the keys to first five Duke 390 owners in an event where KTM highlighted its racing pedigree. He also stated that his son will get into biking and when he grows up big, he wants to go on a world tour on a KTM adventure motorcycle.
Rajiv Bajaj is a good friend of Shahrukh Khan and both took questions from the media. While some questions were sensible (about KTM) others were mostly about the actor's films and preference (non-bike related like which Hollywood actress will he like to dance with). Shahrukh seems to be very impressed by KTM and Bajaj Auto's Chakan plant, which he visited recently. He praised the Chakan facility extensively, calling workers friendly who work with happiness and ease (the recent strike makes his statement contradictory).
Amit Nandi (Head, KTM India) was present at the occasion as well. Current KTM owners were also invited. People asked questions on whether the Duke will be featured in a movie to SRK to which he replied that there are no such plans yet. He however stated that he would love to feature the Duke in a future action movie and will speak to Rajiv Bajaj about it. Some one asked Rajiv Bajaj if the faired Duke 390 will be seen in 2013 and will he gift the actor the upcoming machine on his birthday this year. Rajiv replied saying SRK's birthday gift is a surprise and he won't reveal which motorcycle he will be giving him. He did say the motorcycle will be heavily customised.
Interestingly when someone asked about SRK being a brand ambassador for KTM, the reply was quite surprising. Shahrukh said he is not a brand ambassador and he is simply here because he loves KTM bikes. Rajiv replied to the same by saying the brand should be fit for the personality and he would never imagine SRK routing for the Pulsar and its only KTM which comes close to his personality. He also stated that his competitors are picking up Bollywood actors and cricketers to boost brand awareness but that doesn't seem to work well.
A question on racing scene in India got an interesting response from Rajiv Bajaj who said that racing and business success have little in common. He mentioned that Bajaj Auto's key competitors TVS and Yamaha are heavily into racing but you see very few of those motorcycles on Indian roads compared to the Pulsar which has 50% market share. However KTM will step up its racing activities in India in the near future.
[youtube:http://www.youtube.com/watch?v=q7WkUnuCBDc 540 375]