Tamil Nadu Dealer Launches Maruti Swift Kabali Edition
Using the Kabali brand image, a Tamil Nadu dealer has released a Maruti Swift Kabali Edition. It is purely distinguished from the stable with Kabali graphics.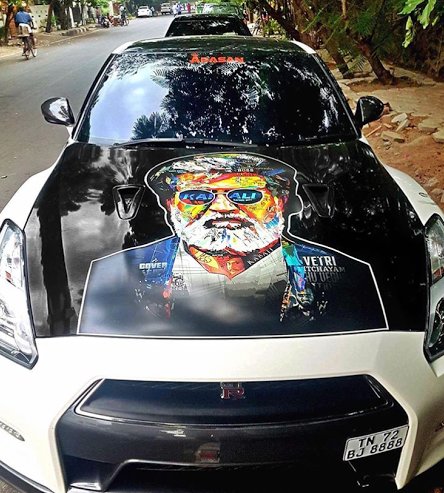 Rajnikanth, the name speaks for itself in India. The aura surrounding this prodigious actor is just humongous by any standard. His latest release, Kabali which is scheduled for release on the 22nd of July, has made the rounds on the internet ever since its first viral teaser. You just can't doubt the perpetual status he has achieved in South India, let alone questioning it.
Kabali, the latest from the legend, is a modern day gangster movie which revolves mainly around the win of good over evil. The posters and first-looks have been quite jaw-dropping given the fact he's able to pull this off at the age of 65 years. It is his 159th venture, and it looks all set for a true Rajni-style fairing at the box office. It won't be surprising to see this movie etch itself in the Tamil Cinema folklore too.
While Kabali is a soon-to-be phenomenon in cinema, the name has just accelerated to a branding stratagem. Taking advantage of the hype surrounding it, a Maruti dealer in Hosur, Tamil Nadu has gone one step further to increase its brand value, by releasing a Kabali Edition of the Swift. Air Asia, the movie's airline partner took the initiative to promote Kabali by announcing travel packages earlier.
As far as the car is concerned, its hood, side, rear, and roof has Kabali spanned all over. Apart from the stickers and graphics, there aren't many significant changes otherwise. The die-hards of 'Thalaivar', as he is fondly called down south, will fall head over heels with this new proposition. Although, it is not an official launch by the manufacturer, customers will flock the dealerships to stand a chance for the 'Kabali car'.
Maruti Swift Kabali Edition
– Rajnikanth's aura will next be seen on screen with Kabali
– The movie will be releasing on Friday, the 22nd of July
– On a branding perspective, companies look to lure customers with the Kabali fan following
– A Maruti dealer in Hosur, Tamil Nadu launched a Kabali Edition of the Swift
– Its hood, side, rear, and roof has Kabali graphics and there are no other changes to the car