Tata Takes A Dig At Jeep, Compares Hexa With Compass
Post the launch of Jeep Compass by FCA India, Tata Motors takes a dig at the American brand and compares it with its Hexa.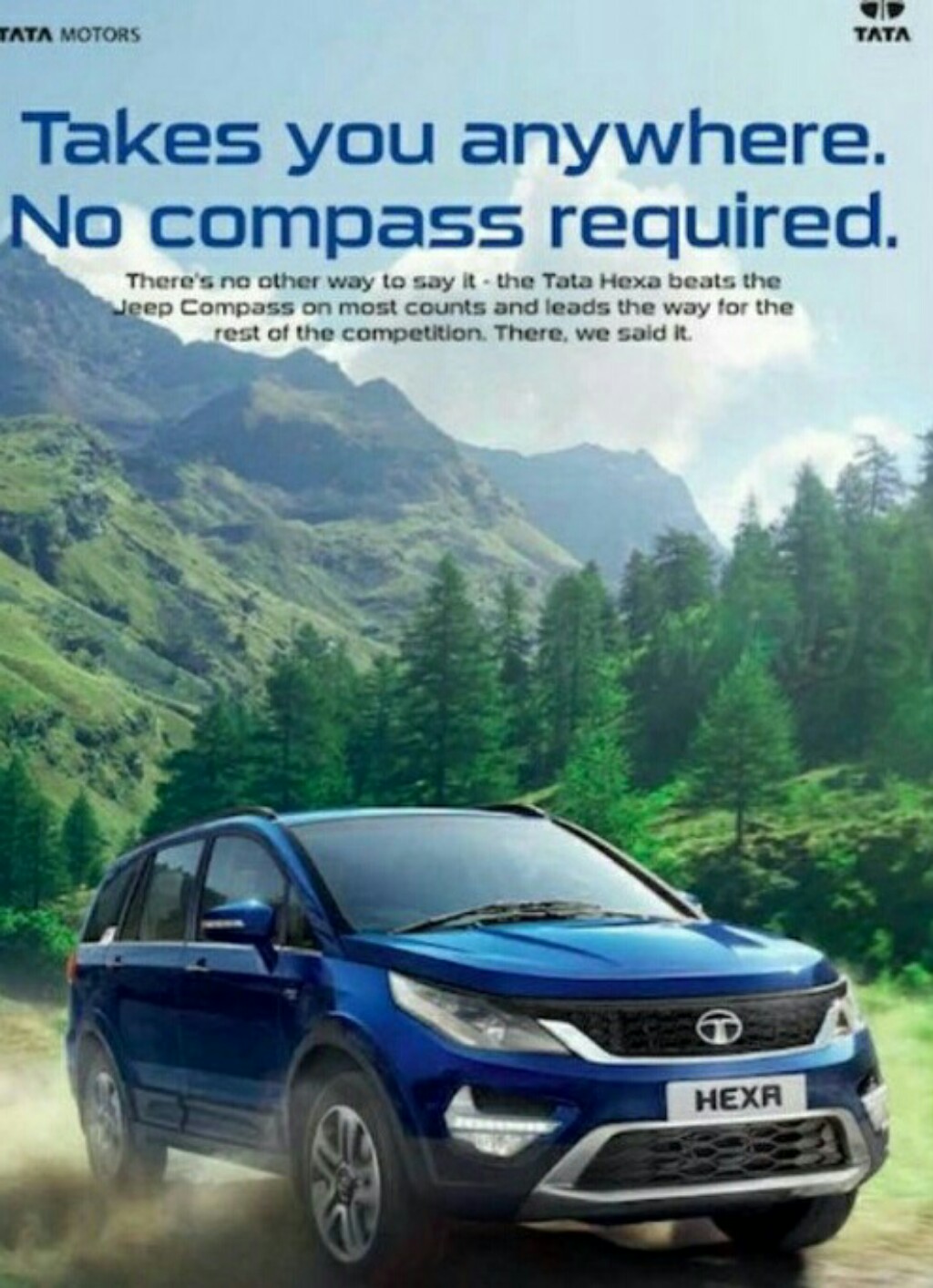 Fiat Chrysler Automobiles launched the much hyped Jeep Compass recently at an event in Mumbai. With a killer price tag of Rs. 14.95 lakhs (ex-showroom, Delhi), the Made-in-India product has cleverly undercut all the pricing expectations floating around it. The Tata Hexa, which is also the flagship product of Tata Motors, is one tough cookie in Jeep Compass' competitor list, which also includes the Hyundai Tucson and Mahindra XUV500.
Tata Motors, in an impromptu attempt, has taken a jab at Jeep by comparing the specifications of their newcomer with its Hexa. The first page of the comparison sheet released by Tata Motors reads "Takes you anywhere. No compass required". The Tata Hexa, which comes in three variants, is powered by a 2.2-litre VARICOR diesel engine which puts out over 153 BHP of power and 400 Nm of maximum torque.
It comes with a host of features and a very useful third row of seats. The Jeep Compass, with prices ranging from Rs. 14.95 – 20.65 lakhs (ex-showroom, Delhi), is available in 5 trims and a choice of two engines, namely the 1.4-litre petrol and 2.0-litre diesel. The 162 HP petrol engine develops 250 Nm of torque, while the 173 HP turbocharged diesel engine has a torque rating of 350 Nm.
This spontaneous reaction from Tata Motors clearly indicates the pressure they are facing with Jeep's entry in the market. The comparison chart compares the XT variant of the Hexa with the Compass Limited and cleverly highlights the Hexa's virtues of more space, power and features. Also, the Compass Limited is priced Rs. 3 lakhs dearer but one can comprehend it as the premium that a foreign brand commands in our market.
Thanks to Hexa's bigger powerplant and huge proportions, it clearly has an edge in the space, seating and displacement departments. Even though Tata has shown its engine to be superior, one mustn't forget that the Indica maker isn't using this 'so-called' superior engine in its upcoming Q501 SUV but instead sourcing the Compass' lower displacement diesel motor from FCA to use in the Land Rover inspired vehicle. Features such as cruise control, ambient mood lighting and Harman Kardon infotainment system have been duly highlighted with an aim to sway the customer's decision in the Hexa's favour.
Points like spare part availability and service network have also been compared. Though, Tata seems to be forgetting that its customer experience has been highly inconsistent over the years. While facts stated about Jeep Compass are inarguably true, the snob value associated with a Jeep product is enough to overweigh its shortcomings.
Despite its higher price, the Compass is seen as a more sorted and premium offering as compared to others. The aspirational value of owning a Jeep product clearly has something to do with the acceptability of the Compass. With Jeep reporting more than 5000 bookings for the Compass, it seems that the ball is no longer in Tata's court.
Tata Hexa vs Jeep Compass
– Tata Motors takes a jab at Jeep after the launch of Compass
– Prepares comparison sheet to compare Hexa XT with Compass Limited
– Tata Motors highlights Hexa's size and displacement advantage over the Compass
– Jeep Compass has recently been launched at a price of Rs. 14.95 lakhs