Tata Motors Pits Manza Against Honda Amaze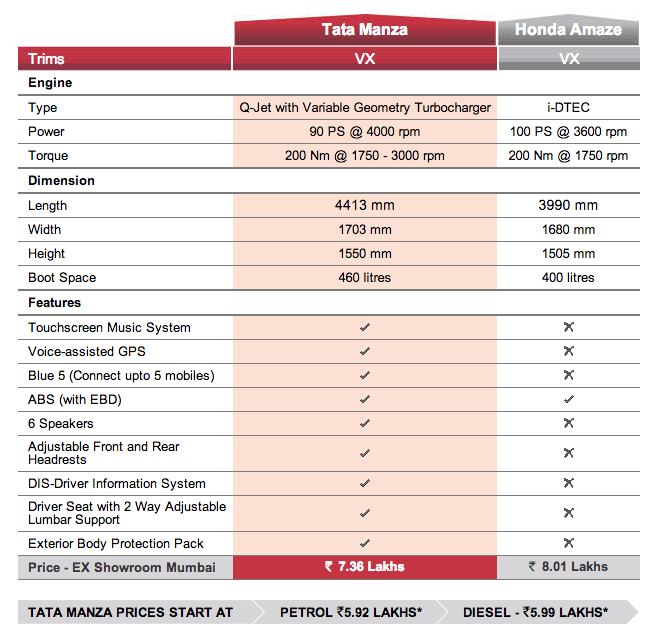 The arrival of the Honda Amaze has alerted the competition, who are facing the heat from Honda's first diesel car in India. While the Amaze is looking at gobbling away market share from Maruti Suzuki's Swift DZire, the vehicle also competes with the Tata Manza and Toyota Etios in terms of pricing. Now Tata Motors has put a page on its website which compares the Manza against the Amaze (screenshot above). In the comparison, the Manza is seen to have an upper hand, being bigger and offering more features and a larger boot than the Amaze, at a lower price.
The Honda Amaze is a sub 4-metre vehicle whereas the Tata Manza measures significantly more at 4.4-metres. The Manza is wider and taller too, thus being more spacious than the already spacious Amaze. Tata Motors also offers many unique features on the Manza which Honda doesn't offer on the Amaze. The most lucrative thing about the Manza is the buyback assurance scheme, where the company will give you back 60% resale value after 3 years. The diesel engine of both cars produce the same amount of torque output but the Amaze is more powerful.
However specs sheet aside, will the Tata Manza spoil Honda's amazing party? Not really. Honda has created a fantastic brand image the world over and people close their eyes and purchase a Honda car. The Japanese automaker also offers much better quality all around as well as a diesel engine which is the most fuel efficient in India. The Honda Amaze is receiving very good response in the country, with waiting period stretching up to four months in some cities for select variants. That is why Honda doesn't offer a buyback scheme, as their cars already have very good resale value.