Tata Nano Gets Listed In Guinness Book Of World Records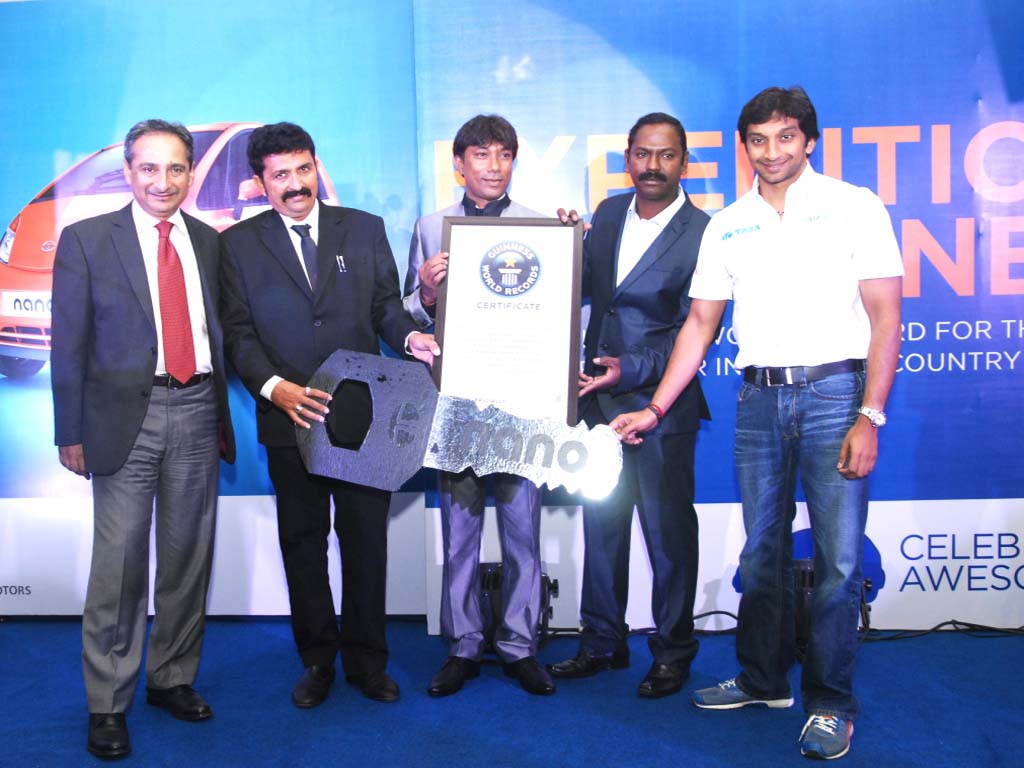 The world's cheapest car, Tata Nano has always been in the limelight since its announcement. Bing the common man's car in India, Tata Motors has not been getting the expected market response for the Nano and it has also been infamous for several afflictions. But, above all the criticism, Nano has accumulated several accolades for itself and making the appraisal list longer is a Guinness World record for the longest journey covered in a single country record.
Tata Motors organized a ceremony event 'Expedition to Epicness' in Delhi to celebrate the two epic expeditions in the little Nano. Mr. Srikarunya Subrahmanyam, a motoring enthusiast from Bangalore along with his team covered an epic journey of 10,218 kms in 10 days started on 21st March 2013 from KanyaKumari. He and his supportive team circumnavigated the country and returned back to Bangalore on 30th March 2013 after breaking the current Guinness world record of 8046.74 kms.
The second rejoice of the event is the unveiling of 'Atop the World' book written and edited by the 63-years old, Mr. Thomas Chacko. The Kochi-based businessman is a motorist by heart who covered a long epic distance of 26,500 kms across all the horizons of India in a Tata Nano. Mr. Chacko roamed across India with in a span of 78 days and completed his dream journey successfully on 21st July 2012.
The 78 day India drive has tested the Tata Nano across some of the most rugged terrains of the country and through all kinds of weather. The car emerged successful in this test of endurance. Both motorist ideals are pleased and honoured by Mr. Ranjit Yadav, President, Passenger Vehicle Business Unit, Tata Motors and India's first Formula One racing driver, Mr. Narain Karthikeyan. In an interview, Mr. Chacko said that the Nano has marked a history in the International automobile foray level and the same being the reason for him to choose the little hatchback for his dream journey.