Third Generation Skoda Superb Sketch Reveals Sharp Lines
Skoda has revealed sketches of the 2015 Superb and termed the design as "sophisticated, elegant, dynamic, discrete, modern and expressive" with styling inspired by the VisionC concept.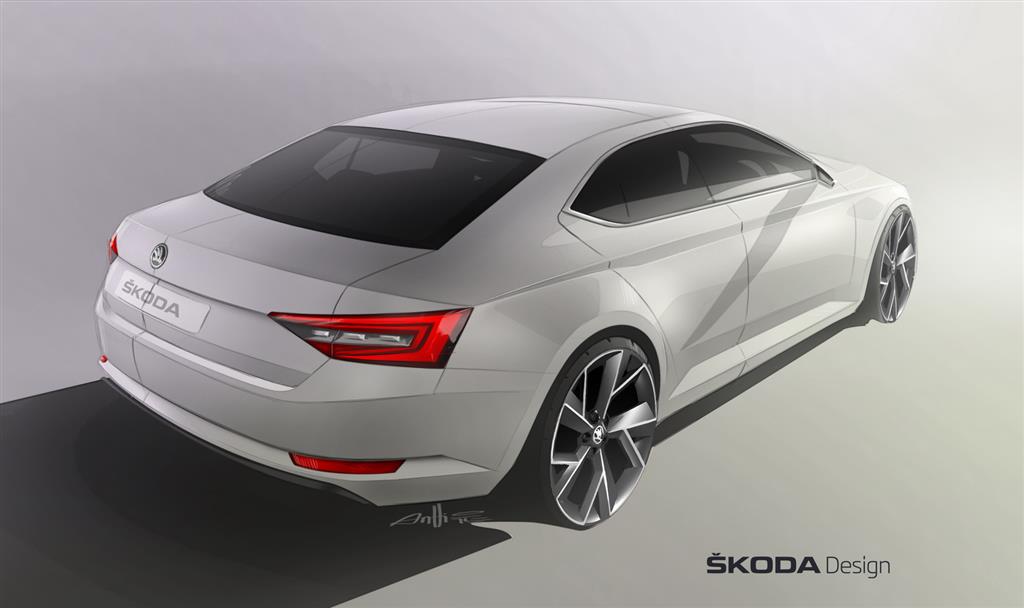 Skoda has just revealed a couple of official sketches which depict the styling of the next-generation Superb that will be hitting the markets in the near future. The company has said that the new design is going to be revolutionary. Looking at the sketches, we agree to the fact that the new design is very good but somehow we didn't find anything extraordinary in it. The exteriors of the new Skoda Superb carry typical styling elements that have always been used by the Czech automaker and no one would ever mistake the vehicle for something other than a Skoda.
The front face of the 2015 Skoda Superb looks distinctively sharp now. While the current Superb has a premium yet discrete look, the new Superb has an in-your-face design which is very bold and sporty. The headlights, bonnet, grille and bumper carry very sharp and striking lines. A couple of these lines are carried over to the side profile extending all the way till the rear lights. The side of the Superb is no more limousine-like and it looks like a sporty performance-based sedan now. Skoda has chosen a great design for the alloys though. The rear looks well-proportioned with the huge bumper and the nicely-shaped tail lights. Overall, there is nothing to complain about the new Skoda Superb but then the styling isn't exactly revolutionary.
Skoda will showcase the new Superb to the public in February 2015 in Prague. After that, the vehicle will be displayed at the Geneva Auto Show in March. The flagship sedan is expected to be launched by June 2015. The new 2015 Skoda Superb is based on the MQB platform just like the Volkswagen Passat. It will also share its engines with the Passat and come with the option of either a manual transmission or a slick DSG. The next-gen Skoda Superb will get both front-wheel-drive and all-wheel-drive modes.