Top 10 Selling Cars 2017 – Maruti Secures 7 Spots
The top 10 selling cars in 2017 chart is here, only two automakers in the entire list!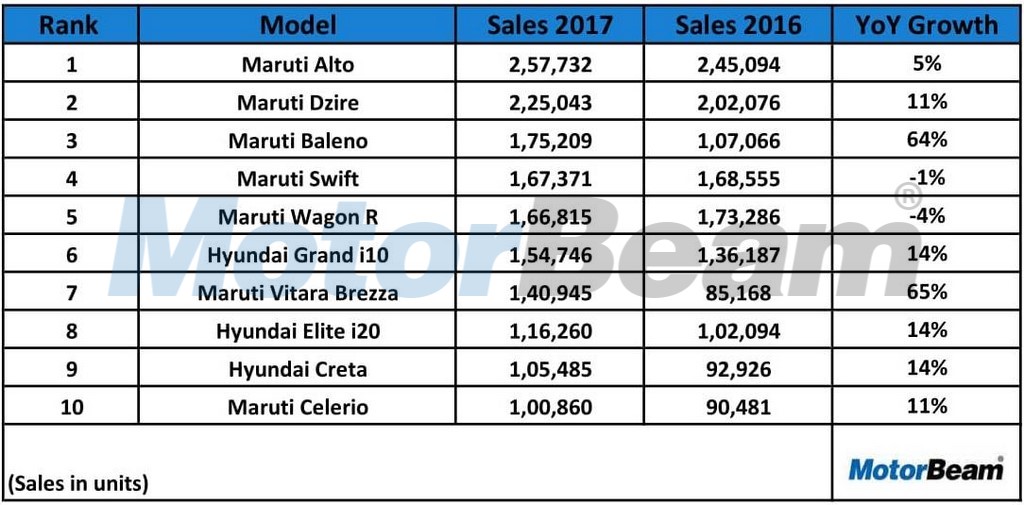 The top 10 selling cars in 2017 chart sees the usual dominance of two of the major automakers in India, Hyundai and Maruti Suzuki. While Maruti bagged seven spots in the list, Hyundai took away the remaining three. The Alto and Dzire continue to sell like hotcakes averaging approximately 21,500 and 18,700 units a month. The duo including Baleno, Swift and the Wagon R occupy the top five spots in the list.
The drastic increase in Baleno's sales is due to the ease in the capacity constraints at Suzuki's manufacturing facility in Gujarat. The premium hatchback sold 1,75,209 units last year as opposed to 1,07,066 units in 2016, thereby posting the second highest growth rate in the table above. The Swift, marginally registered a negative growth in sales but with the new generation car expected shortly, volumes are likely to grow like the Dzire's.
Interestingly, all the three Hyundai cars in the list have clocked a consistent and approximate 14 percent growth in sales. The Korean automaker is expecting to increase its domestic sales in 2018 by 5-6 percent to 5,50,000 units. The company sold 5,27,930 passenger cars in 2017.
The SUV segment is gaining wider acceptance and importance, especially with respect to the Indian context. The Vitara Brezza posted the highest growth (65 percent) in terms of sales by selling 1,40,945 units in 2017 as compared to 85,168 units in 2016. Maruti is betting big on the SUV segment as it plans to launch two new SUVs, one above the Vitara Brezza and one below. The company had a market share of approximately 50 percent while Hyundai held about 16.5 percent in 2017.
Top 10 Selling Cars 2017
– Maruti secures 7 spots in the top 10 list
– Alto leads with sales of 2,57,732 units
– Baleno and Vitara Brezza sales shine, indicates growing demand for premium cars
– Grand i10 is the best-selling Hyundai in India