Top 10 Selling Two-Wheelers In India In January 2015
January 2015 saw sales increase compared to December 2014 with Honda Dream and Bajaj Pulsar series being the top gainers.
Contrary to expectations, the Indian two-wheeler market showcased growth in sales for January 2015 even after the excise duty concession was revoked for the new year. The marginal increase in prices has however not affected the sales momentum and it now seems manufacturers were pretty much prepared for the same. With the ever-growing Indian two-wheeler market prepared to set new records this year, here are the top 10 best-selling vehicles for the previous month that saw some exciting action with impressive sales.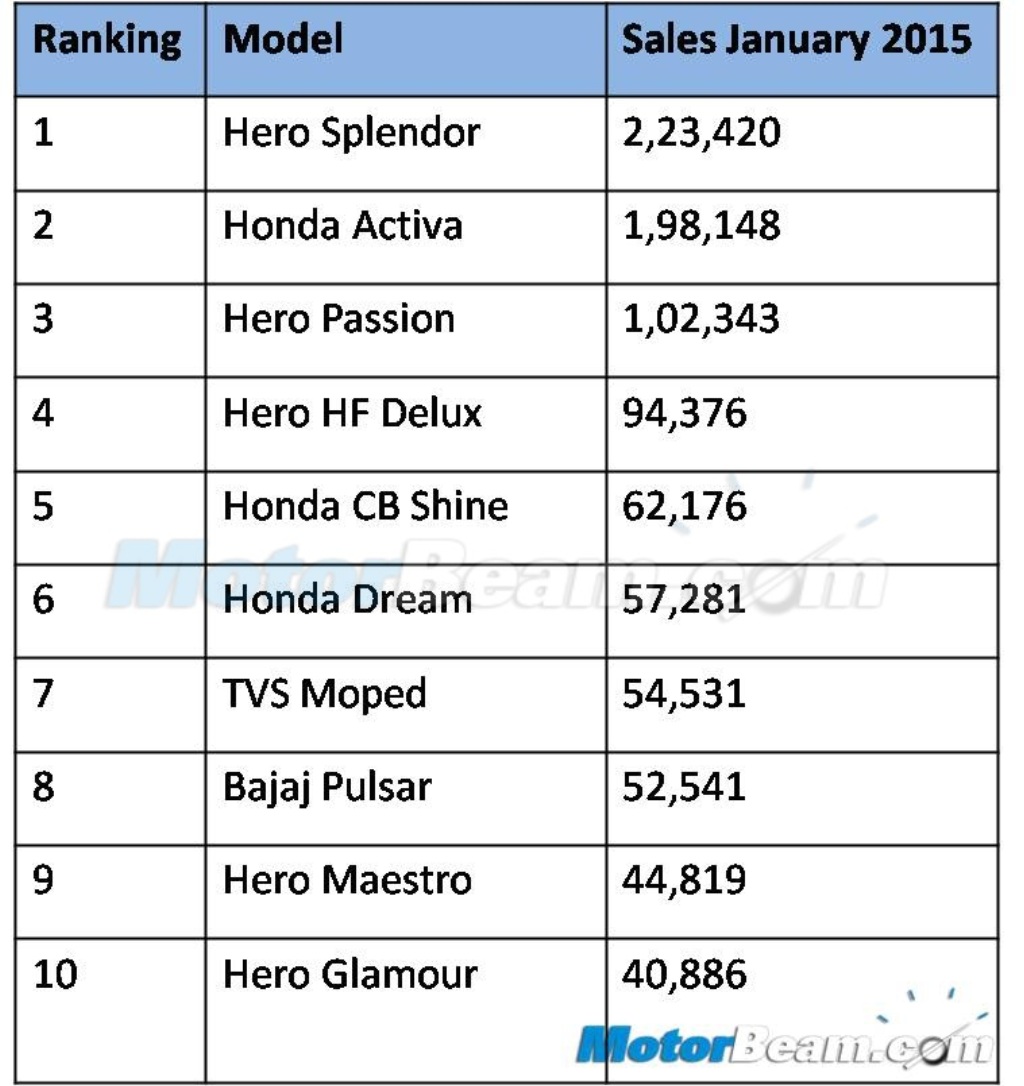 Observations –
1) The Hero Splendor continues to retain its dominant position in the two-wheeler space with 2,23,420 units sold and remains relatively unmatched in terms of volumes. Nonetheless, Honda is gaining aggressively with its Activa scooter that has beaten the Splendor twice in the past and continues to post a grave threat to the commuter's throne. The Activa clocked 1,98,148 units in the previous month.
2) Hero MotoCorp is leading the pack in terms of overall sales with as many as five products on the top 10 list. Apart from the Splendor, Hero's other commuters including the Passion series, HF Delux, Maestro 110 scooter and Glamour 125 also made it on the list clocking impressive numbers.
3) The Hero Glamour however, slipped to the 10th position witnessing a decline of 14 percent in sales with 40,886 units in January 2015 compared to the 47,355 units sold in December last year.
4) While Hero maybe number one, Honda is not far behind and has three products on the top 10 list. Apart from the Activa, Honda is gaining ground in the volumes game with the country's best-selling 125cc bike, the CB Shine that clocked 62,176 units in January 2015; while the Dream series clocked 57,281 units during the same period.
5) The Honda Dream series also moved up on the top 10 ladder from being 9th in December 2014 to 6th in January 2015 with a sales growth of 35 percent. In addition, the Bajaj Pulsar was the other model to see a significant jump in sales moving from the 10th spot in December 2014 to 8th spot in January 2015. The performance bike series recorded a month-on-month growth of 37 percent with 52,541 units sold in January this year.