Top Selling SUVs In India In December 2014
A closer look at the sales numbers of SUVs sold in India in December 2014. The segment is hotting up with increased demand.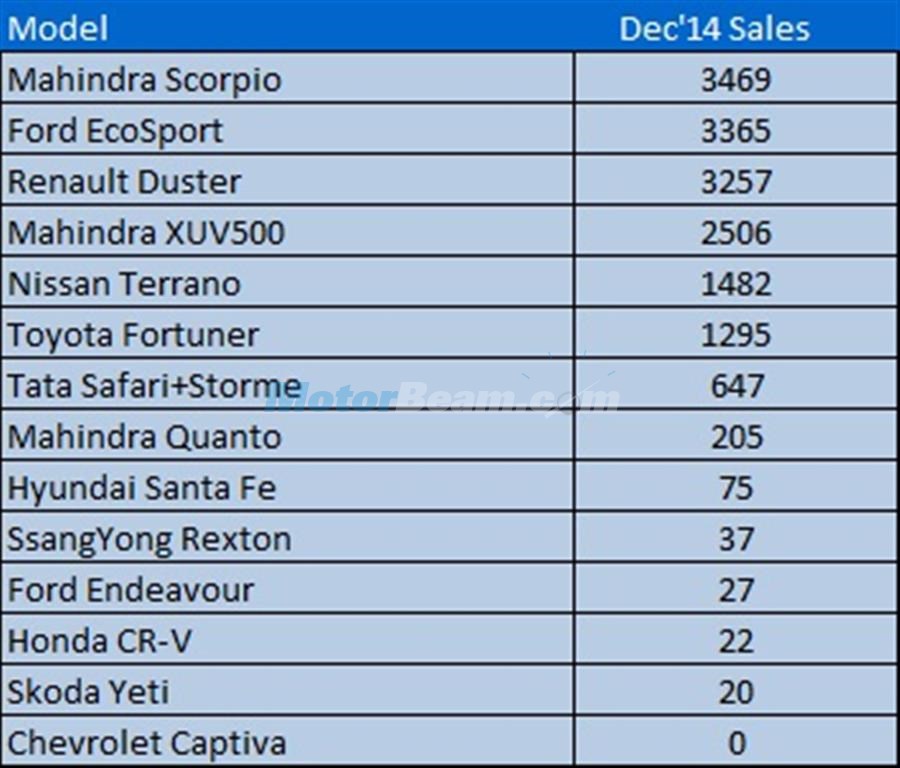 The SUV market in India is ever growing. Proof is the recent advent of new SUVs in the market, both compact as well as full size. The market is filled with options in every price range. Compact SUVs are setting a new trend in terms of value-for-money, practicality and the sheer number of buyers that they find every month. Renault introduced the Duster in India and thus started the small-SUV trend. The Duster has always performed decently but Ford's EcoSport managed to trump the Duster when it came to looks, features and pricing. Nissan then launched the Terrano and though it sells in lesser numbers than its rivals, it is still a decent performer.
Moving a segment up, we have the Mahindra Scorpio and the Tata Safari Storme. Both of them are very good in their own way. The Scorpio recently got a major update and it has been selling in amazing numbers. The Safari Storme has become slightly outdated now and it is just a matter of time before Tata Motors comes up with an updated version of the SUV. Mahindra also has the XUV500 in its stable and that too is a good performer.
Another segment up, we have the premium SUV segment. The Skoda Yeti is such a brilliant SUV but its a pity that it misses out on a DSG automatic gearbox. It sells in negligible numbers and the Ford Endeavour is no different. Ford will be launching the next generation Endeavour later this year (second half of 2015). The Honda CR-V too sells in low numbers thanks to the non-availability of a diesel engine. The Hyundai Santa Fe is an average performer while the Toyota Fortuner is still showing everyone who's king, it sells because of its brawny size and the Toyota badge.