Top-Selling SUVs In September 2020
Hyundai Creta and Toyota Fortuner lead the midsize and premium SUV segments, respectively, once again.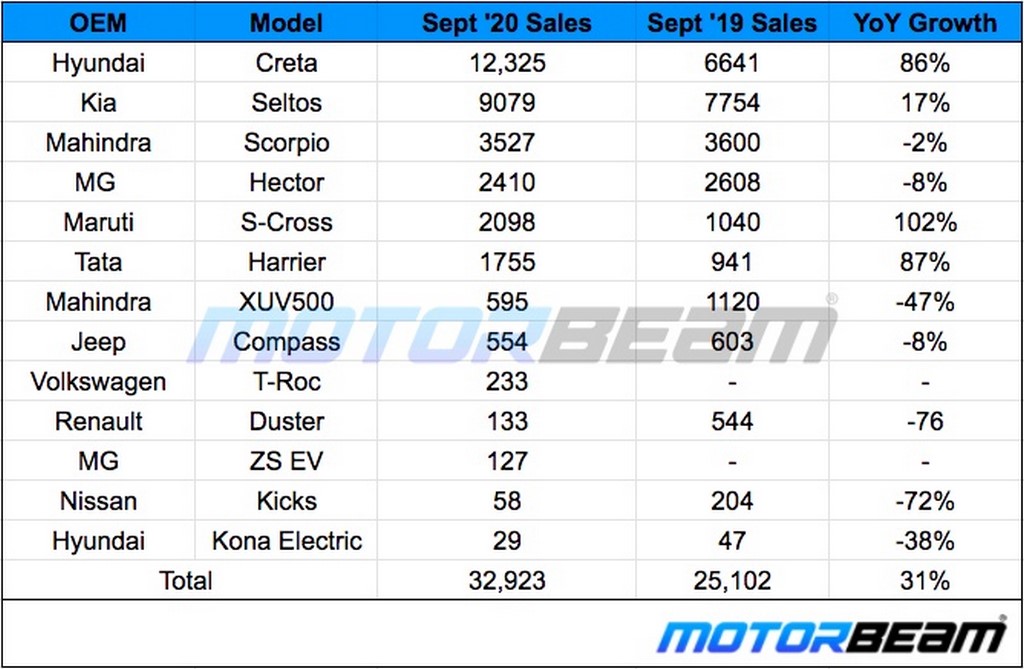 The September 2020 Midsize SUV sales list is quite a mixed bag since out of 13 featured models, four showed growth, while seven witnessed degrowth.
However, there is no dethroning the Hyundai Creta this time as the very popular vehicle has fetched sales of 12,325 units, with a 86 percent growth.
Coming second is the Seltos from Kia and it shifted 9079 units out of showrooms in the ninth month of the calendar year, a growth of 17 percent year-over-year (YoY).
Other cars to fetch four-digit sales are Mahindra Scorpio (3527 units), MG Hector (2410), Maruti Suzuki S-Cross (2098) and Tata Harrier (1755) which occupy third to sixth spots in the list.
Two EVs in the list namely the MG ZS EV and Kona Electric registered sales of 127 and 29 units, respectively. Clearly there is work to be done for the Koreans.
Overall, sales of 32,923 units in September 2020 was 31 percent more YoY.
Coming to the premium SUV segment, the top three spots stay as they were in August, with the Fortuner leading the September 2020 premium SUV sales with 1045 units.
Ford managed to sell 694 units of the second-placed Endeavour, followed by the Tucson from Hyundai with 85 units. These three cars were the only ones to witness sales growth.
Others in the list did not fare well and also dragged down the overall segment sales to a 6 percent degrowth YoY.
September 2020 SUV Sales
Hyundai Creta leads the way in the midsize SUV segment
Toyota Fortuner tops the premium SUV sales
Growth has been strong for the midsize segment, not so for the other