Toyota Innova 2.8 Discontinued, BS6 Gets Only 2.4 Diesel Engine
The Toyota Innova Crysta BS6 won't get the 2.8-litre diesel engine and the only diesel engine would be the 2.4.
The deadline for the BS6 norms is closing in and automakers have started launching or announcing their BS6 models. Toyota has now announced the BS6 Innova and what comes across as a bit shocking is the fact that the Innova BS6 misses out on the 2.8-litre diesel engine.
Yes, that's right. The Toyota Innova will now be available with only 2 engine options – 2.4-litre diesel and 2.7-litre petrol. The petrol variant fetches minuscule scales but the 2.8 was actually liked by a lot of owners thanks to its powerful nature.
With the BS6 updates, the Innova is now priced more too. Prices have increased by about Rs. 1.12 lakh. This might be disheartening for a few owners who have just booked their cars while older owners can rejoice at the increase in their car's resale value.
While the 2.4-litre diesel engine isn't as peppy as the larger 2.8-litre unit, it does offer a bit more fuel economy. It remains to be seen whether potential buyers lap up the 2.4 variants now or wait for the Kia Carnival which is due for its India launch soon. The 2.8-litre diesel engine will continue being offered on the BS6 Fortuner.
Toyota Innova 2.8 Discontinued
– Innova BS6 gets 2.4 diesel and 2.7 petrol engines only
– Prices increased by about Rs. 1.12 lakh
– Fortuner will continue to get 2.8 diesel though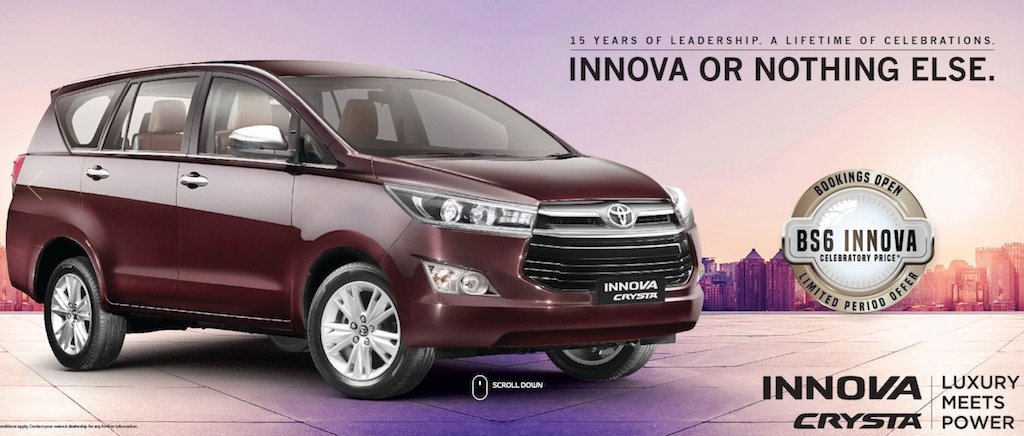 Source – Team-BHP.com