Triumph's Electric Prototype TE-1 Has Disruptive Figures, Development Concludes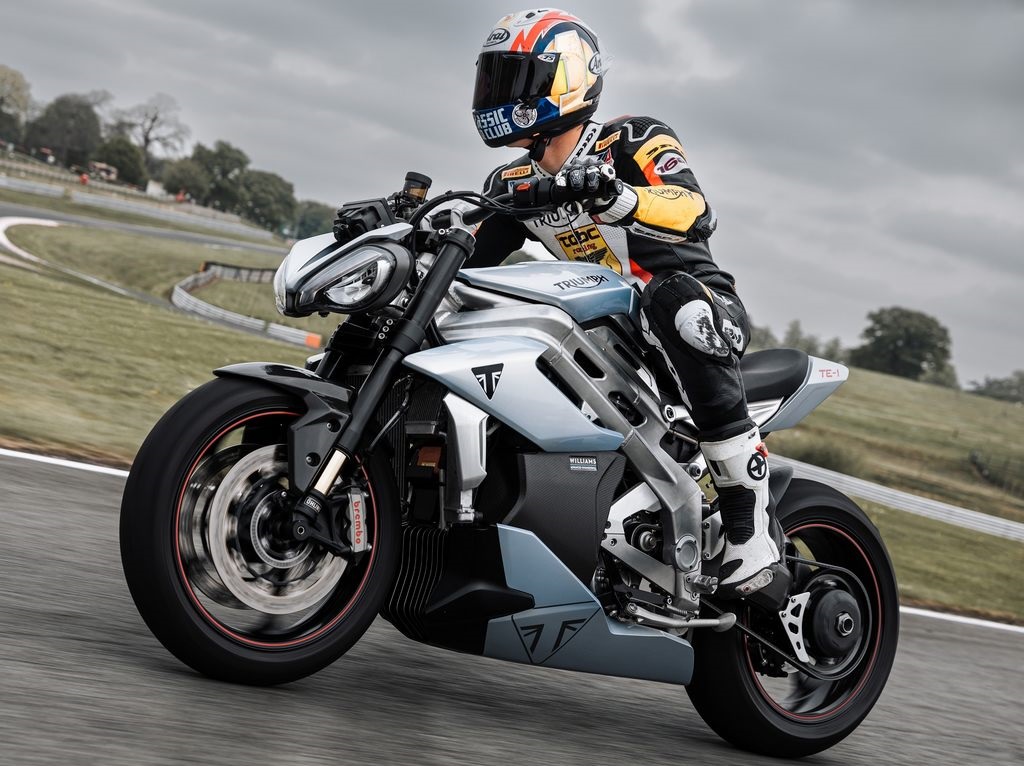 Triumph has successfully completed its TE 1 EV project, 0-80 percent in 20 minutes, 161 km range, 0-160 km/hr in 6.2 seconds
Triumph has successfully completed its TE 1 electric performance bike project and the product boasts of some disruptive performance figures. The TE 1 will be the base for all of Triumph's future electric production bikes.
Firstly, let's talk about some cool numbers. The claimed range of TE 1 is 161 km while it can be charged from 0-80 percent in a matter of just 20 minutes when charged with a 50 kW power supply. The battery capacity is rated at 15 kWh and it comprises of 900 cells in 8 modules.
The heart of the matter, electric motor, puts out a humongous 175 HP and 109 Nm. It can help the bike accelerate from standstill to 100 km/hr in 3.7 seconds while 160 km/hr comes in 6.2 seconds.
As per Triumph, the motor has achieved peak and continuous power densities of 13 kW/kg and 9 kW/kg respectively, 60 percent higher than APC technology roadmap targets for 2025.
The bike weighs 220 kg which is up to 25 percent lighter when compared with electric motorcycles currently available in its target segment. It's throttle and torque delivery map is equivalent to that of the Speed Triple 1200 RS, says the company.
Designed inspired from the Speed Triple, the TE 1 offers an unique sound track that comes naturally from the bike's helical gear pair primary transmission rather than using speakers for creating a fake sound.
As far as the design goes, the TE 1 sports muscular lines with cues from the brand's modern naked lineup. Built on an aluminium frame, the electric bike features twin headlights and a head-down stance.
It gets regenerative braking, 4 ride modes – Rain, Sport, Track, and Unlimited, traction control with 6-axis IMU, front wheel lift control, walk reverse mode, etc.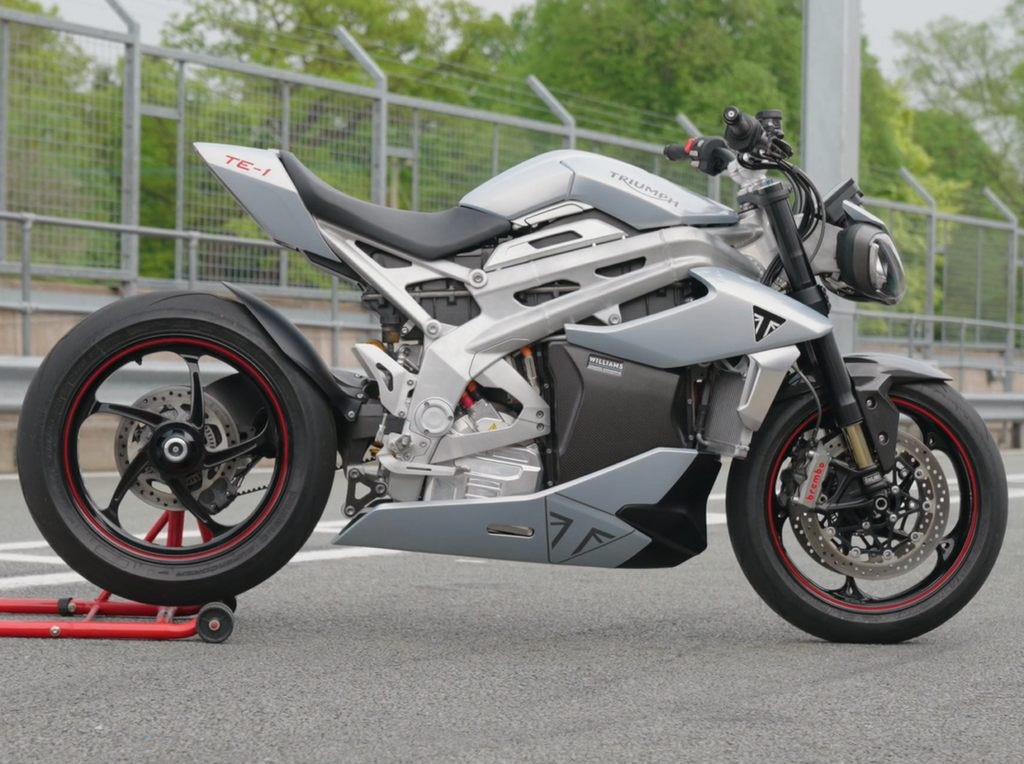 The project is the collaborative effort of Triumph Motorcycles, Williams Advanced Engineering, Integral Powertrain Ltd, and WMG, University of Warwick, funded by the Office for Zero Emission Vehicles through Innovate UK.
It spanned for 2 years and 4 phases with a 6-month Triumph led development period of testing focused on developing technical innovation and advanced electric motorcycle capabilities. Each of the partners focused on creating innovations in their own areas.
Triumph Motorcycles led the collaboration stages of the project, providing advanced motorcycle chassis design and engineering expertise, manufacturing excellence, and pioneering functional safety systems, as well as defining electric drivetrain power delivery control software and characterisation. Triumph will continue with further calibration, handling and tuning work of the demonstrator vehicle.
Williams Advanced Engineering provided industry-leading lightweight battery design and integration capability and used its test and development facilities to deliver an innovative battery management system combined with vehicle control unit.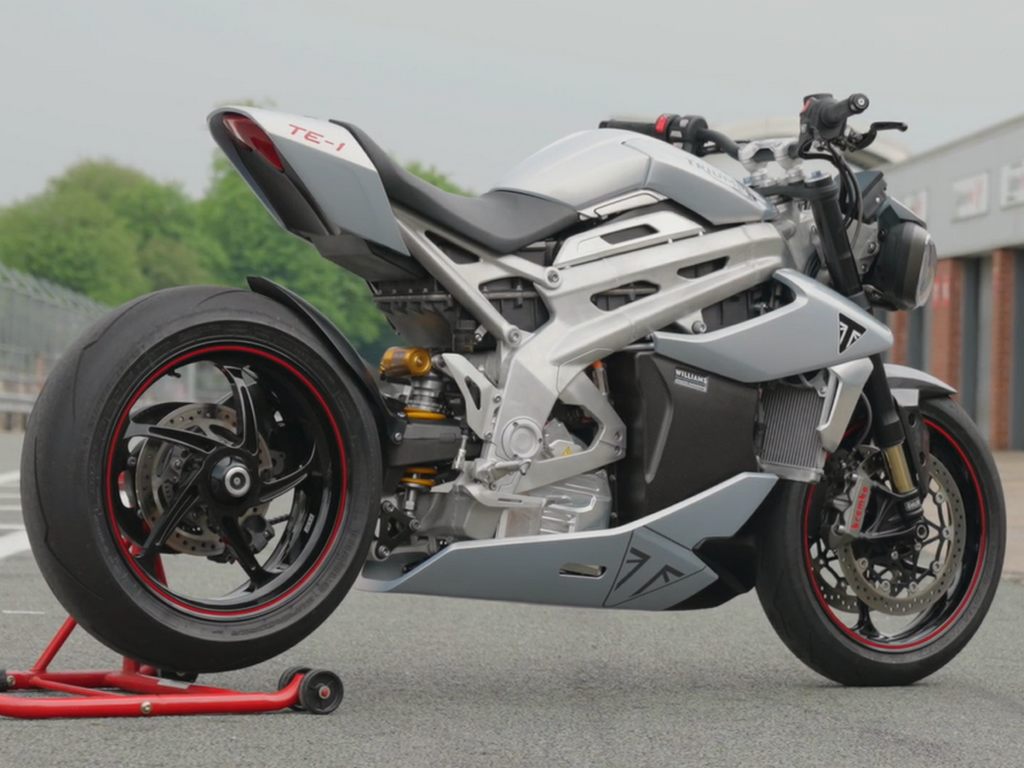 Integral Powertrain Ltd's e-Drive division led the development of a scalable power-dense electric motor and a silicon carbide inverter, integrating both into a single, compact 15kg assembly.
WMG, University of Warwick provided electrification expertise, and the critical vision to drive innovation from R&D to commercial impact, through modelling and simulation based on future market needs.