Uncamouflaged Ford EcoSport Spotted In Chennai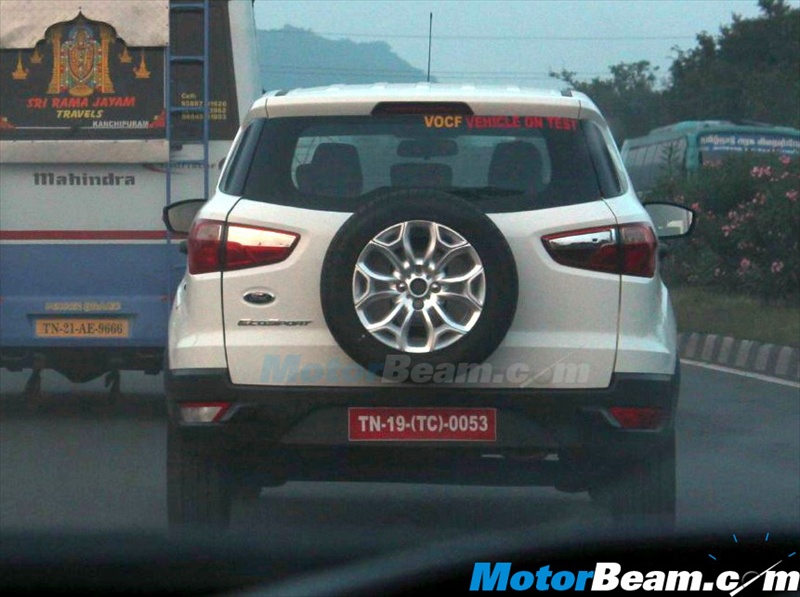 Maruti Suzuki Alto might be the most popular car on Indian roads, but when it comes to the world wide web, Ford EcoSport is the standout winner in terms of popularity. Not a day passes without spyshots of the EcoSport appearing in various automotive websites and blogs in India. So, it shouldn't come as a big surprise when we say that an uncamouflaged EcoSport was caught testing yet again, this time near Chennai on the busy NH45.
The model spotted testing was white colored and is most likely to be the base variant of the Ford EcoSport line-up. Quite a lot of features like front fog lamps, chrome-lined radiator grille, body colored door handles and mirrors, roof rails and metallic inserts in the bumpers were missing in the test car that came shod with a set of good-looking alloy wheels. Neither the TDCi badge nor the EcoBoost badge could be spotted. The way in which the test car changed lanes at will makes us believe that the handling is going to be great like all other Ford vehicles. If Ford manages to prove us right in the narrow and tall EcoSport, that's nothing short of exceptional.
Almost all details and specifications of the EcoSport are out except the pricing and date of launch, two key criteriaa that will decide the fate of this car in India. The EcoSport is conceived and developed as a global car under Ford Motor Company's CEO Alan Mulally's much acclaimed 'One Ford' policy that gave the company two blockbuster success stories recently in the from of the Fiesta and Focus. For you and me, that means the EcoSport we get in India will be no different from the model that's on sale in Brazil, China and Europe.
When it finally sees the light of the day, the Ford EcoSport will be having three engine options for the customers to choose from. The 1.5-litre petrol and diesel engines will be shared with the new Fiesta sedan, with the latter clearly going to be the popular choice in a diesel crazy market like ours. That's not all. The critically acclaimed and award-winning 1.0-litre turbocharged petrol engine with EcoBoost technology will also be launched in the EcoSport. Remember, this engine was recently crowned the "International Engine of the Year", which is no mean feat. The positioning and pricing of these three engines are still kept under wraps and we need to wait for official information from Ford to trickle down before we judge anything.
So, the market is ready. The network is ready. The model itself, going by the finesse of the test cars spotted on the roads, looks to be ready. So, what are you actually waiting for, Ford? Launch the EcoSport immediately and see the market going bonkers trying to own one.