Venkata Deepak Narrates His Pulsar Modification Story
After making many long trips in a span of 1 year, I decided to make some visual upgrade to my bike. I am going to share the details about the modifications I planned for my bike and the final output. Every time I say bike modification (mod), I am always reminded of two questions that I had in my mind a couple of years ago – 'Why does someone need to modify a bike?' and 'What big difference does the little modifications make?' Right from my cycling days I am very much passionate about two-wheelers, but I never expected a day like today where the demand for performance bikes increases drastically because of people like me.
I realized my passion towards bikes for the first time when I was in the second year (2006) of graduation. The Bajaj Pulsar was the bike that made many like me to consider bikes as a part of my life just like cell phones. I am a quick learner so I have a different style of learning anything that I like and so I mastered the art of riding a bike by learning every possible event while riding. for example – long rides, braking, cornering, off road riding and high speed braking. I never practiced any stunts only because I don't want to hurt my bike.
Wait a minute! I wanted to share my experience of mod that I did, but why am I telling you all these stories? Can you guess why? Yes it is because I had two questions about mod to bikes. Now I am coming to the point.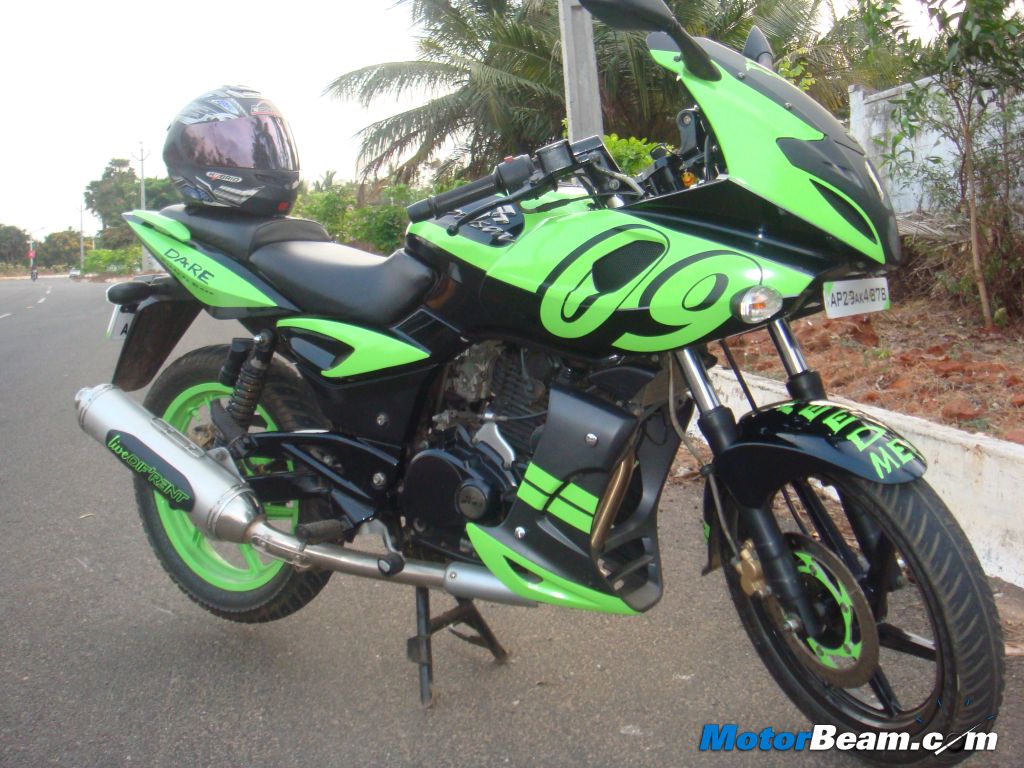 My passion made me dream about every performance bike and here comes the main question, how do I own my dream bike? When do I own all the bikes in my dream? Do I earn enough to purchase all of them? Purchasing is also not a very big deal, in a year or two I save enough to have a bike of 3 lacks but how do I maintain it? For me maintaining is more important that purchasing because my monthly income may not be sufficient to maintain a super bike but my passion makes me save enough for a super bike.
And here comes the word modification. For people like me who are mad of all bikes but always have a question of maintenance. The simple solution is to get the existing bike modified and satisfy at least to the smallest extent. In future when we all earn enough to maintain a 1000 cc bike of Harley, Yamaha, Ducati, Suzuki, Honda, Kawasaki or any other great manufacturer then we can go for it!! And enjoy to the core.
Now to satisfy myself I am getting my bike modify so that it gives me a feeling as if I am riding a top class bike and the big difference with a small mod can be noticed when people traveling next to you keeps staring at your bike. Even if I use a top class bike in my city I am sure that I cannot cross more than 60kmph in city and on city highway max I can do is 120kmph any ways next signal lights are ready to stop me even before I cross 120kmph. So even a top class bike also gives me the same feel i.e., people stare at me(in fact my bike) and other one is the feeling that I am traveling on a top class bike. And here I decided to get my bike modify which solves my purpose of the day.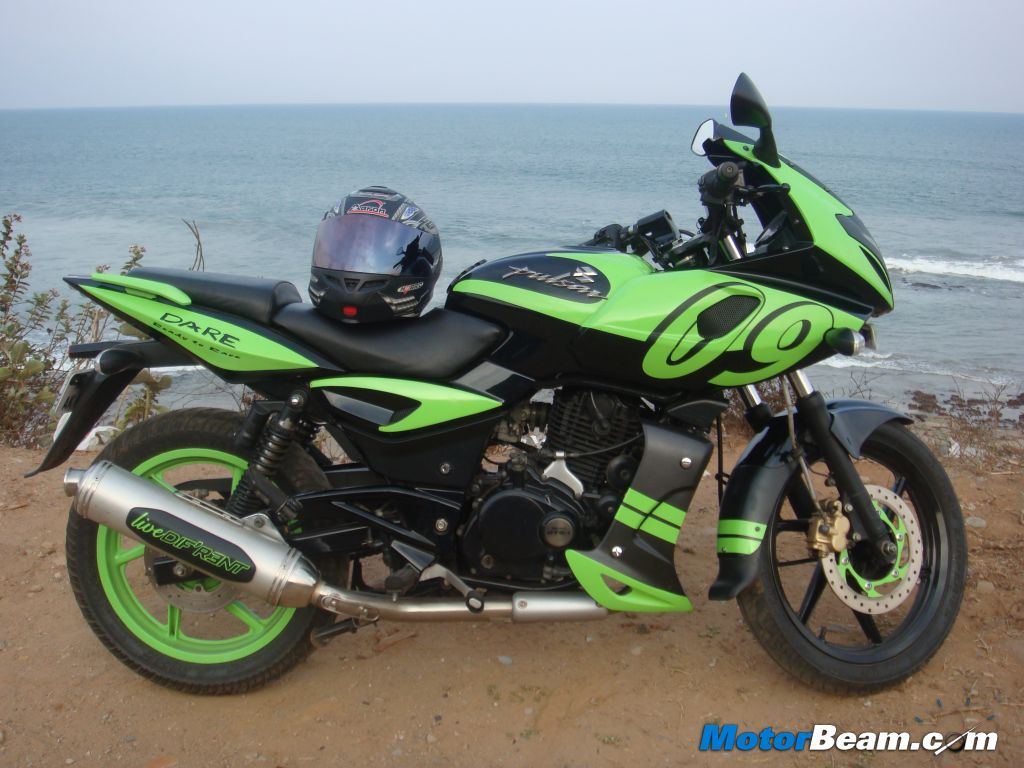 When I finally decided to modify my bike I started browsing the internet for some models and decals and I am completely confused and lost myself in the world of bike mods like performance and the external appearance. As you all know performance mod is always related to a part of the bike that improves the handling, pick up, top speed or anything of that kind.
I am always happy with everything that is provided by the manufacturer so I never wanted to make any performance mod and spoil the existing. As I mastered the art of carburetor tuning I tune it for high pickup if I am really mad and ride my bike at 20 to 25kmpl, sometimes I love to ride at 60kmph only in that case I tune the carb for mileage and ride it at 41kmpl. And external mod is related to the appearance of the bike like changing the color, installing LED lights, sticker job etc.
After browsing the internet and inquiring at the shops in my city that usually does the mod. I concluded to have the engine cowl on my bike, and then accordingly some good looking stickers as per sticker shopkeeper suggestion, who is a friend of my friend. According to the person who does the fitting of the full faring, the engine covers should be imported from Chennai and it takes 5 days to get them in Visakhapatnam and approximately 3 hours to fix it to the bike plus one full day for painting and the estimated cost is 1200rs engine cowl, 500rs for making of clamps and fixing and painting work Rs. 1000 which totaled to Rs. 2700. He took Rs. 800 advance and contacted the person in Chennai to book the covers in transport. He asked me to contact him back on the 5th day.
I was literally counting day after day and reached the 5th day. I called him on my phone and enquired about the cowl. He replied saying he need 2 more days to get the cowl into city. I felt bad and counted another 2 days. I called him back and he said a story that his Chennai contact is not booking the engine cowl as he could not send it as single piece. He is waiting to send them in lots but only one should be sent and he is worried of major damages to the piece and many other problem which the local guy did not disclose to me. Finally he asked me to wait for 3 more days and as usual I counted 3 more days and reached him. Then he said that he need 5 more days as it is not yet booked for transport in Chennai. I said I am tired, and fought with him and took my money back. No modification work started even after 10 days.
Soon after taking my Rs. 800 advance from him I and my friend discussed and finally decided to leave the full faring and get all others done and at the end i.e, after 5 more days if the engine covers reach the city then we can think of it.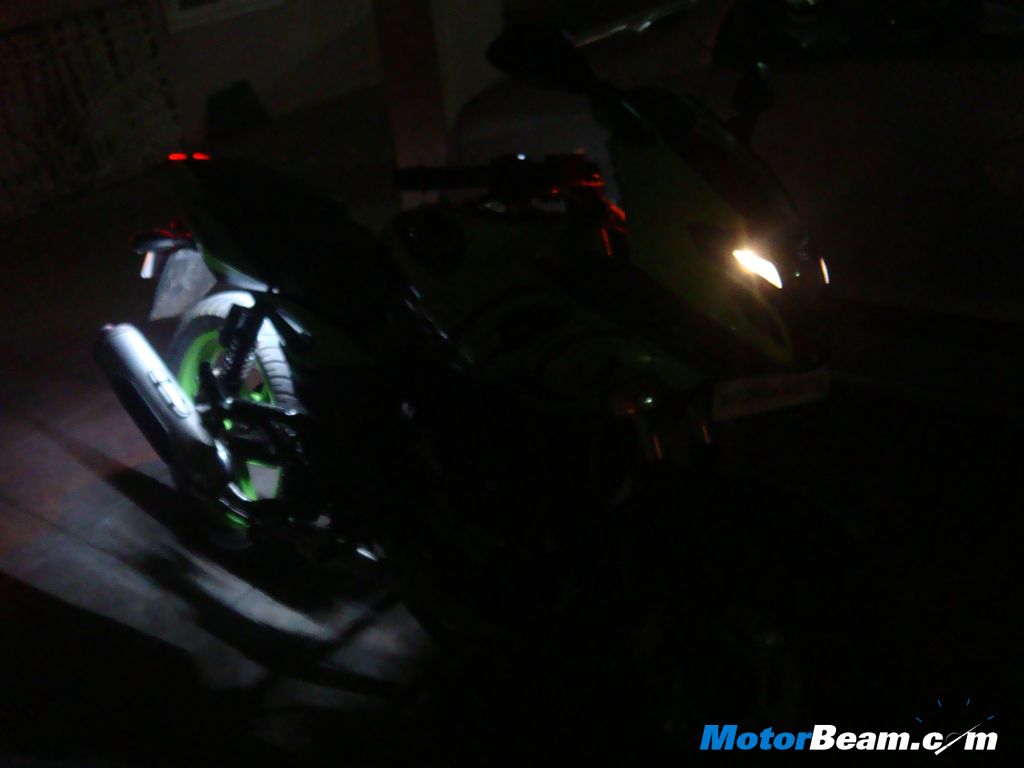 My bike color is midnight black and so I am stuck with the color combination that best suits. Black and Red combination is very common with CBZ Extreme, so I thought of Black and white combination which is common here I felt its good because I have seen some bikes which are looking good. My friend said these combinations are very common and lets try something new and he suggested me green. I asked him if its Ninja Green. He said even that green looks good. I always wanted both front and back rims to be in green but my friend said only back should be in green. I am not satisfied but still decided to listen to him because he is much experienced in that field. I asked for the sample sticker and that Sticker shop guy made it in 3 days and we finalized on the best available color. This color is not the Ninja Green but unless the Green Ninja is next to this color no one will be able to identify, now the rims to be painted in same green so decided to get the paint mixed such that it matches the sticker.
Thanks to God at last I started working with the sticker shop guy for the remaining. I and my friend were continuously thinking about the modification and our ideas kept changing every hour. I made my local mechanic come to my house and dismantle the parts that we need to modify. We said that we need only the wheels and then one after the other we made him open couple of more parts. My car played a key role when all work is going on. Painter took almost 10 hours for his job and made it perfectly. I made my mechanic to fix all the parts back in their place, he took lot of time so that the paint is not damaged at all. Thanks to the mechanic for his patience.
I have a big fan following in my apartment just for my bike and its maintenance. So couple of people just stared at my bike when the mechanic is fixing the bike. Soon after my mechanic. done his job many said its looking good but they had a question about the front rim being in black. Everyone who looked at my bike expected both the wheels to be in green and I answered that the bike is incomplete so it looks odd. I loved the combination of black and green, but I too felt that front rim in black is not so good. I also asked my friend then he also said wait and watch the show.
Next day I expected to complete the full sticker job but then I realized that we don't have a perfect plan to make it in a single sitting. So it took 1 hour just to paint it in system and conclude on what we are supposed to do. This made me realize that the work will not be done in a single day or at least in a week (5 working days). When I browsed the internet for a good looking bike, I came across Aprilia RSV4 which I liked and then as per the plan we started designing the headlight and likewise day by day and step by step we made the maximum work in 5 days.
These 5 days were really unforgettable, because we need perfection and the sticker shopkeeper is a friend of my friend we made him open his shop at 6am so that no customers disturb us. And it is the same 5 days when I realized how I am attached to my bike. I wanted the bikes headlight faring to be opened separately as I should get it designed with proper finishing. I took my bike to a unknown mechanic and he spoiled the front mudguard because he don't know how to open the half faring of my bike, I almost blasted him and he was like sorry I will fix it back in its place and don't pay any money for this and blah blah blah we wasted 2 hours with this mechanic.
The headlight doom was fixed correctly and took it to another mechanic and told him what happened with the first mechanic. We asked him to open it properly only if he can or else we shall think for some alternate and he said he can do it perfectly and started opening it, after opening it to certain extent he realized that the front wheel and stems need to be opened in order to avoid any small damage. And then he opened the petrol tank also.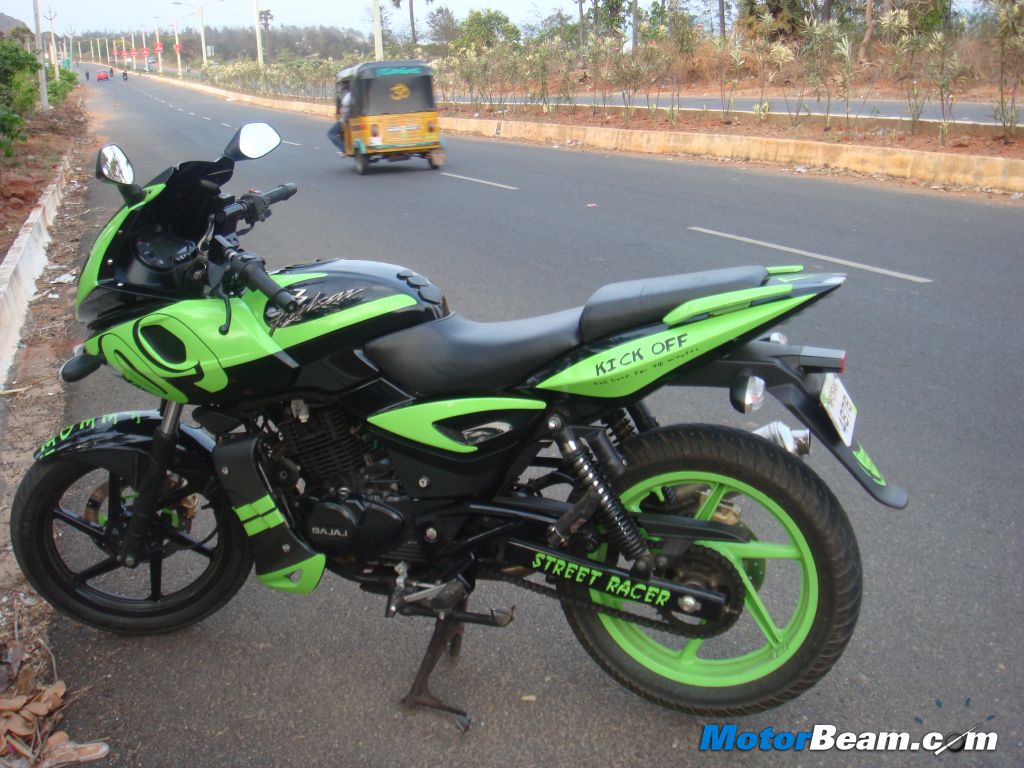 We carried both these parts to the sticker shop which is like 80 meters away. Mechanic told he will wait for me to come back but he didn't. My plan was to open the headlight and so I can ride back to my home without the headlight, but something else happened and the total plan for the day was a big flop. We were late at sticker shop. I went home walking and as soon as I reached home I understood that I cannot leave my bike at an unknown place and sleep comfortably.
I took my car to the sticker shop where I left the other two parts and came home. That night I was almost with tears in my eyes because I had to leave my bike at an unknown mechanic shop for one complete night. The same night rats spoiled my bike wiring but not very badly. Next day morning I went and sat at the mechanic shop an hour before he could open it and then I came to know that the mechanic is out of station for his friends Love Marriage. I sat at the shop for 7 hours and got it fixed. Meanwhile I had a nice chat with the 10th class kid who is working at the mechanic shop for his bread and butter. All this bullshit happened because my regular mechanic with whom I mostly deal is down with fever. Thank God all those days are over. I don't want to see those days anymore.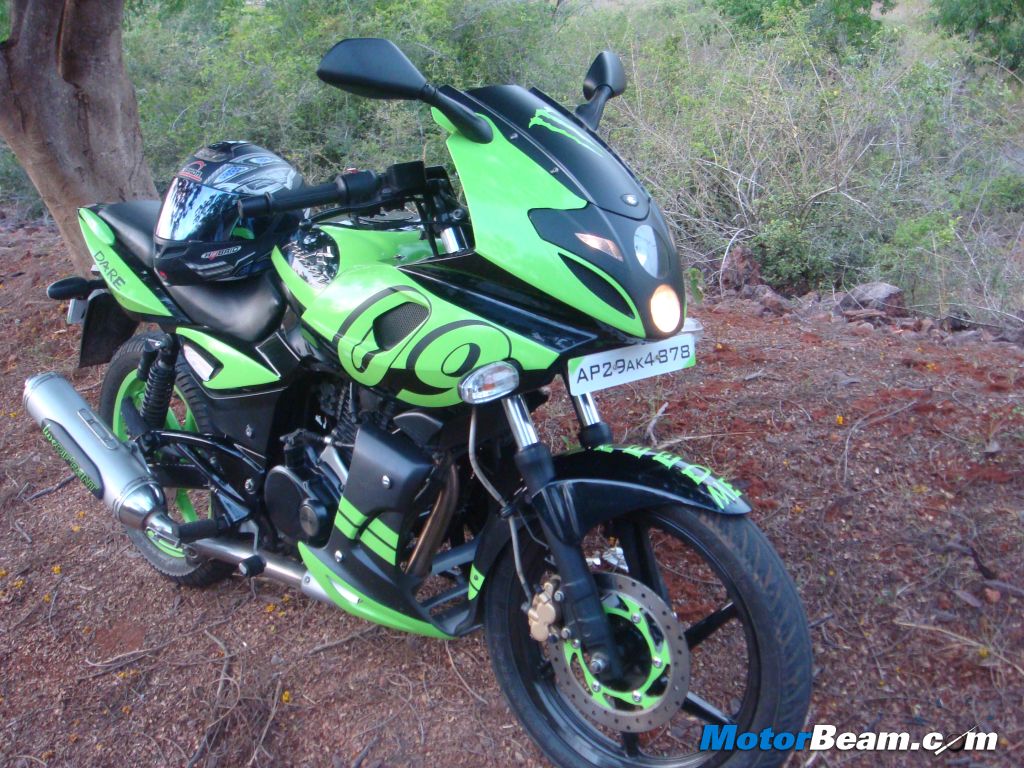 Then we decided for the alternate engine cowl but none of the available models in the market suited my bike and Pulsar 220 cowl are still not imported from Chennai. So I finalized with the Karizma R engine cowl. I discussed with my friend for 3 to 4 days because I said Karizma engine cowl suits well for P220 also and he was against me. Then we went to the mechanic shop where I left my bike and this time very fortunately we found an engine cowl of Karizma detached from the bike and so we just kept it around the engine and checked if it's looking nice or not. Then my friend accepted that it's a perfect match. Discussed with mechanic and he asked us to purchase it along with the clamps. I inquired in the entire available Hero Honda showroom for the engine cowl and surprisingly there was no stock and it will be available only after the close of the financial year, we having no option than to wait for the stock to arrive (2 more weeks delay).
And the day has come (11th April). I inquired at Hero Honda showroom and the stock has arrived and I bought the engine cowl and clamps from the showroom. Screws and rubber bushes are not available in the spares so took some alternatives in a local automobile shop. The mechanic asked us to get the clamps adjustment done at a different place. We reached the other person and understood the time involved in adjusting the clamps and it's all unnecessary cost. Having no option we exchanged the clamps and got the alternate clamps work done by him and paid Rs. 50. So all in all instead of paying him 300rs I gave him new clamps and paid Rs. 50. This is where I wasted some amount of money but the loss is minimized.
Finally engine cowl was fixed and I was very happy. Took my bike to the sticker shopkeeper and then I realized that the engine cowl did not suited my bike at all. I was very much disappointed and thinking for some alternatives and felt that right from the beginning I wasted lot of time and money for the engine cowl and finally I ended up spoiling the existing beauty.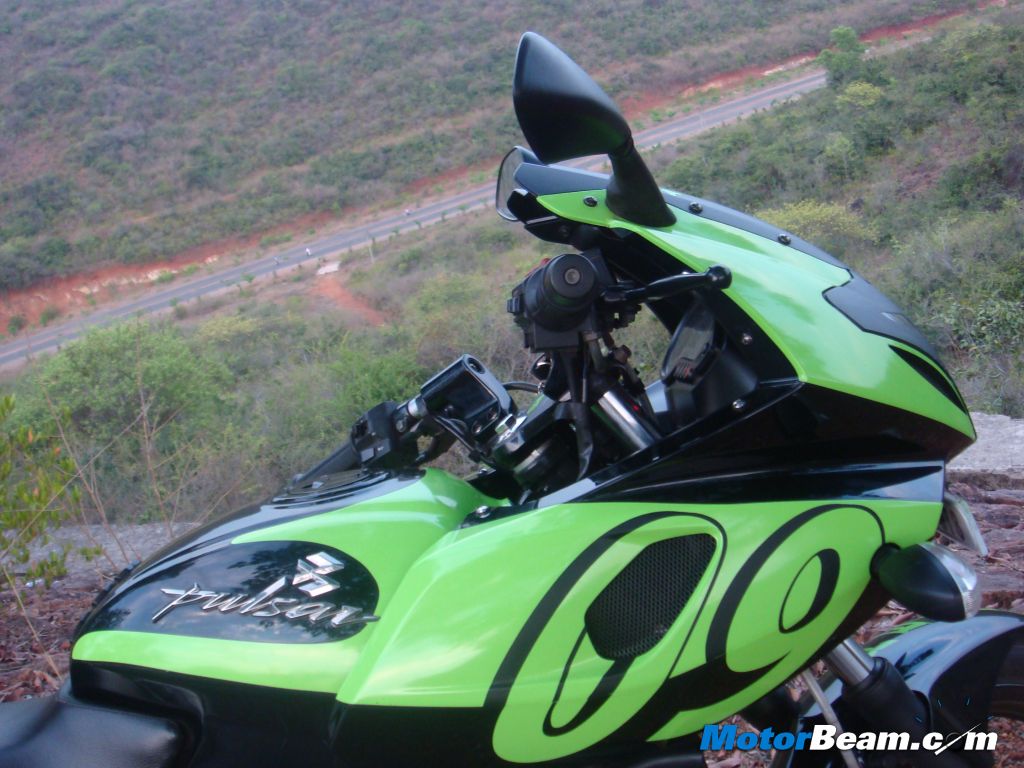 Next day another friend of mine said that the engine covers did not suit at all. I too felt the same but later when I parked my bike on the beach road and kept staring at it in all angles and realized that it is good. I decided to get some good stickers for it and make it look very good. Next day a stranger who came to the shop suddenly looked at my bike and said engine cowl looks like it's manufactured for this bike only. My face glowed a little and my confusion of engine cowl came to a conclusion with a smile on my face. Thank God!! I have a satisfying mindset. In the next two days we were fortunate enough to complete the work. After all this I took little extra care so that life of the work increases. I made sure that the clamps are painted in black to avoid rust. And is that all? No way! Human never stops which something that's with him. I added led light to the rear wheel and very recently I added led flash lights to the engine cowl. And after a month or two, I am planning to get the rear seat removed. Ninja /R15 style (rear seat cowl).
Finally did both of my questions answered? YES!!!
At the same running cost, I made my bike look like a super bike or at least a different look where at least 300 strangers in the first month itself appreciated and 10 people who took a detailed look at my bike asked me if Bajaj had any limited edition bikes in Pulsar 220 I mean to say sticker job was so perfect that another sticker shop owner who took a look at the petrol tank asked me if Bajaj launched any new colors in 220. Just like I felt Red is very common there are very limited people who said Green is very ugly, I spoiled the black beauty. My very own cousin who come to my house everyday didn't like the green ninja bike and also my Green and black combination bike. One of my childhood friends said he didn't like the color and so he suggested me some other well-known combinations, red & black or white and black. Most people even now ask me how many days my bike is old. Even if I own a 1000 cc bike not more than 100 strangers come to me and say that the bike is awesome because it's a known fact that a 1000 cc bike most of the time it's awesome and that is why we invest so much amount for it.
I am more than happy for the work, time and the money that I invested. There are many people who say that Pulsar 220 comes with an expiry date of 2 years after that you have to purchase new pulsar if you still want to use a pulsar. For all those who think that way I want to make my bike set as an example. Maximum what happens yaar need to bore the engine right? This is an investment of approximately Rs. 4000-5000 and even after that my bike total cost does not cross Rs. 1 lakh, right?
I know many people who are using their Pulsar 220s for more than 3 years now. And some of those people are like me who always love to make long trips. My bike is 1 year 3 months old. Shortly I am traveling to Hyderabad or Bengaluru from Visakhapatnam, which is 700km and 1100km respectively and just like my last longest trip Hyderabad to Visakhapatnam this time also a nonstop 400km from Visakhapatnam to Vijayawada.
I like to hear from the readers to know how many didn't like the modification work and who didn't like the color.
My Facebook profile contains all the photos taken at every step of work. People interest to see all the photos can check it out here.
The total cost of the modifications are –