Volkswagen Ameo Race Car Produces 205 HP, Is Super Fast
Volkswagen Motorsport India unveiled the specifications of the Ameo Cup Race car, and its scarily faster than its predecessor.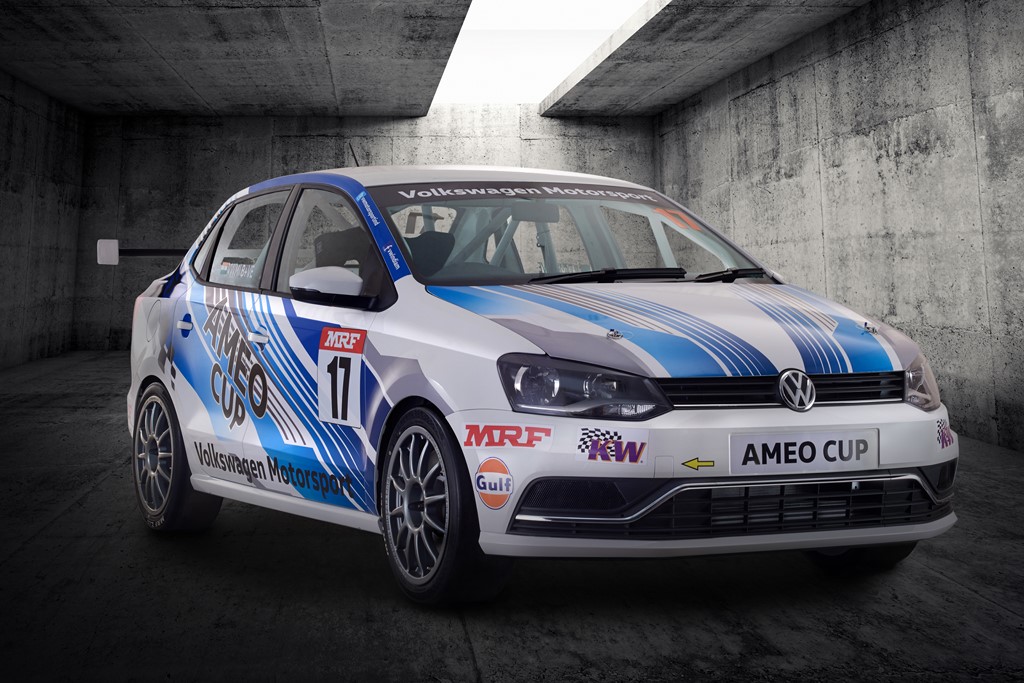 Volkswagen Motorsport is readying itself for the Ameo Cup 2017 that is scheduled later this year. The Vento Cup's success has made Volkswagen foray into the Ameo Cup as well, and what's more interesting is the race car used for the Ameo Cup has been wholly developed at Volkswagen's Pune Plant. The race car shall don major upgrades including to the body shell, drivetrain, chassis as well as the electronics.
The Volkswagen Ameo Cup Race car is essentially the same Ameo we see on the roads, but there are changes and modifications. The vehicle shares the wheelbase with the Polo. There are a host a graphics (stickering) running around the car. It also runs on 17-inch lighter alloy wheels and gets a big black spoiler for improved aerodynamics.
The Ameo Cup race car uses a 1.8-litre TSI turbocharged engine that does duty on the Volkswagen Polo GTI and produces a healthy 205 HP of power and 320 Nm of torque. The engine is tuned to deliver an improved torque suited to the race track and there is also a new ECU (Engine Control Unit) that has been independently calibrated and mapped to suit the new engine and the gearbox system.
The engine has been developed in-house for which MoTec engine management system has been used which is supported by a new lightweight flywheel and clutch from Sachs Race Engineering. This engine comes mated to a 6-speed sequential gearbox that features steering mounted paddle-shifters and also uses an electromagnetic actuator for quicker gear changes.
The race car also runs a whole new suspension setup along with tyres that are specifically developed for it. There are different springs at the front as well as at the rear along with torsional beam axle at the rear. The race car runs on discs both at the front as well as at the rear and also gets new racing brake pads for a better bite. The ECU used is coupled with MoTec C125 colour dash display and data logger which is capable of logging 120 MB and also gets programmable shift lights.
In terms of safety, the Volkswagen Ameo Race car comes with a weld-in roll cage with chassis torsional rigidity. The roll cage extends from the front strut mounting tower to the rear damping mounts. The car also features seats and seatbelts from OMP racing while the fire suppression is handled by FIA approved SPA on-board extinguisher.
Volkswagen Ameo Race Car
– The Ameo Race Cup car is the first wholly built machine at the race workshop at the Pune plant
– The Ameo Race car is 4.6 seconds quicker than its predecessor
– The Ameo Race car uses a 1.8-litre turbocharged TSI motor that is capable of producing 205 HP of power