Special Feature – Play Golf On Ice
It may sound strange, but that's exactly what MotorBeam's contributing editor was invited to do at Arvidsjaur, in Sweden in the all new seventh generation Volkswagen Golf.
Prior to landing in Arvidsjaur, we get a sneak preview of the terrain that's dotted with panoramic view of the frozen lakes, dense fig tree forests and snow cladded houses, churches, tyre track marks, among others. After disembarking from the aircraft we walked a short distance over the snow covered tarmac and reached the small arrivals hall. Here it was where we realised what Arvidsjaur is famous for. Not only it is a destination for winter holiday seekers, it is also popular with the motoring fraternity. There are permanent counters in the arrivals hall for meeting and greeting guests. And it is here the signboards of the automakers outnumber that of tourist operators or hotels, which we observed were about branded driving experiences.
It also transpired that Arvidsjaur, has more than a touristic adventure connection with fun seekers. It is also to do with cars and car makers in particular. In fact, Arvidsjaur, and further down Arjeplog are cold weather testing and winter driver training locations for just about every major automaker in the world. In fact, at both locations many automotive engineers and technical staff live all year round. The modus operandi is that each carmaker leases out a lake (which can span several hundred square kilometers) for its operations. While local residents regularly sight camouflaged versions of upcoming vehicles stealthily driven along local roads, unlike hawk-eyed journalists or photographers they usually don't pay much attention to them. At our Volkswagen press event, we saw several blacked out Mercedes and BMWs. Our friendly bus drive also mentioned that Fiat, Ferrari, Audi, Porsche, General Motors, Ford, Toyota and Land Rover also had testing activity in neighbouring areas and frequently brought pre-production vehicles for testing.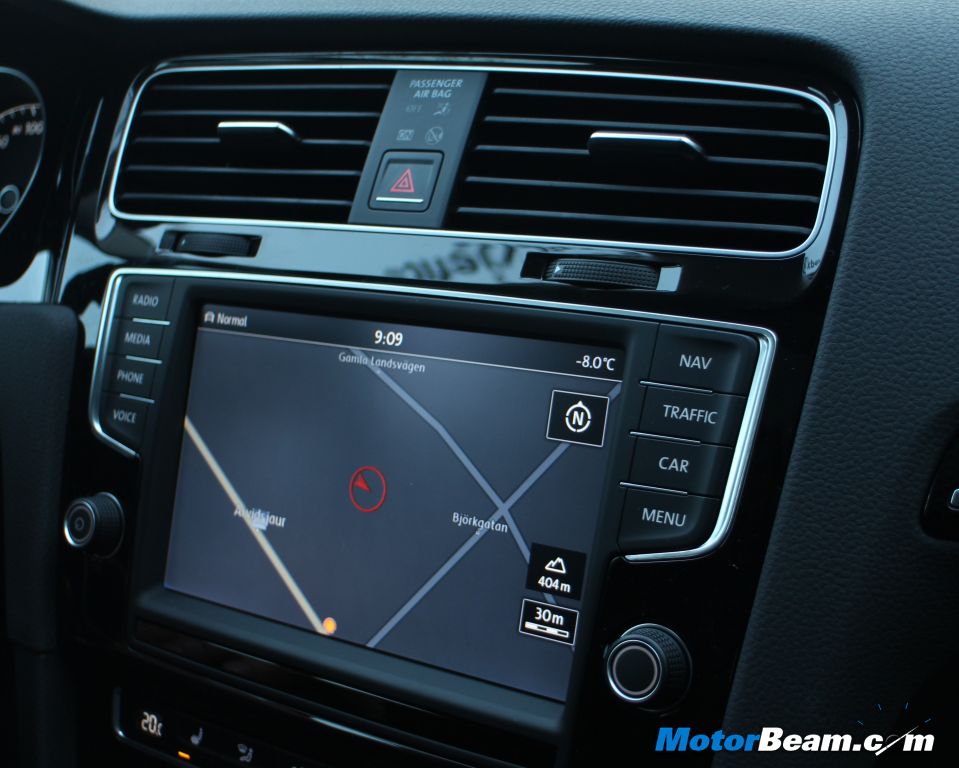 The reason for our visit was to get a taste of the "Sweden Ice Drive," one of many Volkswagen Driving Experience programmes that comprises several events held throughout the world. So, what's in for us? Getting to drive an all-wheel drive new seventh generation Volkswagen Golf and playing with it for three days in a row virtually without any restriction. The 2013 VW Golf is built on the new MQB platform and the European market variants which the programme use had BlueMotion (all-wheel-drive) and were powered by 2.0-litre 4-cylinder turbo diesels belting out 150 HP when mated to 6-speed manual transmission. The cars were shod with winter snow tyres. Our instructors also mentioned that the cars used in the programme had some modifications to suit the purpose which were not available in the stock vehicles sold to customers.
Day One – Our activity started shortly after arrival at the hotel in a special prepared lounge where we were introduced to the instructors. We left for the training area (one of the massive lakes) a few kilometers away from the hotel for our first driving experience. Since, daylight is quite limited (9.00 AM is dawn and by 5.00 PM it is dusk and low light) hence the activity was restricted to two exercises. It was more of familiarization with the car on near zero traction surfaces and we kicked off the programme with straight-line braking exercises at various speeds – 25, 50 and 80 km/hr, followed by braking and simultaneous turning manoeuvres. The third exercise was to reverse the car at speed, cross cones and do a 180° turn without stalling the engine. A few practice rounds later we were quite good at the job, to the satisfaction of our instructors.
Our team instructor also mentioned that there were further applications of this skill on Day Two. Although it was mostly clear skies with some sunshine around, we did most of the work on a day where the average temperature was -17° celsius. Some of the Volkswagen instructors have unusual skills which they bring to the job. Ronny Wechselberger (aka Ronny C-Rock) was a stunt driver on The Bourne Ultimatum movie and he holds the Guinness World Record for precision parallel parking.
A couple of laps later it was just natural as we could control the drift, speed and direction with ease.
Day Two – The first job of the day was to practice drifting on ice in a circular track. After watching countless action flicks on drifting, it was with great delight that I took to the wheels and followed the instructions faithfully. Drifting on ice isn't a difficult job if one follows the instructions and remains particularly focused with acceleration and torque delivery. Another factor that plays a great role in this manouevre is the ability to switch off partly or in full traction and stability control systems. The idea here is to let the Haldex all-wheel drive system (Volkswagen's "4Motion") to deliver the right amount of torque split front:rear. This means mostly driving in second or third gear. The second part of the exercise after lunch proved to be more involving, requiring greater coordination between driver and the car. While training facilities are much like other winter driving centres that we have encountered in the past, out here we discovered that experts from Volkswagen have carved two individual long, twisting tracks in the surface of a frozen lake with a view to teaching Driving Experience participants how to drift through the corners, get maximum acceleration on the straights, and respond to the icy terrain in a way that gets maximum performance from the car.
Our instructors opted for the convey method while leading the drivers around the circuit with constant instructions and tips on how to go about the business via radio. After the familiarization process, we were allowed to tackle the track individually in the Golfs. During the laps, several cars over shot and hit the snow banks and got stuck. A standby Touareg was available to pull out the stranded drivers within minutes.
Our instructors also informed us that the cars used in the programme also came with electronically adjustable suspension settings. We tried out the settings, from normal to stiffer sports and decided to continue on normal settings only. We also realized end of the day that the theoretical lessons learnt on track along with our car drifting skills, lap after lap we were getting better in being able to control the car in these conditions. And in between the various group activities of the day, we had the opportunity to try out the Polaris Quads in a separate track briefly.
And depending on the group's allocated activity, we were encouraged to participate in some of the skill games. One of them was playing football. In this exercise, one had to reverse a car for a distance by looking into one of the mirrors only, execute a smooth 180° turn and hit a ball across the cones. The driver who hit the ball for the longest distance was the winner. Three drivers including myself achieved a distance of 27 metres in this exercise, good enough for the top prize of an autographed cone.
Day Three – With our confidence and skills growing, as part of the day's brief Wechselberger suggested that the skills necessary to execute manoeuvres on ice were similar to those he would use as a race driver visualizing the details of a track. We, as participants in Volkswagen's Driving Experience were meticulously taught to learn the characteristics of the circuits and exercises, and identify subtle surface variations in order to anticipate the car's behaviour on them. Since our progress was satisfactory and all cars still in one piece mostly with the exception of a few flying plastics, our instructors were confident enough to join both ice tracks. Combined, the track distance was over 5 kms with numerous corners, single and double hairpins, straights and so on. A fresh layer of overnight snow on the track welcomed us. The weather, as it happened on this day was turning and most of the time it was snowing, but surprisingly, getting warmer by the hour.
A constant message that we ingrained in our minds was observation, to see where you want to go, and plan ahead when driving a car on track. It's so surprising to become distracted and focusing where you want to go, we were told, was the key to the difference between driving around an obstacle and driving into an obstacle. Practising it properly results in acquisition of a fundamental skill. We were encouraged to attack the track both clock and counter clock-wise.
Post lunch, we headed off to the Polaris Centre and changed into outdoor gear. Despite near freezing temperatures, no way were we giving up the opportunity to drive snowmobiles in this wonderful terrain. We covered over 65 kms through tracks, forests, road intersections before returning to base camp.
MotorBeam's Take – Although I had some initial reservations, but after experiencing and being able to learn a variety of skill sets for special tasks like drifting and car control, it couldn't have come at a better moment or place. From being given a free hand to drive on a practice area which provides exciting preparation for the drift exercises which follow. Each day, the increasingly intensive training involving various cornering combinations which become increasingly challenging actually brought me closer to achieving the perfect drift, the supreme discipline on ice. The apex of the experience is the competition, which gives a chance to demonstrate how driving skills steadily improved over the few days. The Volkswagen Golf remained at ease in these extreme conditions and never felt out of place, offering the same level of performance and dynamics on the snow. No wonder the Volkswagen Golf is such a favourite the world over.