Volkswagen Vibrating Newspaper Ad Back Fires
Volkswagen entered India with a bang, launching a wide range of high end products before bringing its volume players, the Polo and Vento. The company has left no stone unturned to spread awareness about the Volkswagen brand. Right from running a helicopter with Volkswagen Beetle banners to parking the Polo at major airports across India. The company has even done a media block in leading newspapers before launching the Vento and had also tied-up with major airlines to distribute and collect test ride forms for the Polo.
[youtube:http://www.youtube.com/watch?v=HYTDKFoR0lM 540 375]
However the most famous ad campaign from the company is the talking newspaper ad, which created a massive hype around VW products. Soon, Volkswagen picked up well in the Indian market and reduced its promotional activities. Off-late sales started to decline, leading to the company's marketing team putting down its papers. Volkswagen quickly corrected prices of the Polo and Vento, offering more features for lesser money. In another innovative move, the company put a vibrating device in leading newspaper to garner the interest of readers. However this back fired massively.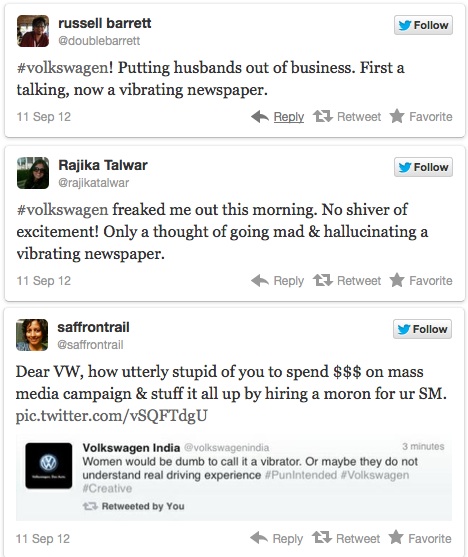 Adding fuel to fire, Volkswagen's PR team posted a sexiest comment on twitter, which quickly went viral. The comment read "Women don not understand real driving experience" with a pun intended hashtag. The tweet from Volkswagen is nothing short of shocking as the company also runs a Polo Cup specially for women. There was no apology offered and the tweet was deleted in no time. While Volkswagen outsources all its digital media activities to 20:20 MSL, such sort of blunders are simply not expected form the world's biggest automobile brand.
Source – LightHouseInsights via IndianCarsBikes