Yamaha R15 Headlights Modified By Elshop
Some of the recent images of the R15 mistaken as the V3.0 were actually pictures of the customised model.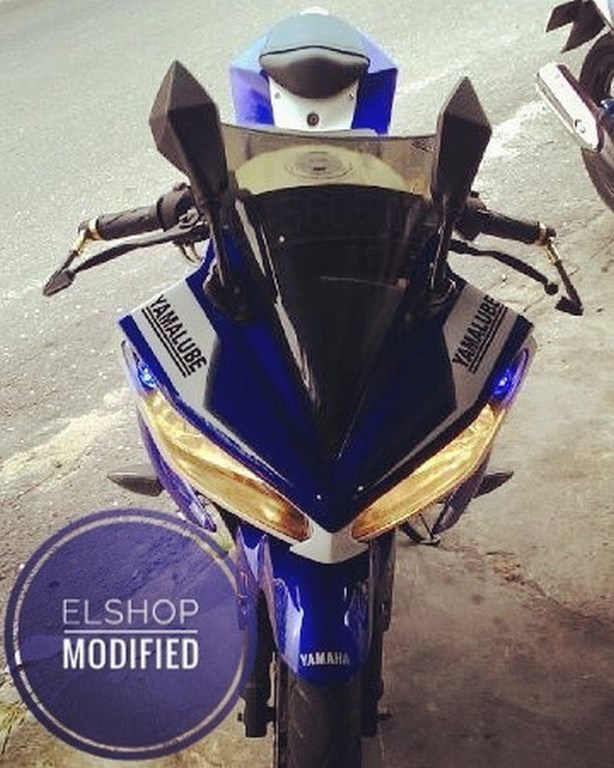 The Yamaha R15 is about to be upgraded to V3, as reported. Images of the consecutive version of the R15 has been flowing over the internet since past few months. But, a strange news has popped up that some of the images of the R15 V3.0 were not the official images. Instead, they were the snaps of a customised R15 V2.0 modified by an Indonesian custom motorcycle company Elshop Modified.
Elshop Modified have various customising options for motorcycles with accessories to add on the bike. They offer undercowl, fuel tank, winglet, rear view mirrors and rear seat cowl, all of them in modified designs. The R15 which was mistaken to be the V3.0 consisted of a modified headlamp kit and side panels fitted on the current version.
Though there are no reports of the cosmetic updates for the R15 V3.0, the upcoming version will receive technical upgrades with safety features. It is expected to receive ABS for efficient braking and VVA (Variable Valve Actuation) technology. The VVA technology provides a linear power delivery for the entire rev band making the engine more refined. Additionally, the R15 V2.0 has recently received the AHO (Automatic Headlamp On) fitment.
Yamaha R15 Headlights Modified
– Elshop Modified is the custom motorcycle company from Indonesia
– The modified R15 consisted of customised side panels and headlamp assembly
– The Yamaha R15 V3.0 will receive the VVA (Variable Valve Actuation) technology